Dia duit, Fáilte go Spóirt Obsessive.
Welcome one and all to Sports Obsessive. As it's St. Patrick's Day, we wanted to show appreciation to all of the Irish WWE Superstars that put it all on the line every single week for our entertainment, pandemic or not.
In general, WWE Superstars are possibly the hardest working athletes out there. These athletes put their bodies on the line week in and week out. From new recruits to NXT Champions, to WWE Champions to main eventing WrestleMania, these Irish WWE Superstars proudly wave the Irish flag each and every time that they step in between the ropes.
Without further ado, let's get down to business.
Aoife Valkyrie
Aoife Valkyrie joined NXT UK in January 2020, which means that her list of accomplishments under the WWE umbrella may not be as extensive in comparison to Becky Lynch, Finn Bálor, etc. That's all the more reason to keep your eyes on Valkyrie as she rises up the ranks. Valkyrie made her wrestling debut in 2015 and has wrestled for Irish promotions such as Pro Wrestling Ulster, Celtic Championship Wrestling, and Over The Top Wrestling.
Valkyrie has been the Champion of many promotions, such as the aforementioned  PWU and OTT. In 2018, Valkyrie became the first woman to win the Fight Factory Pro Wrestling Irish Junior Heavyweight Championship. Since returning to NXT UK on a full-time basis in September 2020, Aoife Valkyrie has been undefeated and remains an Irish WWE Superstar to keep an eye out for.
Killian Dain
Killian Dain, formerly known as Big Damo, signed with NXT in 2016. Dain had a decent singles run in NXT up until December 2016, when he aligned himself with SAnitY. SAnitY was a heel faction comprised of Killian Dain, Eric Young, Alexander Wolfe, Sawyer Fulton, and Nikki Cross. Dain is certainly an incredibly impressive presence when he's in the ring and undoubtedly ticks all the bosses when it comes to being next in line for an NXT Championship match. While Dain was a part of SAnitY, he was billed as a brawler and you couldn't get more of an accurate description than that.
Dain has had some incredible wrestling matches with the likes of Bronson Reed, Damien Preist, Matt Riddle, and former NXT Superstar and Current WWE Champion, Drew McIntyre. Dain, alongside his fellow SAnitY members (excluding Nikki Cross), made his SmackDown debut during the 2018 WWE Draft. Not long after this, SAnitY vanished from our screens and eventually was disbanded. This led to Dain making his return to NXT TV in May 2019, where he was been portrayed as a brutally impressive force ever since.
Sheamus
Sheamus is an Irish WWE Superstar that everybody knows about. He has been a part of the WWE since June 2009. Sheamus made his debut on an edition of WWE's revamped ECW. Shortly after his arrival, Sheamus found himself in feuds with the likes of Goldust, Shelton Benjamin, and Jamie Noble. As time went on, Sheamus found himself as the #1 Contender for the WWE Championship against the Champion at the time, John Cena. This led to the TLC PPV in 2009 in which Sheamus went on to defeat John Cena to begin his first reign as WWE Champion. Not only was this his first reign but Sheamus also went down in the history books as the first Irish-born WWE Superstar to capture the WWE Championship.
Since then, Sheamus has been placed into storylines with WWE royalty such as Triple H and Randy Orton amongst others. Not only is Sheamus a former WWE Champion but he is also a King of the Ring Winner, Royal Rumble Winner, World Heavyweight Champion, United States Champion/ WWE Slammy Award Winner, and Money in the Bank Winner. Not only has Sheamus tasted singles success but he has also captured both the Raw and SmackDown Tag Team Championships on separate occasions alongside his former Tag Team partner, Cesaro. Nowadays you can catch Sheamus on Monday Night Raw feuding with WWE Champion, Drew McIntyre. Could another Championship reign be on the cards?
Becky Lynch
To think that Becky Lynch debuted with NXT in June 2014 as an Irish-Dancing ball of energy decked out in green attire, only and thankfully to become The Man. Becky Lynch is an Irish WWE Superstar that has literally done it all. As we look back at Becky's career, one match that really stands out to me was at NXT TakeOver: Rival. This was a Fatal-4-Way match for the NXT Women's Championship with Charlotte (c) defending against, Sasha Banks, Bayley, and Becky Lynch. Becky may not have won this match but she definitely showed us all that she has what it took and would become Champion one day. Similar to Bálor, WWE Executives were keeping a close eye on Becky Lynch, which led to her Monday Night Raw debut in July 2015. Becky was a very prominent figure in WWE's Women's Revolution. Becky soon aligned herself with Charlotte and Paige, forming Team PCB. Team PCB had an entertaining run up until Paige turned on Charlotte on an episode of Raw in September 2015. Paige then went on to call Becky 'the least relevant' member of the group.
This was the greatest thing that could have ever happened to Becky Lynch.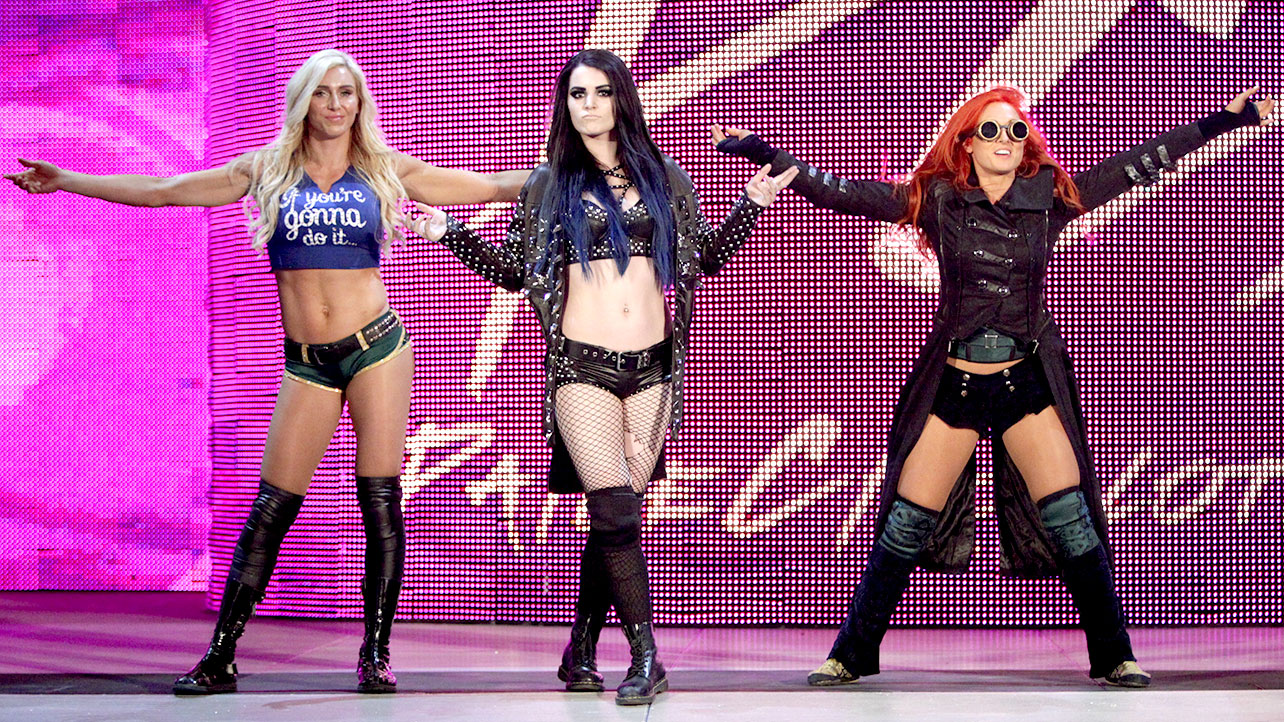 Becky went on to fight for the Women's Championship multiple times but continuously came up short. Later on, Becky was the first woman to be drafted to SmackDown in the WWE Draft in 2016. Becky built up a rollercoaster of momentum on the blue brand that led to BackLash in September 2016. Becky was involved in a Six-Pack-Challenge against Alexa Bliss, Naomi, Natalya, Carmella, and Nikki Bella. Becky went on to win the match and become the inaugural WWE SmackDown Women's Champion. What can I say? Success runs in the blood of these Irish WWE Superstars. Fast forward to Survivor Series 2018. Becky was the SmackDown Women's Champion and Ronda Rousey was the Raw Women's Champion. The two were scheduled to battle it out in a Champion vs Champion match. Becky invaded Raw before the PPV, which resulted in a legitimate concussion and broken nose at the hands of Nia Jax. Becky missed out on the Ronda bout but returned at TLC 2018 in which her 91-day reign was ended at the hands of Asuka.
By the time that the 2019 Royal Rumble came around, Becky was more popular than ever and Becky Lynch is the reason why the 2019 Royal Rumble is the greatest PPV in recent memory. Becky had a Championship match against Asuka at the event but was unsuccessful. Later in the night, Becky forced her way into the Women's Royal Rumble match and won the damn thing. Why? Because she's The Man. This all led to WrestleMania 35, where Becky challenged the SmackDown Women's Champion, Charlotte, and the Raw Women's Champion, Ronda Rousey, in a triple threat match. Not only was this an incredible match but it was the first time that WrestleMania was main-evented by female WWE Superstars. Professional Wrestling had been a male-dominated business for the longest time and these women made sure that was in the past. Becky went on to win the match and both Championships in the main event of WrestleMania 35.
Thus, Becky-2-Belts was born.
Finn Bálor
Formerly known as Prince Devitt in NJPW, where he founded The Bullet Club, Bálor made a giant impact on NXT when he debuted back in November 2014. Bálor graced our screens as he joined Hideo Itami aka KENTA in a battle against The Ascension. Since this is a St. Patricks Day special, let's have a quick dive into the meaning of the name, Finn Bálor. The name comes from the mythological Irish figure Fionn MacCumhaill, sometimes referred to as Finn McCool. This legend was a mythical hunter-warrior. Then we have another Irish mythical figure named Balor, who was the leader of a supernatural race named The Fomorians. One would say Balor was a Demon King.
Finn has risen… Everything is done for a reason. Finn McCool meets Balor. #FinnBálor @WWENXT pic.twitter.com/4X2MgrTwN9

— Finn Bálor (@FinnBalor) September 26, 2014
It was only a matter of time before Finn Bálor was granted the opportunity to earn an NXT Championship match. Bálor's first attempt at capturing the gold was unsuccessful but in the long run, it was for the best. Bálor went on to face Kevin Owens for the gold at The Beast In The East event that happened to take place in Tokyo, Japan. As we know, Japan is pretty much home for Finn Bálor, given his long tenure with New Japan Pro Wrestling. In a picture-perfect moment, Finn Bálor successfully captured his first Championship under the WWE umbrella, in Japan. As great as this was, this was only the beginning.
Bálor went on to hold the NXT Championship for a record 292 days. The Irishman also accomplished feats such as being the first winner of the Dusty Rhodes Tag Team Classic (alongside Samoa Joe). More impressively, not long after debuting on Monday Night Raw, Bálor went on to become the very first WWE Universal Champion after a barnburner of a match against Seth Rollins at SummerSlam 2016. Today, Bálor is back with NXT and is running the show. Bálor is currently the NXT Champion (for the second time in his career) and has held the gold since September 8th, 2020.
Final Thoughts
There you have it. It's incredible to think about how much these WWE Superstars have accomplished and will go on to accomplish in the future. Sports Obsessive wishes each and every Irish WWE Superstar a happy St. Patrick's Day and I for one will most likely be rummaging throughout the WWE Network to find a classic match/feud to sink my teeth into.
Until next time.
Go raibh maith agat agus slán a fhágáil!