Welcome back to Sports Obsessive!  Today's article is more of an introduction of things to come rather than a review or analysis as you are used to reading from us. In the coming weeks/months, I will be delving into the world of SmackDown. Taking a trip down memory lane can be as insightful/beneficial as anything when it comes to professional wrestling as a whole.
SmackDown is and has always been very important to me. It is the only television show that I have genuinely been watching for over 20 years. I remember the first episode of smackdown that I ever watched.
It was the November 11th edition from 1999. You'd think ''how does he remember that?''. It was actually quite easy to track it down.
My Introduction To The Blue Brand
This particular edition of SmackDown featured Arnold Schwarzenegger, or as I knew him, Howard Langston, who was the main character in what is still my favorite Christmas movie, 'Jingle All The Way'. At the time, the company was named World Wrestling Federation (WWF) and business was doing pretty damn good. D-Generation X members, Triple H, X-Pac, Road Dogg, and Billy Gunn opened the show as only they could. Sexual innuendos and insinuations were the norms at the time as the company was a tad on the 'edgy' side. I was nine years old at the time of this edition of SmackDown's airing and of course, all of these play-on-words, puns, and blatant remarks went over my head, as they would. Regardless, I loved Triple H. 'The Game' was clearly a heel at the time and was the World Wrestling Federation Champion.
Still, I was glued to the screen. Looking back now, I'm sure that all I saw was a confident leader who knew who he was and knew how to handle his business. Also looking back, the storyline should not have been watched by a nine-year-old. Later in the show, I laid my eyes on 'The People's Champion' The Rock, and I have never looked back. The Rock drew me in completely. I felt that he was engaging with me on a personal level, while he entertained an arena full of tens of thousands of fans and not to forget the millions watching at home, of which I was proud to include myself. As time went on and as I grew older, SmackDown remained one of the few constants in my life. I would watch these 'heroes as I would call them and focus all of my energy on the storylines on TV that I thought was real, swapping action figures in school to collecting as many WWF sticker books as I could. WWF was my life and SmackDown was my show.
The Ruthless Aggression Era
Fast forward a few years and we arrive in 2002, which very well may have been my favorite year of professional wrestling/sports entertainment. SmackDown had evolved and had a new set. The highly regarded 'SmackDown Fist'. This set is a personal favorite of mine because it takes me back to a time where I lived, breathed, ate, and slept WWE. This 12-month period of World Wrestling Entertainments programming featuring great storylines and segments such as Vince McMahon 'injecting poison' into the WWE. This basically meant that he was bringing the NWO to the company. Nowadays, a lot of people look back on this with discontent. Not me however, I was into it.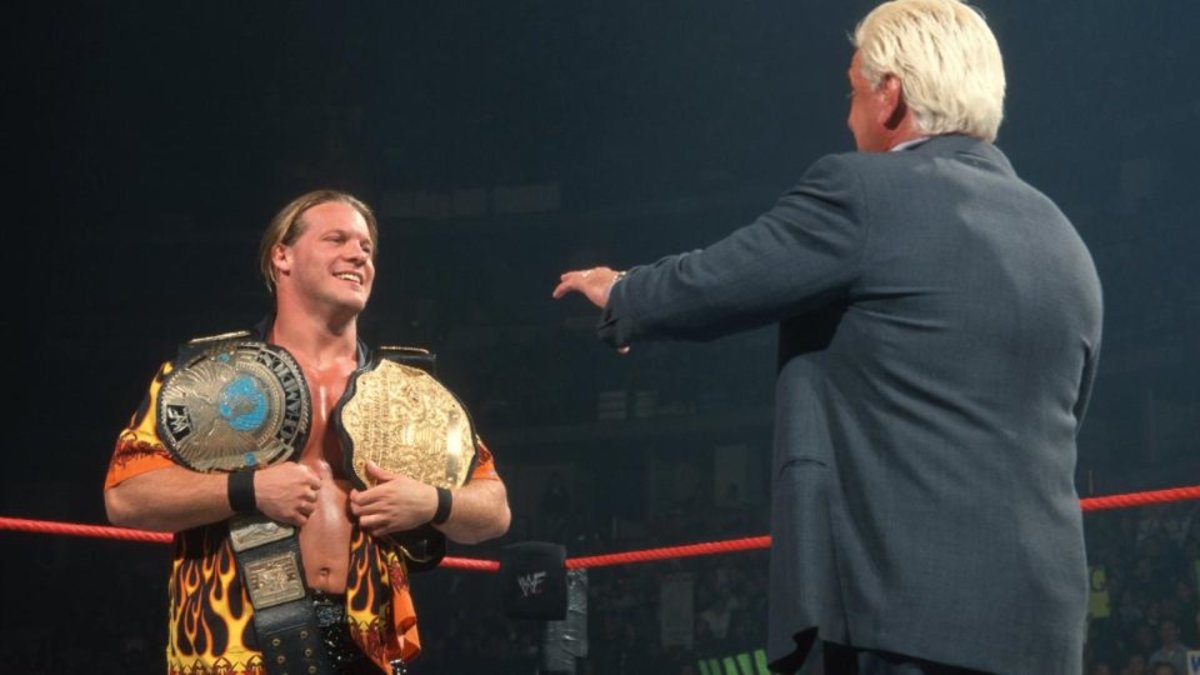 We also witnessed the aftermath of Chris Jericho becoming the first-ever Undisputed Champion after beating The Rock and Steve Austin in the same night, an accolade that Jericho refers to, to this day. We saw Kurt Angle lose a Hair vs Hair match against Edge. Angle then went in to sport an embarrassing wog for a long time. That was funny. 2002 also gave us the unlikely duo of Edge and Hulk Hogan as Tag Team Champions. Finally, we saw the debut of a young John Cena.
In 2003, Team Angle (Kurt Angle, Charlie Hass, and Shelton Benjamin) were all the rage. 'Spanky' aka Brian Kendrick grabbed the attention of SmackDown viewers all over the globe with his wit and humor and most importantly, his passion for professional wrestling. In June of 2003, we witness the infamous match between Big Show and Brock Lesnar where the ring literally collapsed after a superplex was performed. John Cena had fully transformed into the doctor of thuganomics.
Ruthless Aggression was alive and well.
Final Thoughts:
Some may say that SmackDown hit its peak and has dwindled ever since, some may say the exact opposite. Depending on who you ask, you may hear that today's iteration of SmackDown is the best that the company has ever had to offer. I wouldn't disagree with that. As much as I look back at the 'old days' through rose-tinted glasses, I'm fully aware that any wrestling company should wholeheartedly believe that their current-day product is the best product that they have ever delivered to their audience. If you have also been watching 'The Blue Brand' for the last 22 years, that's great. I'm sure that we will be producing a lot more nostalgic content here at Sports Obsessive that would cater to your needs. If you're lucky enough to not be as old as me and you're not quite yelling at clouds yet, that's great too. I hope that you will join me for the ride as I delve into the years gone by over the next few months here at Sports Obsessive. To keep up to date with all of our goings-on, be sure to follow the socials @SportsObsessive.
I'll catch you down the road.