In the late 1990s, the wrestling world would see a 3-horse race between wrestling promotions as ECW, WCW and WWF went to war. Each had its trademark style and each was massively popular with unique legions of fans. ECW, despite being the AWA of the 1980s North American "Big Three" (AWA/NWA/WWF) was still immensely popular whilst WCW surpassed even the WWF – as it was then – during the mid-late 1990s for a period. Yet despite the supposed rivalry between promotions, some of the most talented and gifted workers got work in all 3. In all, 11 superstars won belts in the companies, which we will delve into now.  
Shane Douglas
The first champion in all 3 companies was Shane Douglas. In 1992 at Clash Of The Champions XXI, Shane Douglas – alongside tag partner Ricky Steamboat – picked up the WCW/NWA World Tag Team championships. They would retain these at Starrcade in arguably the best match of the night before dropping them in March to The Hollywood Blonds. Douglas would return to WCW in 1999; he won the United States, Hardcore, and WCW World Tag Title Belts.
In 1993, Douglas would win his first ECW World Heavyweight title belt. In 1994, he memorably cut his shoot promo on the NWA after winning the NWA World Heavyweight belt. "The Franchise" would win 4 world titles and 2 Television titles in total during his stint in the Philadelphia promotion. Douglas also formed The Triple Threat faction who once held all the gold in the promotion, having a famous feud with Taz.
To complete the set, Douglas debuted in the WWF in 1994. That same year, he won the Intercontinental championship via forfeit from Shawn Michaels. He would lose it to Razor Ramon straight afterward and due to its shortness, it is regarded as one of (if not, the) worst IC title reigns of all time. That said, it is still in the history books, thus making him the first titleholder in all 3 promotions. 
Mick Foley
Cactus Jack debuted in WCW in 1991. Although he originally seemed above titles – with his hardcore, dangerous stunts in bouts against the likes of Sting and Vader making him a notable name. Yet in mid-1994, Jack won the WCW World Tag Team titles with Kevin Sullivan over The Nasty Boys, holding them for just under 2 months before dropping them to Pretty Wonderful (Paul Roma and Paul Orndorff).  
The next year, Foley had jumped to ECW. Before his character-building heel run there, he teamed with Mikey Whipwreck to win the tag belts off of The Public Enemy for 70 days before dropping them back to Rocco Rock and Johnny Grunge – laying inside a combined 265-day reign for the future South Philly Posse. They would pick them up again next year from The Sandman and 2 Cold Scorpio before dropping them in February 1996 to The Eliminators.  
Foley would pick up his first WWF title in 1997 as Dude Love. He would pick up 8 World Tag Team title belts with partners from Kane to Terry Funk to Steve Austin to Al Snow as well as being the first-ever WWF Hardcore champion. Yet his most memorable title of all was his January 4th WWF championship victory over The Rock. The result of which would forever alter the tide of the Monday Night Wars.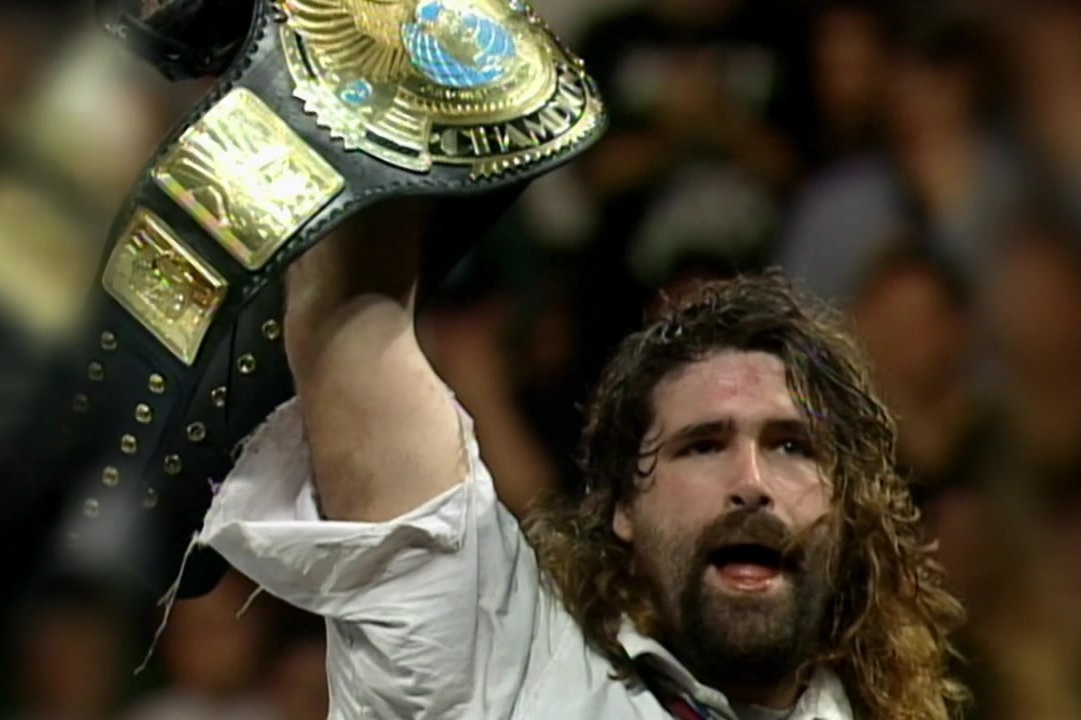 Chris Jericho
Inspired by recommendations from his work overseas, Paul Heyman brought Chris Jericho into ECW. Jericho quickly won the ECW Television title, beating Pitbull #2 (Anthony Durante) at Hardcore Heaven 1996, who coincidentally had held the ECW title for 21 days, the same amount as the man he won it from – Shane Douglas. "Lionheart" Jericho was defeated not long after by "The Franchise". He had held it for 21 days.  
Lured away from ECW and to WCW, Jericho developed his character there, after turning heel. Remaining a talented and hilarious presence, he won the Cruiserweight title 5 times and had a Television title run. Even years after feuding with Dean Malenko, Konnan, Rey Mysterio, Juventud, and the like, he picked up 2 reigns as WCW World Heavyweight champion in 2001 during the Invasion storyline. 
"Y2J"'s WWE accolades make him one of the most accomplished of all time, with over 25 belts to his name. The inaugural WWF Undisputed champion, record-breaking 9-time Intercontinental champion, and 5-time World Tag Team champion with 5 different partners are just some of his titles of note. From 1999-2017, he has won pretty much every title there is to win in the company, starting with an IC reign in 1999 (beating Chyna) all the way to a US reign in 2017. 
His runs in NJPW and AEW have proved Jericho is on a run of continually collecting belts across the globe, across the years, and across the promotions. 
Chris Candido
An uncredited worker, Candido might be a surprising name on this list but he did indeed win belts in all the required companies to qualify. 
His first came in 1993 where he utilized the Freebird Rule (allowing multi-man factions and teams to choose revolving defending champions) to win the ECW World Tag Team titles when the 'E' still stood for 'Eastern'. He twice won it alongside Sir Jonathon Hotbody and Sir Richard Michaels in The Suicide Blondes. The biggest ECW tag reign spanned 1997-1998 where he was part of a dysfunctional team alongside Triple Threat member Lance Storm. 
At WrestleMania 12, Candido won the WWF World Tag Team championships under the name Skip alongside Zip (Tom Prichard). The team, managed by Candido's real-life wife Sunny, won a tournament for the vacant belts. They beat: The Bushwhackers, Razor Ramon & Savio Vega, and finally The Godwinns to win the straps. Despite the title win, Candido's most memorable moment in the promotion was losing to perennial enhancement talent Barry Horowitz.  
"The Suicide Blonde" would collect his only WCW belt at Spring Stampede 2000, winning a 6-way bout to win the Cruiserweight title. The belt had been vacated as a part of a whole roster refresh under Eric Bischoff and Vince Russo's management. In the most WCW 2000 booking move ever, Chris lost the belt in a mixed tag match and the strap would shortly be co-held by both Crowbar and Daffney.  
Dean Malenko
"The Shooter" Dean too started off the 3-company belt trolley dash in ECW. In late 1994, he became the Television champion and would co-hold the ECW World Tag Team titles with Benoit simultaneously. He won a 2nd Television strap in mid-1995, having the aforementioned collection of technically-sound contests with Eddy Guerrero. 
Malenko was an early pioneer of WCW's Cruiserweight scene, winning it 3 times out of the first 6 holders of the strap. This includes a defense of his 3rd reign at Starrcade 1996 being a high-profile opener against Ultimo Dragon also for the J-Crown belt. In between his 3rd and 4th Cruiserweight reign, he briefly held the United States belt for about 2 and a half months before dropping it to Jeff Jarrett. His 4th and final WCW reign as the Cruiserweight titleholder is the most memorable, including a highly-personal feud with Chris Jericho that saw one of the best storylines and crowd reactions in the history of the promotion. His final title in WCW was a 15-day run with the WCW World Tag Team championships with Benoit.  
Alongside Perry Saturn, Chris Benoit, and Eddie Guerrero, "The Man of 1,000 Holds" debuted in The Radicalz. He quickly picked up the Light Heavyweight belt (WWF's equivalent of the Cruiserweight title) from Essa Rios. After a loss and regain of the strap with Scotty 2 Hotty, Malenko had a near-year long reign. Whilst champion, he debuted his James Bond goof character and engaged in a forced relationship with Lita but it was not all bad as the solid in-ring technician had impressive showings with Eddie Guerrero, Scotty 2 Hotty, and others when not relegated to being a bit-part player. It lasted from April 2000 to March 2001 when finally unseated by Crash Holly in a shock upset.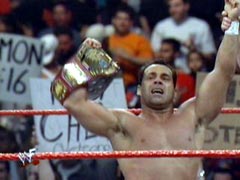 It is worth noting that he was the first member of The Radicalz (all of whom won titles in ECW, WCW, and WWF) to do the triple whammy of title wins across the promotions. 
Chris Benoit
Having become popular amongst those in the know, Benoit's true first big break was in ECW. "The Crippler" was even apparently penciled in by NWA President Dennis Coralluzzo to win the NWA World Heavyweight title in 1994 until Shane Douglas was chosen. Despite his high-profile status in the company – joining the original Triple Threat and headlining 1994's November To Remember – he only won 1 title: the ECW World Tag Team belts. He and Malenko held these for a short period in 1994, beating The Tazmaniac and Sabu. Shortly after losing them, however, Benoit's visa can out – effectively terminating his ECW run. This was just before a huge solo push was allegedly planned for Benoit. 
The Canadian was called to WCW in 1995. It was in 1998 he won his first belt there albeit in uneventful circumstances, trading the TV title with Booker T at live events; live event defenses rather go against the concept of the TV title though, surely! In early-mid 1999, he won the WCW tag belts with Malenko and later Perry Saturn. After collating more mid-card belts, he left WCW the night after winning the World Heavyweight title (a measure to stop him from leaving in the first place). 
At WrestleMania 2000, "The Rabid Wolverine" claimed his first WWF reign. In this, he won the Intercontinental title in a double pinfall title match. Benoit would pick up many mid-card title runs throughout his career, winning tag and singles gold. The biggest of which was of course his World Heavyweight title triumph in the main event of WrestleMania 20. Even after this, he was a prolific US champion on the SmackDown brand, having one of the longest combined reigns in the belt's history.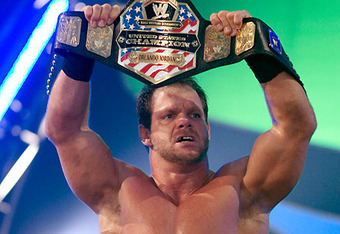 Of course, all of Benoit's title reigns have since been scrubbed from history by WWE.  
Eddie Guerrero
Being a smaller wrestler, from a historic family and a Latino talent, Eddy Guerrero (as he then was) managed to overcome these unwritten boundaries that could limit a wrestler in his era.  
At 1995's Three-Way Dance PPV, Eddy triumphed over 2 Cold Scorpio to win the ECW TV title. He would then trade the belt in a series of brilliant early encounters with Dean Malenko, putting Guerrero on the map.  
Similar to Jericho, Guerrero further go into the groove and found an edge in WCW after a heel turn. As a face, he won his first WCW title, winning a tournament for the United States tournament. Soon enough, Eddy would ditch his white singlet and determined face fire to turn to a more devious and mischievous persona. As the lying, cheating, and stealing champion, he put on the match of the night regularly, with his 2 Cruiserweight title matches having top bouts against Malenko, Rey Mysterio, and Chris Jericho amongst others. 
After jumping to the WWF alongside other defectes, Guerrero quickly won the European title the night after WrestleMania 2000 from "Y2J" with some aid from Chyna. He would win the belt for the 2nd time at the next year's 'Mania as well as an Intercontinental reign in between. Guerrero largely stayed in the tag scene in this run, Radicalz aside, he won tag straps alongside brother Chavo, Tajiri, and Rey Mysterio. The first US champion upon reinstallation in 2003, "Latino Heat" would win the WWE World Heavyweight title in 2004, defeating Brock Lesnar.  
Perry Saturn
Impressed when acting as journeymen to The Steiners, ECW booker Heyman quickly saw potential in Perry Saturn and John Kronus, forming The Eliminators. Most remembered for their Total Elimination tag finisher and flashy offense, they had 3 ECW World Tag Team title reigns from 1996-1997, warring with the likes of The Pitbulls, The Dudley Boyz, and The Gangstas. Out injured, Saturn asked for his release, unhappy with partner Kronus's lack of motivation.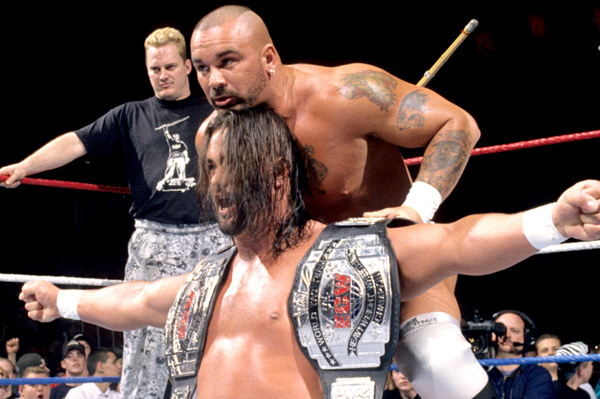 Securing a WCW contract, Saturn was booked as a brainwashed crony under the leadership of Raven in The Flock. Acting as an enforcer for the faction, he would win the Television title from Disco Inferno and hold it for about a month. After a year under Raven's regime, tensions arose and Saturn beat Raven at Fall Brawl in late 1997 to free The Flock. In 1999, Raven and Saturn reunited and won the WCW World Tag straps from Malenko and Benoit. With Raven injured, Saturn lost the belts to The Jersey Triad (Diamond Dallas Page, Bam Bam Bigelow, and Kanyon) after Kanyon substituted for Raven and betrayed Perry. Shortly after, the ex-Eliminator teamed with Benoit to win the titles back only to quickly lose them days later, which bled into the creation of The Revolution stable. 
Saturn jumped to WWF in 2000 although his first title win was nothing to write home about. On SmackDown, he won the Hardcore title from Crash Holly only for "El Roy" to escape with his rewon belt, as is custom. He then beat European champion and former partner Guerrero at 2000s Fully Loaded PPV with a diving elbow drop after illegal interference from his valet Terri Runnels. Like most other title runs Saturn had, it was brief; a month later he lost the title to Al Snow. Saturn again held the Hardcore title but for a matter of minutes before being pinned by Steve Blackman in a 6-man Hardcore Battle Royal at Unforgiven.  
Terry Funk
Perhaps wrestling's most iconic figure, "The Funker"'s reigns came surprisingly late in his career.  
Already established as a legend of the NWA, he joined NWA's Eastern Championship Wrestling extremely early on, even appearing on their TV debut in 1993. In October that year at Blood Fest: Part 1, Funk defeated Jimmy Snuka for the ECW TV belt when escaping the cage; he would lose it the next month at the inaugural installation of ECW's flagship show November To Remember in a double title unification tag match also featuring Hawk and King Kong Bundy. Later that year, he beat Sabu for the World Heavyweight title although this was overshadowed by his historic 1997 win. In which, the "Middle-Aged And Crazy" Funk main evented ECW's first PPV – winning a 3-Way-Dance and subsequent title match against Raven to become champion. 
Funk was a big star in the WWF in the mid-1980s even challenging for Hulk Hogan's WWF World title on Saturday Night's Main Event IV. It was not until his late 90s run that he won gold. Terry debuted in the WWF 11 days after retiring at his WrestleFest commemoration event. He and old pal Mick Foley reunited for a common cause to take out The New Age Outlaws after injuring both men by pushing them off the stage in a dumpster. With the respective teams headlining the No Way Out: In Your House PPV, tensions continue simmering. In a Dumpster Match at WrestleMania 14, the dangerous duo beat Gunn and Dogg to win the World Tag Team titles. They lost them back the next night, during which D-Generation-X was officially formed. 
Funk had to wait for a WCW title win until 2000. Although in the NWA/WCW in the J-Tex Corporation and Stud Stable, it took until mid-2000 when he won the Hardcore title. After winning this belt twice, he won the United States title for the first time in 25 years in September 2000 when beating Lance Storm in Terry's hometown of Amarillo, Texas. In all, Funk won 3 WCW Hardcore title reigns, with the veteran being a pillar of the division – this includes battling Ralphus, losing it to Eric Bischoff, and even being kicked by a real horse during a match with Chris Candido. "Middle-Aged And Crazy" indeed! 
Raven
In hindsight, the characters Raven sported early in his career are so bizarre and so distanced from his gimmick's evolution. Under the name Scotty Flamingo, he was a multi-color adorned surfer who would go on to beat Brian Pillman for WCW's short-lived Light Heavyweight title (no connection to the aforementioned belt won by Dean Malenko) in 1992. A 1997 return saw Raven have a 1-day US champion run after beating DDP in a Raven's Rules Match and losing it the next night to an undefeated Goldberg. 1999 would see him win tag gold with ex-Flock partner Perry Saturn. 
After having gone under a career-altering transformation, Raven developed the character of a disillusioned, Edgar Allen Poe-reciting, dingy goth in ECW. Raven won his first belt alongside stablemate in The Nest, Stevie Richards as they garnered the tag belts. He would then become embroiled in a deeply personal feud with The Sandman that involved indoctrinating his opponent's family and a hugely-controversial crucifixion segment. In this era, he had 2 World Heavyweight Championship reigns, combining to over a year. After a hiatus in WCW following a Loser Leaves Town Match to long-time rival Tommy Dreamer, he returned for a tag title run with both "The Innovator Of Violence" himself and Mike Awesome.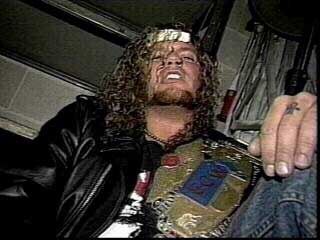 Raven's WWF run was unique. The dark cult leader became engulfed in the often-comedic Hardcore title scene. Yet Raven brought an eerie air to this division, bringing a trolly full of weapons to the ring with him. In all, Raven only won the Hardcore belt but he did win it 27 times. The biggest moment of which was a hectic defense at WrestleMania X7, in which he dropped the belt to Kane. Thanks to the 24/7 Rule – where a wrestler could win the title any place, any time – a lot of these reigns were less than a day. In addition, they were often not witnessed by many as they took place at house shows and live events. The 1st reign was also the longest, coming in December 2000 and lasting 31 days.
Lance Storm 
Another talented Canadian, Storm turned heel shortly after his ECW debut in order to garner a better identity for himself. Teaming with Chris Candido, they won the ECW World Tag Team titles at 1997's Better Than Ever from The Can-Am Express (Doug Furnas and Phil LaFon). The reign lasted over 200 days with in-fighting even as they were partners until losing to another uneasy alliance: Rob Van Dam and Sabu. He would have 2 more tag reigns with Justin Credible in The Impact Players for a combined 89 days.  
Annoyed with ECW's bouncing paycheques, Storm left to WCW where he had the biggest run of his career. Like Kenny Omega or Ultimo Dragon, Storm became a collector of belts. The only wrestler in WCW history to hold 3 belts, he won first won the Cruiserweight belt before the Hardcore and United States belts. Multi titleholder Lance would proudly display his billowing belt ensemble, even renaming them to more Canadian-based titles like the Cruiserweight belt becoming the 100kg and Under Championship and the Hardcore belt becoming the Saskatchewan Hardcore International Title (S.H.I.T.). He gave away the lower belts to members of his Team Canada faction. His WCW run ended when the company was bought out with Storm having won the US title 3 times within the last year – often dropping it for a short period to quickly regain it.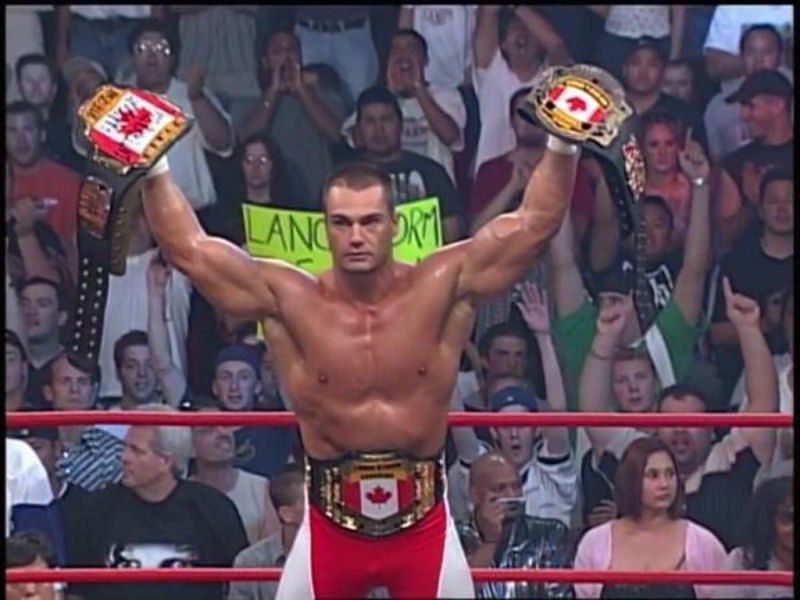 Storm debuted amidst the Invasion angle, quickly becoming a mid-card face for The Alliance. He would win the Intercontinental title off of Albert before losing it at SummerSlam to Edge. Although a serious character, he was often involved in comedic or tongue-in-cheek roles. One of these is The Un-Americans, a unique take on the foreign heel – not proud of their own 'superior' nation just anti-American. Alongside Christian, they beat Hulk Hogan and Edge for the World Tag belts and held them for 2 months before losing them to Kane and The Hurricane. In January 2003, Storm won the belts twice, both with William Regal. The first came over Booker T and Goldust, the second after losing them for a day to The Dudleys; they regained them the night after the Royal Rumble. Regal was replaced with Chief Morley (Val Venis) after real-life emergencies forced the Brit to take time off yet this team was proven less successful as they held the straps for only a week. 
He is the last to date to have completed the trio set, capturing ECW, WCW, and WWE titles. 
Epilogue
In all, these 11 will seemingly forever go down in history as the only ones to ever do so. With both WCW and ECW officially deceased, the only chance for anyone else to join this list is those who have previously won ECW and WCW gold such as Tracy Smothers, 2 Cold Scorpio, and Kevin Sullivan. This excludes WWE's ECW, hence why Big Show was not counted in this list. Yet considering how long ago 2001 – when both companies shut – was, the chances are nearing 0% anybody else can pull off this feat.