Impact Wrestling was back on screens this past Tuesday night as they ushered in a new era, including the arrival of The Good Brothers. Impact pulled no punches as the show kicked off with an Impact World Championship Match!
Trey (Challenger) vs Eddie Edwards (Champion)
Since Edwards won the Impact World Championship at Slammiversary, he vowed to be a 'fighting Champion' and a Champion that Impact Wrestling as a whole can be proud of. Trey knew that this was an opportunity to take advantage of and that is exactly what he set out to do in this match. Trey was impressive in the opening moments of this match but was soon met by the aggression of Champion, Eddie Edwards. Edwards showed us precisely what we can expect from him as the World Champion. As talented as Trey is, he is still a very young talent with a huge future ahead of him. Trey managed to come close to victory in this match with many two-count pinfall attempts! Eddie Edwards refused to give up and was able to fight through the pain that Trey was inflicting upon him. As the match went on, Edwards hit Trey with two Tiger-Drivers which should have ended the match but somehow, Trey continued to kick out! Edwards did manage to gain the upper hand, however. Edwards hit Trey with his signature Boston-Knee-Party and picked up the three-count victory to retain his Impact World Championship!
Overall, this was an exceptional wrestling match, and probably one of the best-opening professional wrestling matches that I have seen in the past number of months. As soon as the match ended, Eric Young walked out to the stage, obviously hinting that he will be challenging Edwards for the Championships. Eddie Edwards is ready for the challenge and is proving himself as an impressive champion thus far.
Winner: Impact World Champion – Eddie Edwards 
Impact Wrestling presents: Wrestle House
Next up on Impact was Wrestle House. Wrestle House is an exceptionally hilarious comedy skit that includes that majority of the Impact Wrestling roster. The story was that the wrestlers were held up in a lavish six-bedroom household for a reality show. The wrestlers started by arguing exactly where they were and who owned the house. After moments of bickering and pure nonsense, Tommy Dreamer entered the fray and declared that this household was his personal investment property and reiterated that there were only six-bedrooms. There were many wrestlers involved here, certainly more than six. The race was on for who would claim a bedroom. First of all, XXXL tried to get through the same door frame at the same time, you can guess how that went! Kylie Rae and Susie found a bedroom but were politely insisting that the other take the bed, in that time, John E. Bravo slipped between the women and claimed the bed as his own.
Acey Romero of XXXL soon made his way outside of the large house, to the garden where there was a wrestling ring. Romero planned to sleep in the ring as he had his pillow in hand. Crazzy Steve had the same idea as he threw his pillow and blanket into the ring and slid under the ropes before Romero. This led to a match between Romero and Crazzy Steve as the other wrestlers soon gathered around the ring. Kylie Rae found a referee shirt just hanging around and nominated herself as the referee for the impromptu match. The bell rang and the match was underway. Romero threw Crazzy Steve around the ring and finished Crazzy Steve off with a sleeper hold to win the right to sleep in the ring. Romero rolled Crazzy Steve out of the ring and claimed the ring as the place that he would lay his head. (If you are a casual wrestling fan reading this, give it a watch!)
This was truly unusual but so damn entertaining! I want Wrestle House on demand as of right now!
Heath ruffles a few feathers on Impact!
(Fake) TNA World Heavyweight Champion, Moose was in the backstage area being interviewed by Gia Miller regarding the 'success' of his 'title-defence' last Tuesday night on Impact Wrestling. Moose went on to brag about his successfully retained his championship. Moose then stated that he was in a giving mood and laid the table for an Open Challenge Invitational. Free-agent, Heath, stumbled across Moose backstage and made himself known as a viable threat. So, as we know, Moose is not a real champion, Moose found the TNA World Championship laying around as it was vacant at the time and claimed it as his own. Moose's excuse for doing so what that the 'TNA Championship Committee' (which does not exist) approved of Moose naming himself as champ.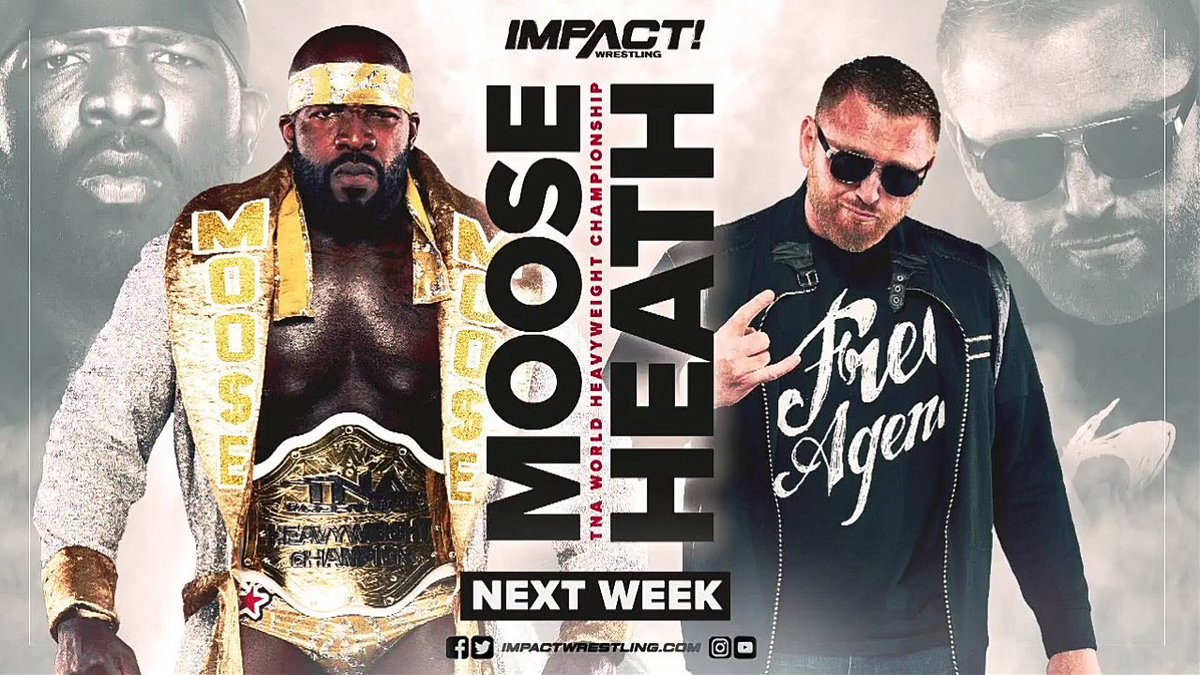 Moose was becoming frustrated with Heath and mentioned that Heath isn't even under contract with Impact Wrestling. Heath went on to say that that 'TNA Championship Committee' offered him a contract this week of which he has already signed. Expectedly, Moose blurted out that there is no 'TNA Championship Committee' and immediately regretted his outburst. Heath called BS on Moose as Champion which led to the announcement that next week on Impact Wrestling, we will see Moose going one-on-one with 'the hottest free agent' Heath.
You won't want to miss this!
Kimber Lee vs Deonna Purrazzo (Non-Championship Match)
In the first Knockouts Division match of the night, Kimber Lee faced off against the current Knockouts Champion, Deonna Purrazzo. Purrazzo has only been in Impact Wrestling for a short period and has already dethroned Jordynne Grace as Knockouts Champion. Purrazzo is kicking ass in Impact Wrestling but, she is not making any friends. Lee was looking to defend her name after a cheap shot from Purrazzo last Tuesday night. Lee was on fire from the opening bell of this match, bringing Purrazzo to the mat in a matter of seconds. Kimber Lee soon hit Purrazzo with a Hurricanrana and left the champion reeling.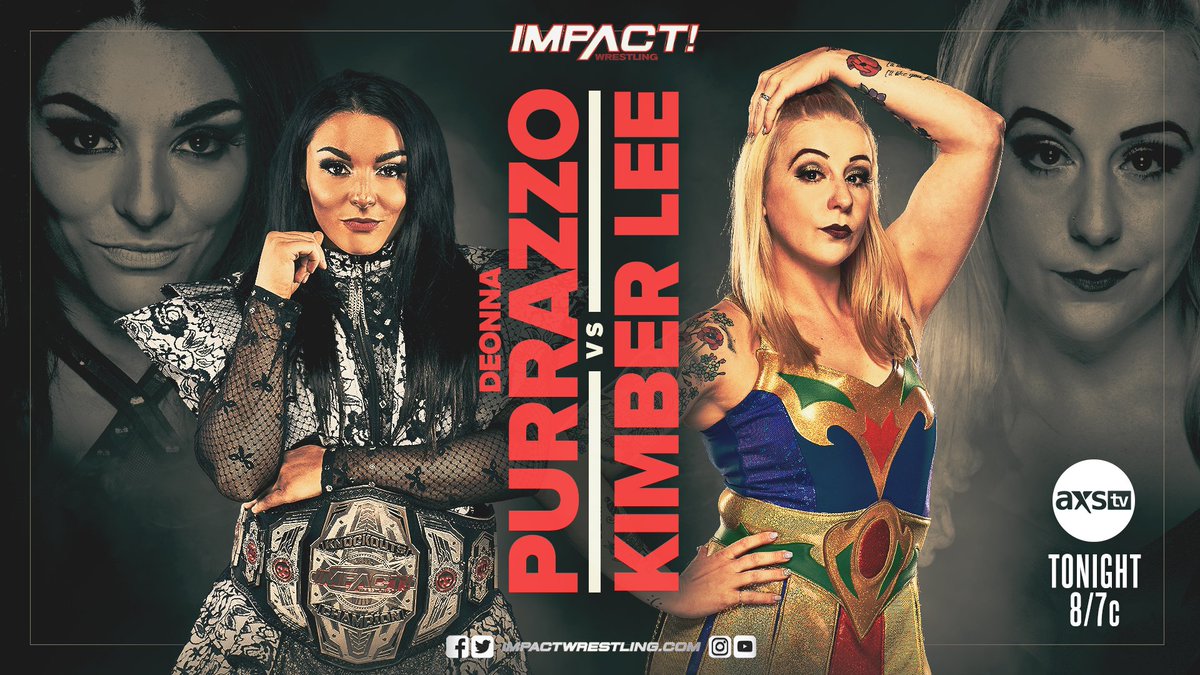 As the match continued, Lee remained in control, maintaining the upper hand over Deonna Purrazzo. It was only a matter of time until Purrazzo found an opening. In seconds, Purrazzo went from being on the defense to wrenching Lee's arm in her signature Fujiwara armbar. Lee somehow managed to slither out of harm's way but Purrazzo was now on the hunt. The match continued for a few moments as Lee did whatever she could to slow down Purrazzo. Lee's efforts, while admirable, were not enough. Purrazzo saw her opening and grabbed Lee's left arm, yanking on it before successfully locking in the Fujiwara armbar for the second time in the match. Lee submitted instantly.
Winner: Knockouts Women's Champion – Deonna Purrazzo
Immediately after the match, the former Knockouts Women's Champion, Jordynne Grace walked out on to the stage with her arm in a sling after the brutal Championship match at Slammiversary. Grace made her way to the ring, showing no fear whatsoever and confronted Deonna Purrazzo. Purrazzo was laughing in Grace's face, proud of the damage that she had inflicted upon the former champion's arm. Grace stood in the ring about an arm's length from Purrazzo for just a second. Grace then removed the sling and took down Purrazzo! Grace starting laying lefts and rights into the face of Purrazzo, forcing the current champion to retreat and get away as quickly as she could. Jordynne Grace sent a clear message to Purrazzo: Grace is gunning for championship gold.
Impact Wrestling presents: Wrestle House – Segment 2
Next up, Wrestle House was back. The Deaner's were getting hot and heavy as Cody Deaner was in bed, snoring his head off. Jake Deaner was laying on a blanket and couldn't sleep a wink. Cody Deaner abruptly woke himself up with his snoring and became irate with Jake Deaner because of this. The two then got in each other's faces and Jake told Cody that even Susie could hear his snores from down the hall — that was the straw that broke the camels back. The two were interrupted by a hidden Tommy Dreamer, who was under the covers in a full three-piece suit!
Dreamer decided the only way to settle who gets to sleep soundly was by having a wrestling match! There we go, Cousin Jake and Cousin Cody were soon in the ring and the match was on. Cousin Jake quickly attempted to establish a truce with Cousin Cody. Once the false sense of security was set, Cousin Jake rolled up Cousin Jake for the two-count. Cousin Jake ended up grabbing the win and secured the right to sleep soundly in the bed. The Deaner's embraced after the match, showing that there were no hard feelings. This is as odd as the day is long but I love Wrestle House!
Katie Forbes and Rob Van Dam
Katie Forbes made her way to the ring alongside Rob Van Dam, initially to reveal some exclusive pictures from her website. Earlier in the night, we saw that Forbes had an altercation with Sami Calihan. Forbes thought that Calihan was a fan who had snuck into the arena — Forbes was later shown speaking to R.V.D, stating that Callihan was harassing her by 'creeping' on her. R.V.D kicked the promo off by saying that this was the moment that we were all waiting for and handed the microphone over to Katie Forbes. Forbes began to count down from five, for the launch of her pictures, that were available to fans for 'Free-Ninety-Nine'.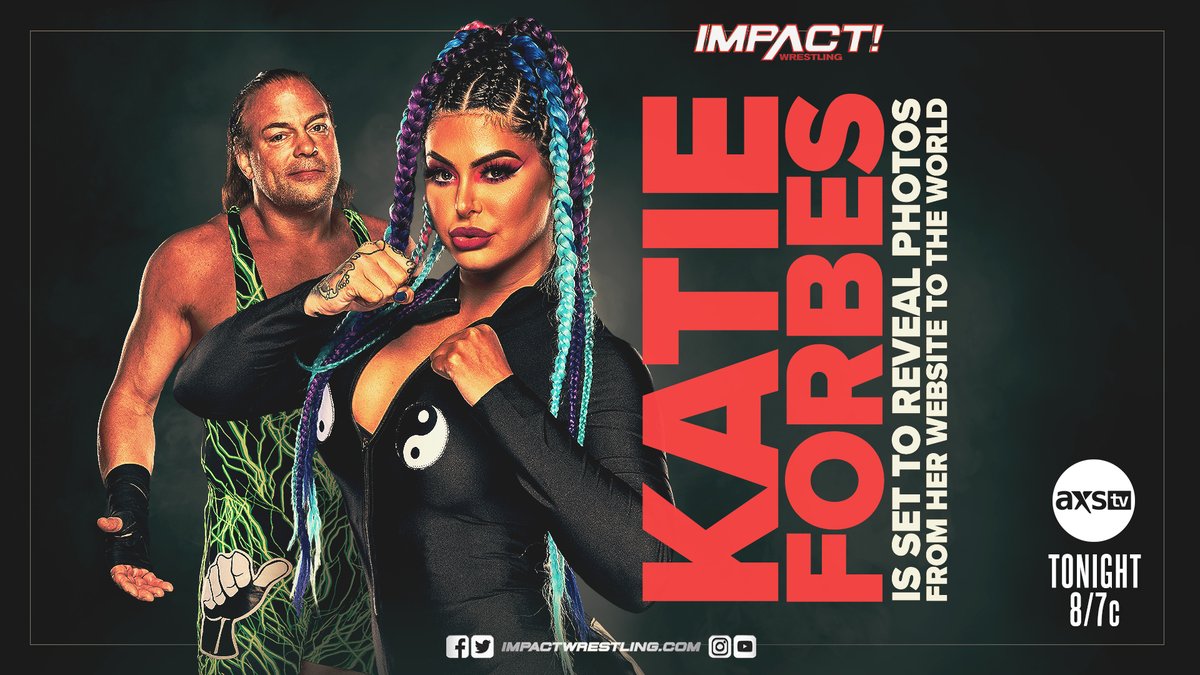 There was soon an interruption as the Titan-Tron began to play a sequence of Katie's pictures with Sami Callihan's face poorly photoshopped onto the body. Callihan made a complete mockery of Forbes and her website. Forbes was naturally outraged with this display of disrespect. Now, we can speculate as to what will happen next. Will Van Dam go after Callihan on behalf of Forbes or will Forbes go about kicking Callihan's ass herself? I guess we will find out next week!
The Good Brothers vs Reno Scum
This week's Main Event showed The Good Brothers first in-ring match after returning to Impact Wrestling at Slammiversary. The Good Brothers history as competitors in Japan was highlighted in detail by Impact! commentator, Josh Matthews. This was drilled in by the fact that Anderson and Gallows are the real deal and are here to take over Impact Wrestling. Adam Thornstowe of Reno Scum started the match against 'Machine Gun' Karl Anderson. Anderson was relentless in his attack upon Thornstowe, showing the world why he and Gallows are former three-time IWGP Tag-Team Champions. Anderson soon tagged in 'the big LG' Doc Gallows and Thornstowe simply became a punching bag for The Good Brothers. Keeping things fresh, Gallows tagged Anderson back in and, at that point, we saw Ace Austin walk out on to the stage mid-match, with a chair in hand and sat atop the ramp, watching the match. Austin was looking to send a message to The Good Brothers, given the fact that at Slammiversary, The Good Brothers took out Austin and Mad Man Fulton, in aid of a brutal attack upon Eddie Edwards. Ace Austin was not ready to look past the attack.
The distraction allowed Reno Scum to gain a momentary advantage. Luster the Legend was now the legal man in the match, going after Karl Anderson. Reno Scum continued their attack upon The Good Brother, not allowing Anderson to get to his corner to tag Doc Gallows into the match. The camera panned back to Ace Austin who was watching along in delight as The Good Brothers seemed to be at a disadvantage. After a minor struggle, Anderson managed to get Gallows into the match. In a matter of moments, Gallows took out everyone, ending this match alongside Karl Anderson with their signature double-move, 'The Magic-Killer'. Gallows successfully got the three-count!
Immediately after the match, Ace Austin ran to the ring and was met by both Anderson and Gallows. Austin's partner, Mad Man Fulton, also appeared from the shadows but The Good Brothers were ready for it and took out both Austin and Fulton.
The tension is rising between The Good Brothers and Ace Austin/Mad Man Fulton. The Good Brothers have consistently shown that they are that much better than Austin/Fulton. It's got to be a matter of time before we get that official tag-team match, which will be an incredible showdown.
Winners: The Good Brothers
Final Thoughts
The first thing that comes to my mind is the phrase 'A new era'. I truly believe that this is a new beginning for Impact Wrestling as a whole. After the success of Slammiversary, I can only assume that there are a lot more people tuning into Impact Wrestling on Tuesday nights than there were before. This week showed us a successful Impact World Championship defense as Eddie Edwards continues to prove that will be a champion that Impact Wrestling would be proud of. Deonna Purrazzo also went one-on-one with an incredibly impressive Kimber Lee in a non-championship match. The larger scales within the Knockouts Division is the fact the Jordynne Grace is back to reclaim the championship that Deonna Purrazzo now holds.
Things are heating up in the world of Impact Wrestling and now is as good a time as any to sink your teeth into this promotion and invest fully in the characters and storylines.
Thank you for joining me here at Sports Obsessive for your weekly Impact! Wrestling review!