After what was possibly one of the greatest wrestling events of 2020, Impact Wrestling was back on our television screens. This week's show was jam packed with the continued success of the critically acclaimed, Slammiversary 2020.
As you may have read from our Slammiversary Review; the final seconds of the show featured the return of EC3 to the promotion. EC3 appeared on the monitors from the backstage in an ominous setting but did not say a word. EC3's return may have been one of the best surprises of the night.
While that's all so incredible and endlessly exciting, that was last week. This week on Impact Wrestling, EC3 returned from the same ominous location and this time, EC3 had something to say:
#ControlYourNarrative #IMPACTonAXSTV @therealec3 pic.twitter.com/rUPeihK30y

— IMPACT (@IMPACTWRESTLING) July 22, 2020
Now, with the excitement of EC3 potentially appearing on this week's edition of Impact Wrestling, let bottle up all of that positivity and bring it to the ring.
Chris Bey (Champion) vs Willie Mack
This first match of the night was a Slammiversary rematch for the X-Division Championship. Willie Mack, who lost his Championship to Chris Bey on Saturday night was incredibly quick to invoke his Championship rematch clause. Bey's victory at Slammiversary was a clean victory however, Mack needs to be in possession of the X-Division Championship simply due to the fact that the title means the world to him. The bell rang and the math was underway. This was a really good match throughout and to Bey's credit, he was phenomenal in this match. I'm really finding myself becoming more and more of a fan of Chris Bey as time goes on. Willie Mack's tone had certainly shifted. Mack was a man on a mission and he clearly displayed that here. Mack took control of the match and hit Bey with a barrage of hard hitting strikes that would leave a regular man concussed. This was a great opening match with all the emotions that you could ask for. Pride, anguish, disdain and the uncontrollable need for retribution.
An example of the passion that was brewing in this match came when the Champion, Chris Bey, dove from the ring to the outside section, near the ramp, hoping to clear out Mack and his intentions. Mack caught Bey mid-air and hit the Champion with a side-walk-slam on the outside! Things were not looking great for the new X-Division Champion – that didn't last long. Later in the match, Bey grounded Mack with vice like grip as he wrenched a sleeper hold onto the former Champion. While the sleeper hold didn't instantly put Mack down, it certainly opened the door for a successful Championship defence. Bey ended this match by first avoiding Mack's 6-Star Frog Splash and then performing a springboard diamond cutter. Mack was down for the three-count! Chris Bey successfully retained his newly won X-Division Championship.
Winner: Chris Bey
The Good Brothers Take Control of Impact Wrestling
As the show rolled on, 'The Machine Gun' Karl Anderson and 'The Big LG' Doc Gallows made their presence known once again and I for one couldn't be happier. Anderson started off by addressing the speculation that had been circulating since their departure from the WWE. Anderson and Gallows had many wrestling promotions in the palm of their hands. The Good Brothers chose to take over Impact Wrestling. Anderson brought up the fact that Slammiversary was trending worldwide on Saturday night and that The Good Brothers were the reason for that – I can't say I disagree. Gallows then grabbed the microphone to reiterate was Anderson has said previously. Gallows stated that there is a reason for the success of Slammiversary and that there is a reason that their newest t-shirt sold out instantly. Gallows was quick to add that if anyone on the locker room disagrees or does not believe what he and Anderson are talking about, The Good Brothers will put them in their place.
The Good Brothers were preparing the celebrate their arrival to Impact with a few of their trademarked Talk-N-Shop beers but were promptly interrupted by Ace Austin and 'Mad Man' Fulton.  At Slammiversary, Austin was one of the men in the 5-Way match for the Impact World Championship, in which Eddie Edwards was victorious, after Edwards won, Fulton jumped Edward and attacked him on behalf of Austin, who was also in the Championship match. That was when The Good Brothers made their presence known in Impact Wrestling, fighting off Fulton and Austin before celebrating with Eddie Edwards. Ace Austin confronted The Good Brothers in search of an apology. Austin said that he knows what it's like to be the 'new guy' and he understood that Gallows and Anderson were making a statement upon their arrival to Impact Wrestling. Austin then dubbed himself and Fulton as 'the two top guys' at Impact, which is why he assumed that Gallows and Anderson attacked him at Slammiversary. It wasn't long before Austin threw the first punch, Anderson decked Austin and Gallows dealt with 'Mad Man' Fulton in a matter of seconds, proving that you don't f*** with The Good Brothers.
Heath Shows up to Impact Wrestling
Next up, Heath was seen trying to get into the arena and the security guard asked Heath what his last name was, to which he replied 'I used to have a last name but I can't use it anymore'. That was hysterical. I'm a fan of Heath and happy to see him on my television screen again. Let's not forget that during Heath's reunion with Rhyno at Slammiversary, Rhyno told Heath to show up to the arena this week and he'd get him in, as Heath is technically a free agent. All the security guard was missing at this point was Gandalf's staff because I was expecting him to shout "you shall not pass'" when Heath's names was not on his list. Heath tried to reach Rhyno on his cell-phone but when the cameras caught up with Rhyno, he was bickering with Hernandez again. Rhyno challenged Hernandez to yet another match that would take place later on in the show and Heath was left outside the arena! Oh baaaby!
Kiera Hogan and Tasha Steelz vs Havok and Neveah
The rivalry between Hogan/Steelz and Neveah/Havok has really been ramping up over the past few weeks. This week on Impact we had a tag-team match between the rivals. Havok annihilated Hogan in the early moments of the match, literally throwing Kiera around the ring. Neveah and Havok have been a tag-team for a very long time and have been undeniably successful in doing so. That does not mean that however, that Hogan and Steelz were to be overlooked or deemed as the underdogs, their chemistry is on another level and they could be 'the' tag-team in Impact Wrestling. As the match went on, Hogan hadn't been given the opportunity to tag Steelz on for quite some time and that was solely down to the manner in which Havok and Neveah were controlling this tag-team match. Steelz soon got the tag and brough the attack to Neveah, which eventually caused Neveah to become desperate for the tag to Havok. Hogan distracted the referee just before Neveah scrambled to her team's side of the ring and made the tag to Havok. When the ref turned around, all he saw was Havok running into the ring, not knowing that Havok had legally been tagged into the match and he forced Havok to get back on the apron.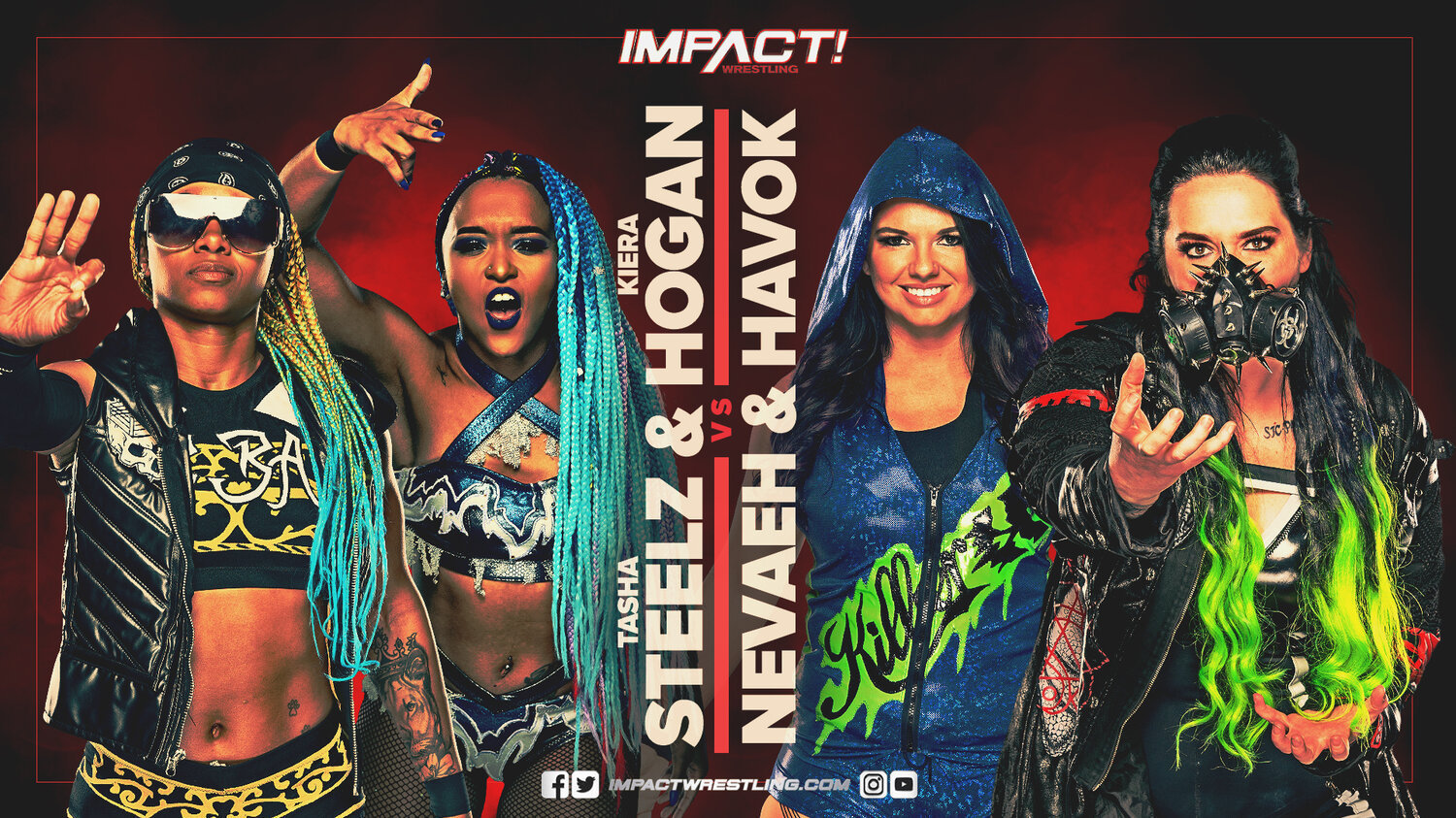 Great distraction technique by Hogan! Havok was clearly irate and rightfully so. Both Neveah and Steelz were going at it in the middle of the ring and they both ended up knocking each other to the mat at the same time. This was followed by both performers tagging their respective teammates into back into the match. This was when Havok lost her mind and ploughed right through Steelz and Hogan. The end of the match came about when Havok had Hogan in a potential pile-driver predicament, and surprisingly to me, Tasha Steelz darted back into the ring with a steel chair in hand and mashed Havok in the back. Havok proved that she's of one the toughest humans on the planet however, as the chair shot didn't affect her in the slightest. Havok still had Hogan positioned for a piledriver, meanwhile Neveah had disarmed Steelz. Havok finally hit Hogan with the tombstone piledriver, leaving Hogan laying in a heap, as she and Neveah stood tall.
Winners: Havok and Neveah (Via DQ)
Rhyno vs Hernandez
In a continuation of what we saw earlier tonight, Rhyno and Hernandez were all set for their big one-on-one match to settle their ongoing feud. here's how it went down.
The bell rang, Rhyno hit The Gore in a matter seconds,One-Two-Three.
Probably the shortest match in Impact Wrestling's history!
There you have it.
Winner: Rhyno
Eddie Edwards addresses his Slammiversary victory
At Slammiversary, Eddie Edwards became the new Impact World Champion for the second time in his career. This week on Impact, Eddie made his way to the ring to deliver his first in-ring promo since becoming the new champ. Eddie started off by explaining how important the journey to become Champion was to him. Eddie spoke about 'the ups, the downs, the wins and losses, the broken bones, broken hearts and broken lives'. That was Eddie's journey that brought him back to the Impact World Championship. Eddie went on to say that his Championship hunt is now over and that he has goals for himself as Champion. Eddie mentioned that over the past number of years, Impact Wrestling has lacked stability. Eddie vowed to be a World Champion that the men and women in the Impact locker room can be proud of and that the entire company can be proud of (Clearly a dig at Tessa Blanchard who was the previous World Champion that walked out on the company and reportedly asked Impact Wrestling for $150,000 for the return of their Championship belt).
Eddie continued by saying that keeping the Championship over his shoulder will be one of the most difficult things that he will have to endure but he promised to be a fighting champion that we can all be proud of.
Just after Eddie Edwards had wrapped up and was enjoying his moment, the recently returned Eric Young walked out onto the ramp to ruin Eddie's moment. Before EY could say anything, Eddie went on a mad one, telling EY that he had no right to be out on the stage, especially after the brutal attack that Rich Swann endured at the hands of EY at Slammiversary. Swann is a close personal friend of Eddie and Eddie even mentioned that Swann may never walk again, let alone wrestle. EY interjected himself back into the conversion as he slowly made his way down the ramp. EY went on to diminish Eddie's victory and even say that he does not give a damn about Eddie's journey. EY is back in Impact Wrestling, he feels that he owns Impact Wrestling and he is adamant that he will run through everybody at Impact Wrestling until he get what he feels is rightfully his, the Impact World Championship.
Moose vs Fallah Bahh
Moose was back at it again this week on Impact Wrestling as he defended his  TNA World Heavyweight Championship. Moose was taking on Bahh in singles action for the gold. As ridiculous as it is that Moose is still defending this Championship, Moose is constantly victorious and is one hell of a talented professional wrestler. Moose called the shots in this match and really manhandled Fallah Bahh. After a small amount of retaliation from Bahh, Moose took control of the match once again and hit his trademarked 'Spear'. Moose had once again successfully defended his TNA World Heavyweight Championship.
Winner: Moose
After the match, as Moose was celebrating and calling himself a 'Wrestling God', he was approached from behind by none other than the returning EC3. EC3 instantly dropped Moose to the mat and exited the ring just as quick as he entered it.
EC3 is controlling his own narrative and I cannot wait to see what happens next.
The North (Champions) vs The Motor City Machine Guns
The Motor City Machine Guns announced this match upon their return to the company on Saturday night at Slammiversary. The North would defend their Impact Tag-Team Championship against The Motor City Machine Guns in the main event of this weeks Impact Wrestling.The Machine Guns are former TNA Tag-Team Champions in their own right but were up against a team who have held the Impact Tag-Team Championship for over one calendar year. Ethan Page and Alex Shelly started the match off, there as a lot of trash talking involved here with The North looking to intimidate The Machine Guns right back out of the company but The Machine Guns are back to fight. The North remained in control for the majority of the match up until Chris Sabin got involved in the match and the challengers then seized control of this Main Event match.
Josh Alexander ended up fighting on the outside with Alex Shelly, looking to send a message to every tag-team in the company. That being, that nobody can defeat The North. Alexander continued to beat down Shelly in the middle of the ring and soon tagged in the fresh, 'All-Ego' Ethan Page. Alex Shelly and Chris Sabin may be grizzled TNA veterans, but they did not show an ounce of ring-rust and to be honest, I think that got under the skin of The North. I feel that The North thought that this would be an easy match against 'the old-timers' but that was far from the case. A window of opportunity opened up for Shelly after a failed moonsault attempt from Alexander. Sabin and Page soon made their way into the match and Sabin was nearly faster than me eyes could follow. Sabin followed up with a suicide dive to the outside, taking out Page who had escaped the ring in hopes of a breather. Towards the end of the match, Page and Sabin were the two legal men in the match. Shelly had been thrown to the outside and Page and Alexander were double-teaming in the middle of the ring against Chris Sabin. Sabin was propped up by The North for a 'Death Drop' at which time Sabin had positioned this into a reversal to Ethan Page. Sabin transitioned from atop Page's shoulder into a pinning predicament. At this time Shelly rolled back into the ring and held down Alexander as he was forced to watch Ethan Page be pinned One-Two-Three!
The North's historical Championship reign had come to an end and The Motor City Machine Guns had become the new Impact Tag-Team Champions.
Winners: The Motor City Machine Guns
Final Thoughts
Looking back of this week's Impact Wrestling, you can't not be happy with it. Impact Wrestling as a whole, are working their asses off during a pandemic to entertain their fans. This weeks we had three Championship matches (if you include Moose in that category). We had an appearance from Heath, EC3 and Gallows and Anderson. Oh, and The Motor City Machine Guns are the Impact Tag-Team Champions.. in 2020! Not to mention that Deonna Purrazzo defeated Jordynne Grace for the Knockouts Championship last Saturday night at Slammiversary, which was an incredible success in it of itself.
Thank you for joining us here at Sports Obsessive for your weekly Impact Wrestling review. Be sure to be check back in next Tuesday as I'll be recapping all of the action as it unravels.
Impact Wrestling is truly an unmissable show. We have so much to look forward to in the coming weeks. Who knows what will happen!