Welcome back to Sports Obsessive. As always, thank you for joining us. You've clicked on this article which can only mean one thing: You're ready for your Impact Wrestling fix.
So without further ado, let's get into this week's Impact Wrestling review.
This week's show started with a video package that displayed a number of wrestlers' interactions with Don Callis. It's safe to say that he is not a liked man. Callis has been getting under the skin of talent and figures of authority alike.
We were then shown a recap of the Omega/Moose Championship match that took place on AEW's home turf, which led to Sami Callihan invading Daily's Place. While we're on the topic, you can read an article in which I spoke upon potential dream matches for Callihan in AEW right here. Once Callihan showed up in AEW, Callis must've knocked a couple of his favorite play-things out of the crib as he frantically shouted 'You're Fired' to the 'Death Machine'.
This week's Impact Wrestling promised to address the firing of Sami Callihan. Scott D'Amore even advised that a special board of command would be visiting Impacts part of Callihan's firing.
TJP vs Black Taurus
With all of that drama out of the picture, for now, the first match of the night was underway as TJP was in singles action against Black Taurus, who was accompanied by Crazzy Steve. If by chance, you are new to Impact Wrestling and you were to tune into this match, you'd be surprised. Black Taurus is a burly gently who wrestles in a demonically aggressive, mask and is quicker on his feet than a man of his stature should be. When you look at this match at face value, you'd think 'the big bull-headed guy is going to obliterate the smaller athlete'. At the end of the day, this is professional wrestling, which means anything can happen!
Taurus did in fact, dominate the majority of this match, using his strength to power over his opponent. TJP may have a lot of fight in him but sometimes, having the willingness to win is not always enough. The more this match went on, the more I became a fan of Black Taurus. TJP was certainly not intimidated in the slightest during this match and that bravery was on full display as TJP managed to gain the upper hand, momentarily.
Surprisingly to some, this match ended with TJP flying from the top rope onto Taurus with a Mamba Splash and finishing up with the 1-2-3!
Winner: TJP
Moose Hijacks Impact! Kinda'…
Immediately after this match, Moose ran out to the ring, flattened TJP, and hijacked the show! Earlier in the night we briefly saw a discussion between Moose and D'Amore regarding Moose's Championship rematch but D'Amore simply said he did not have the time to get into the matter. Moose took this response with just a drop of toxic masculinity, which meant that the muscular moose, was going to sit on a steel chair in the middle of the ring until he gets what he wants. Moose was then met with security which led to Moose's attention focusing completely on that task.
Chris Sabin Returns
Because this is wrestling, Moose was hit from behind. Not only that but he was hit from behind with probably the best diving dropkick that I think that I have ever seen in all my years of watching wrestling as a fan. Chris Sabin, who weeks ago was taken out by Moose, brought the attack to the big man, forcing Moose to retreat. Now, this was exciting!
Mad Man Fulton vs Josh Alexander
As the night rolled on, the action continued. Mad Man Fulton was in action next as he took on Josh Alexander in a non-championship match. Alexander is the current X-Division Champion and is set to defend the gold at Impact's next PPV, Slammiversary. This match was just brutal. You'd expect to see Alexander in a position where he would gain momentum going into his Championship defense at Slammiversary but that was not the case from the offset. Mad Man Fulton brutalized Josh Alexander. You can't help but wonder, was it a wise decision for Alexander to partake in this match?
I understand that he is a fighting champion etc.. but sometimes you have to work smarter, not harder. If Fulton has his way, he might just send Alexander packing all the way over to AEW to reunite with his former tag-partner, Ethan Page. Saying that they don't call Alexander 'the walking weapon' for no reason. However, the size difference between Alexander and Fulton is undeniable. Alexander went on to make a statement that size doesn't matter as he gracefully defeated the big man and score the much-needed 1-2-3!
Slammiversary is going to be a whopper!
Winner: Josh Alexander
Don't Mess With Steve Maclin!
Are you ready for a war? Steve Maclin is. Maclin made his Impact Wrestling debut this week in a singles match with Jason Page. Maclin is a former United States veteran and former WWE Superstar under the name of Steve Cutler as a member of The Forgotten Sons. You can forget all of that now because Steve Maclin is here and Impact Wrestling is all that matters. I'm biased.
Culter has the look and the abilities to go far in Impact Wrestling and I'm ready to watch the journey unfold. Needless to say, Culter turned his opponent inside out and ended things with a nasty inverted suplex/neck breaker. It won't be long until Maclin is at the top of the Impact Wrestling mountain. Mark my words.
Winner: Steve Maclin
Tenille Dashwood vs Rachel Ellering
This match was really interesting. Dashwood has a terrible attitude but you can't knock what she does in the ring, she always backs herself up. Kaleb with a K was ringside for this match, showing some support for Dashwood as Ellering dominated the opening minutes of this match. Both of these wrestlers have incredible chemistry together and are two of the top performers on the brand, which is why there were no surprises when this match revved up and kicked things up a notch.
Kaleb got involved at one point and tried to assist Dashwood with a sneaky victory. Ellering put up one hell of a fight in the match as she kicked out of multiple pin attempts and truly held her own with Tenille. Dashwood became frustrated very quickly after Ellering kicked out and revered move after move. Ellering was on the cusp of victory but the victory was STOLEN by Tenille but more importantly by Kaleb. Rachael Ellering was screwed.
Winner: Tenille Dashwood
Kojima vs Rhyno
Kojima was accompanied by Eddie Edwards and was set for action against Violent By Design member, Rhyno, who was accompanied by the entirety of VBD, of course. The implications of this match were that if the NJPW legend, Kojima, were to win, he would earn an Impact Wrestling tag-team championship match against the champions, Violent By Design.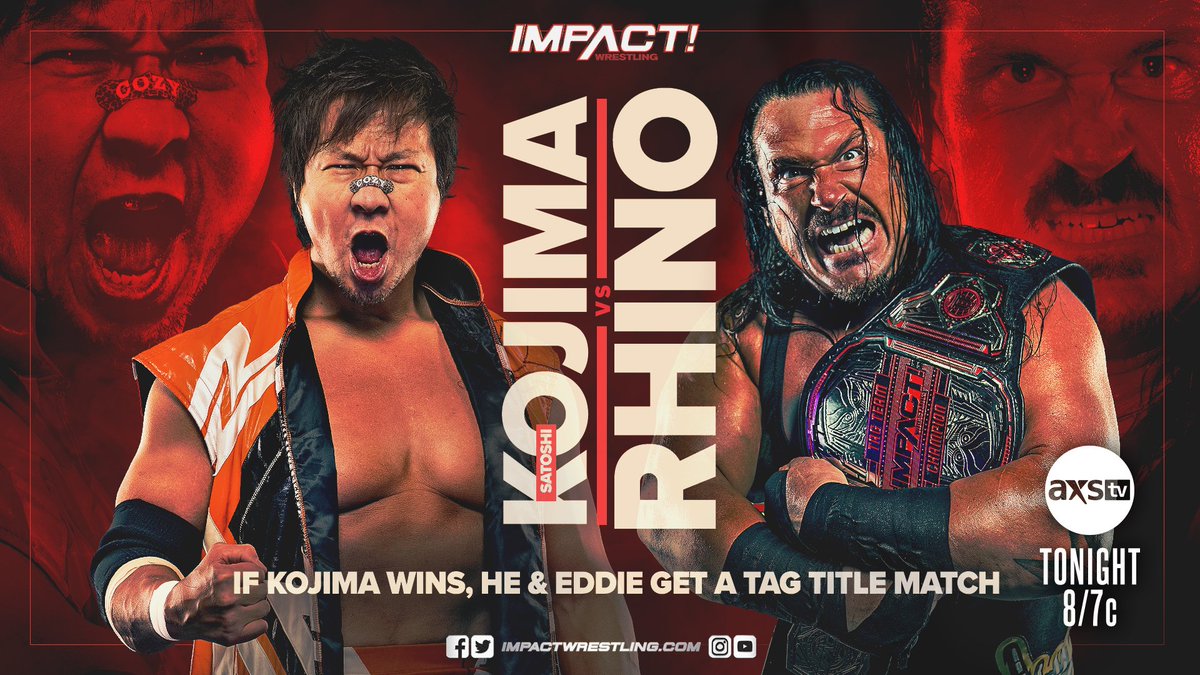 As expected, this was a stellar professional wrestling match with everything that you'd expect from two wrestlers of this caliber. Kojima brought the fight to the ECW original, Rhyno and after a brutal match, the NJPW legend secured the 1-2-3 and in doing so, secured an Impact Wrestling tag-team championship match against Violent By Design alongside Eddie Edwards. What a moment!
Winner: Kojima
Sami Callihan's Employment Status
All of a sudden, Sami Callihan was in the ring, brewing up a storm. The last thing we heard, Callihan was fired on the spot by Don Callis over at AEW. Callihan was livid and demanded answers. Scott D'Amore then made his way to the ring but he was there to tell Callihan that he was on his side. D'Amore urged Callihan to calm things down a tad as the board member who was sent to Impact to address Callihan's firing was already in the building. Callihan knew he had nothing left to lose so uncharacteristically, agreed to play the game D'Amores way. As quickly as Callihan mysteriously vanished from the ring, Don Callis arrived.
Callis ranted on about how he is a company man and works for the business and not for the talent or as he called them 'low-life pieces of garbage'. Things then got heated between Callis and D'Amore and Tommy Dreamer came down just in the nick of time. Dreamer soon dropped the bombshell that he was the member of the board sent to address this escalating situation, which shocked D'Amore and Callis as much as it shocked you and me. Dreamer elaborated by adding that he went directly to the board to express his dissatisfaction with the leaders of Impact Wrestling and the manner in which they run the company. First things first, Dreamer announced that Sami Callihan has been reinstated, meaning that we do not lose Callihan. However, Dreamer also added that someone had to get fired. Dreamer and D'Amore got face to face and it felt to me that D'Amore was shaking in his boots. Dreamer then had the pleasure of firing 'The Invisible Hand' Don Callis on behalf of the board!
Final Thoughts:
What does this mean for the working relationship between Impact and AEW now that Callis is out of the picture? Also, while Callis was scurrying away, he bumped into none other than Sami Callihan on his way out. Callihan promised to make Callis watch as he bats down the one person Callis loves, Kenny Omega. What an edition of Impact Wrestling this was! Jam-packed with drama, violence, comedy, shock, and surprises, this promotion has it all. Will we see Callihan on AEW TV this week? The chances are very high so Kenny Omega had better watch his back.
Thank you once again for joining us here at Sports Obsessive. If you enjoy what we offer you, don't hesitate to give us a shout on Facebook and Twitter @SportsObsessive. Don't forget to join us here again next week for your weekly Impact Wrestling roundup!