WWE SmackDown was back on our screens this past week. Surprisingly, Sasha Banks' defended SmackDown Women's Championship was on the line one week before WWE: TLC.
Have we already crowned a new Women's Champion?
For the first time since departing from The Amway Centre, SmackDown had found a new home and that is Tropicana Field.
Thank you for visiting us here at Sports Obsessive once again. My name is James and welcome to the return of your weekly review of WWE SmackDown.
Speaking of the location change, Tropicana Field has a capacity of 42,735 and in this current climate, that piece of information is useless as WWE are filming their weekly shows behind closed doors. Personally, I preferred the Covid-Era SmackDown when it was taking place in the WWE's Performance Centre, before the WWE ThunderDome came into play. That may not be everyone's cup of tea, but I don't understand why the WWE would spend that kind of money on hiring out venues, when they could still use their own facility. Enough of my tight pocketed jargon. Lace up your boots and lets head down to the ring!
The Contract Signing
The SmackDown Women's Champion, Sasha Banks opened up this weeks show and may I say that The Boss has been on fire since defeating her former best friend, Bayley, for the Championship, a number of weeks ago. One interesting thing is that Bayley doesn't seem to be eager to issue a rematch challenge to Banks which begs the question, Is Bayley doing ok?
Once Banks entered the ring, she was welcomed by Adam Pearce, who let us all know that this opening segment was a contract signing for the upcoming Championship defence against Carmella at WWE: TLC. Banks was asked to sign the contract, although the protective case was empty, which prompted Banks to think she was being set up for an ambush.
Carmella soon appeared on the TitanTron and a war of words between the Champion and Challenger ensued. Carmella had the contract with her in the backstage area and signed the contract first. She then had one of her people hand-deliver the contract to the Champion.
Carmella went on to threaten that once the contract was signed, Sasha Banks' days as Champion were numbered. Honestly, on one hand, the best part of this promo was Sasha Banks' challenging Mella to a Championship match on this very episode of SmackDown. However, on the other hand, what was the point of the build if we were going to get the PPV level match, one week early on TV?
Montez Ford vs Dolph Ziggler
The Street Profits were met backstage by Kayla Braxton who questioned The Profits opinion of what Robert Roode and Dolph Ziggler had to say about them last week on SmackDown. Basically, on last weeks show, Roode and Ziggler said that The Profits play around too much, when they should focus on their in-ring work. On this weeks show, Montez Ford was set to go one on one with Dolph Ziggler. The insults were set to continue this week as Roode and Ziggler made their way to the ring. Eventually, the trash talk was over and the match was finally underway.
Needless to say, the match itself was great. you've got two all star performers in Ford and Ziggler. Do you remember when we said how Ziggler insulted The Profits for being too silly? Mid-way through the match, Ziggler found himself outside the ring and Angelo Dawkins ran into the ring, Before I could even ask myself why Dawkins was in the ring, it was raining solo-cups. In what was usually a pre-match display, the wrestling ring was now full of Street Profit Signature solo-cups as the match was still ongoing! This showed that Ford and Dawkins sis not care one single bit about what Roode and Ziggler had to say about them – they were making a point.
SmackDown returned from commercial and the solo-cups had been cleared from the ring. Not only that, but Ziggler was in charge and dominating over Ford. This match was pretty entertaining for the opening match of the night. Ziggler came off as a truly dominant force for the majority. Montez Ford did start to feel to adrenaline pumping through his veins mid-match and even looked like he was going to pull off one of his massive frog-splash moves from the top rope. Ford was distracted by a scuffle Dawkins and Roode on the outside. To Ziggler point, Ford should have concentrated on the task at hand because this distraction cost him the match. The opportunistic Dolph Ziggler was ready and waiting for a moment of vulnerability to present itself – and it did. Ziggler picked up the victory.
Winner: Dolph Ziggler
Big-E vs Sami Zayn
For some reason, Sami Zayn is now concerned about his merchandise, or lack thereof. Zayn was seen backstage at a merchandise table and was moaning that everybody had a T-Shirt, but him. Big-E soon entered the fray, showing off his new T-Shirt. After a moment of mocking the current WWE Intercontinental Champion, Big-E was not done. Big-E called upon Apollo Crews to show Sami his 'new' T-Shirt. Let me tell you, I wont be rushing onto WWEShop.com to buy this one. It was a plain white tee with a stick-figure intended to resemble Zayn. Needless to say, Zayn was pissed. Zayn snatched the shirt and tried to rip it, Hulk Hogan style, but his hand was injured so he couldn't. Big-E closed the segment by coming off as the main guy. I have to say, I like Big-E but I'll always be a Sami Zayn fan. Zayn needs to be respected more. Give him a real shirt!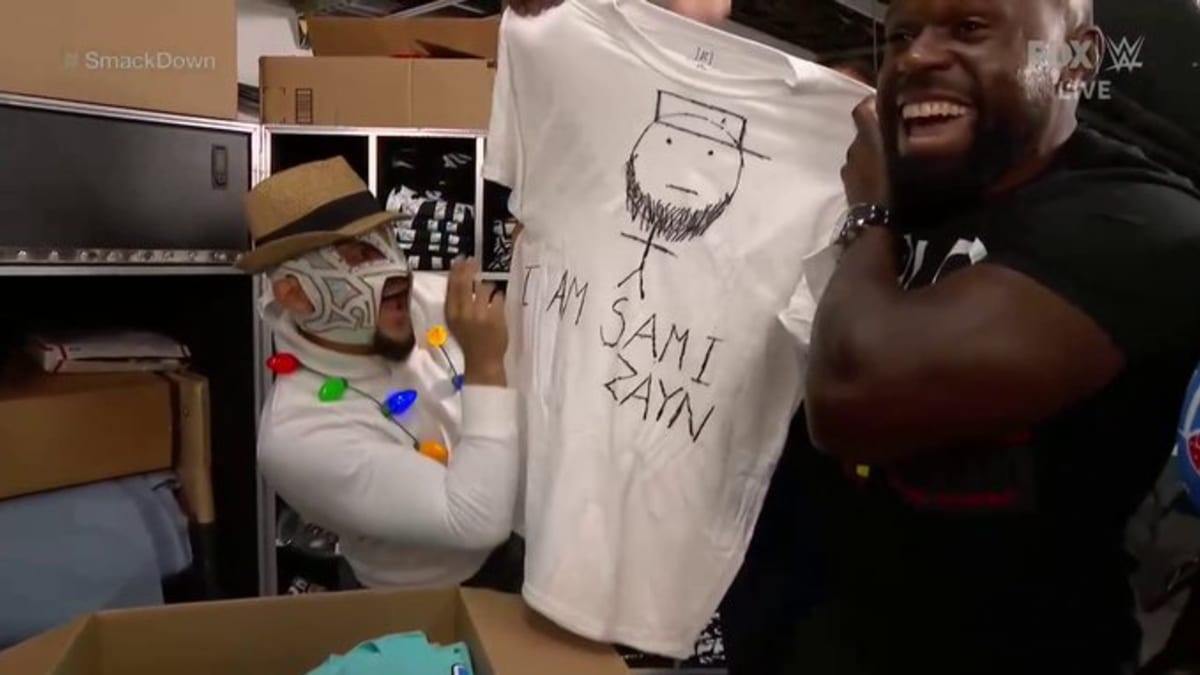 Zayn was soon in the ring and naturally was mouthing off about what just happened backstage. Zayn went on to say how he has defeated so many future WWE Hall of Famer's. He's not wrong. Show the Intercontinental Champion some respect! Big-E then made his way down the ring, ahead of this singles match that was due to take place. One thing that got me here was that Big-E had new music and the return of his entrance chalk prop. This in itself was a huge step forward in the realms of Big-E, post New Day. We all know that Big-E has been the IC Champion in the past but he has not held singles gold in the WWE for a very long time, E's time to shine is right now and I truly believe that he could one day be the World Champion.
Big-E can and most likely will be a main event player. The story that the commentary team were telling was that this was a match for E and a match in which he could prove himself as a singles competitor. I feel that they are forgetting about his NXT run. E was dominant then and is even more dominant today. As this match went on, both men were coming off almost as equals. E did manage to come a fraction stronger than Zayn. That fact that Zayn is the current IC Champ is also a big deal. If E managed to knock Zayn, the wind would certainly be in his sails. Mid-match, Zayn looked to be in the drivers seat, that was until something lit a fire under E's ass. Sami was soon hit with a Big-Splash but then he managed to roll out of the ring for a breather.
E wasn't here to play games so he rolled Zayne right back into the ring and continued the attack. E even dodges Zayn's signature move, the Heluva Kick and countered it with the Big-Ending. Just as it looked that E was going to get the win, Zayn favoured his broken hand and got the referees attention. Chances were that this was all a sly tactic for Zayne to get the upper hand, Things got weird from here, Zayn slapped E right in the face, which obviously infuriated E. A game of cat and mouse then ensued which ended in Big-E climbing under the ring after Sami Zayn as if they were Fit Finlay and Hornswoggle.
Zayn got to the other side of the ring, climbed back inside of the ring at what felt to be a half second before the 10 count. Sami Zayn picked up the victory via count out in such a bizarre fashion. Did this match need a count out? Yes, and here's why; Sami Zayn is the dastardly IC Champ that will do anything to win, if he starts losing, he shouldn't be Champion. Big-E, is on the rise as a singles competitor. A straight pin fall defeat would have derailed this momentum, whereas a count out, at the hands of Sami Zayn in much more acceptable and believable. Overall, this was a great match and I'm happy with the finish.
Winner: Sami Zayn (Via Count Out)
Bayley Has Some Choice Words for Sasha Banks and Bianca Belair
The former SmackDown Women's Champion appeared backstage as she mocked Carmella ahead of this weeks main event,. Bayley went on to say that Banks may be the Champion but she still runs the Women's division on Friday Night SmackDown. Bayley finished off her Sasha Banks trash talk by stating that Banks is the most overpaid and overrated superstar in WWE history. If you think Bayley was finished there, you'd be dead wrong. Bayley then turned her attention to Bianca Belair, who unbeknownst to Bayley was creeping up right behind her. Bayley went on to question who Belair thinks she is, turning up on SmackDown, swinging her ponytail around.
At this point, Belair was right behind Bayley and made her presence known. Instead of jumping Bayley, Belair proceeded to put down Bayley in a different manner. Belair made it known she has recently defeated Natalya, Bayley didn't. Belair was the last member to represent SmackDown at Survivor Series, not Bayley. Who's the strong-EST.. you catch my drift. Bayley walked away which really showed that she cannot handle the fact that Belair has her number. This is very interesting.
Kevin Owens Does Not Fear Roman Reigns
A fired up Kevin Owens made his way down to the ring, as Roman Reigns and Paul Heyman watched a television screen (from an accurate angle) backstage. Owens grabbed a table, ladder and a chair and threw them into the ring before jumping on the microphone. Owens reiterated the fact that he is not afraid of Roman Reigns and he can understands where this new persona of Reigns has come from. It's all about family and providing for you family – Owens understands that just as much as anybody. K.O went on to say, that as good as Reigns is, it appears that Roman's family is doing his fighting for him.
Owens admitted that the upcoming match at WWE: TLC is the most important match of his career. Owens went on to say that he had a few friends to help him in his upcoming battle against Reigns. These friends being steel chairs, ladders and tables. This statement alone would have sent shockwaves through any regular man, realising that Owens is determined to inflict damage. However, as wee all know, Roman Reigns is not a regular man.
As Owens was declaring what would happen at WWE: TLC, Reigns' cousin, Jey Uso, ambushed Kevin Owens with a steel chair of his own. However, Owens was ready for anything and managed to drive Jey Uso through a table, sending a direct message to the WWE Universal Champion, Roman Reigns, It's clear that reigns was not going to take this well and we all knew that Uso was going to be punished at the hands of Reigns for falling short because as Reigns has made it clear in the past, 'There are consequences you must face for your actions'.
I'll tell you something, I wouldn't want to be Jey Uso right now. With that being said, Reigns then made his way out to the stage and Reigns was stopped from bringing the fight to Owens by Paul Heyman who continually said to Reigns, that he was the one who called the shots, not Kevin Owens. As Owens waited impatiently in the ring, Reigns walked away confidently as SmackDown went to a commercial. As soon as the show resumed, we say Owens limping backstage, frantically calling out for Roman Reigns. Not the best idea, in my opinion.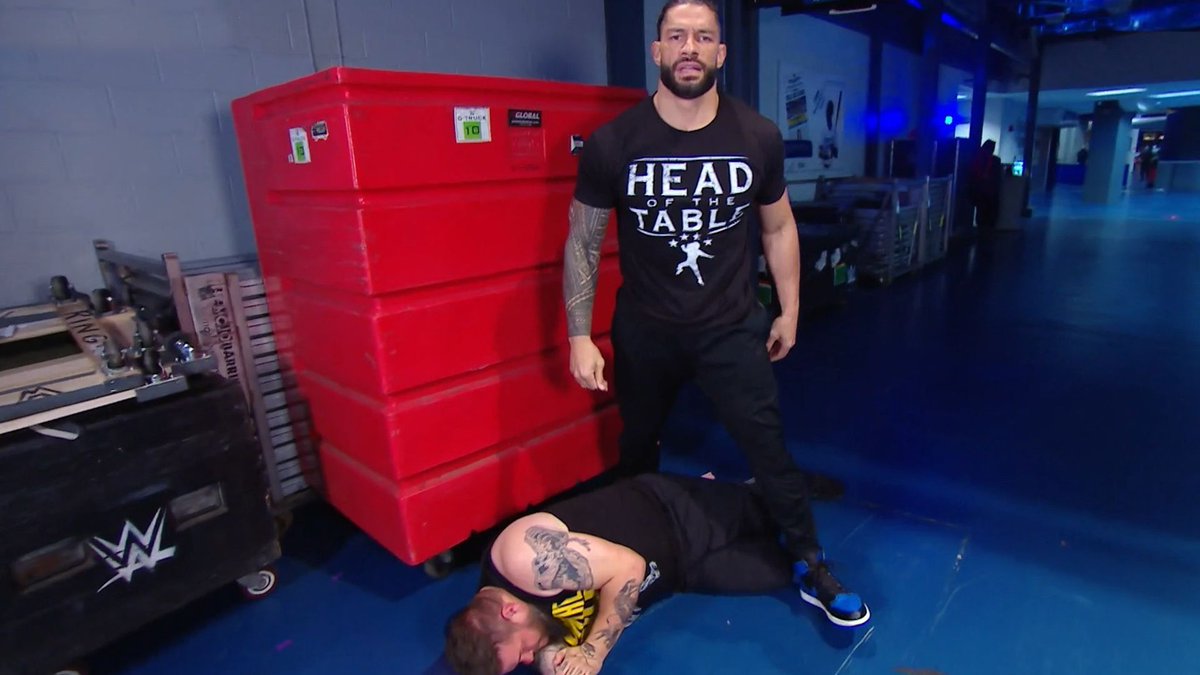 Kayla Braxton ran up to Owens during all of this looking for a few words but Owens only had Reigns on his mind and demanded that Braxton tell him where Reigns was. Owens then started shouting at Braxton, frustrated with al that was going on with Reigns talking about Owens' family last week. Suddenly, Kayla Braxton ran for her life, which only meant one thing. Just like that, Roman Reigns was standing over Kevin Owens' body after driving a steel chair across his spine. I have to say, this story has been told so well, specifically the story of Roman Reigns.
Reigns thinks he is doing good for his family but in actuality he is on a rampage. Mistreating his own cousin, Jey Uso and running through any other superstar the gets in his way. Will Kevin Owens stop Reigns and WWE: TLC? The answer is no. Also, I'm aware that rumours are running rampant of a possible match between Roman Reigns and his other cousin, The Rock. I don't think even The Rock can stop Roman Reigns, I'm sure that K.O will put up one hell of a fight on behalf of his family at WWE:TLC, Just don't expect him to have his hand raised at the end because its not going to happen.
The Riott Squad vs Billie Kay and Natalya
This match was short and sweet and was all about Billie Kay. Kay is on the rise as a top heel in the WWE. When fans do return to WWE shows, I see fans cheering the hell out of Kay, even though she's an bad guy and that's down to how entertaining she is, I think she's incredible! However, I am still bitter with the WWE for breaking up The IIconics, when there was no need to, at least we get this incredible Billie Kay run out of it (Peyton's doing great too).
Natalya tagged with Kay here and they took on Ruby Riott and Liv Morgan (Go watch Liv Forever on the WWE Network, you wont regret it). This match only lasted a few minutes with The Riott Squad picking up the victory. Kay had a whinge on the outside for a bit but would you expect anything else from her? I feel that we are on the verge of something great with Billie Kay.
Winners: The Riott Squad
Chad Gable and Otis vs Cesaro and Shinsuke Nakamura
Chad Gable and Otis were met backstage by Kayla Braxton for a catch up. I'm not sure how I feel about this. Earlier this year, Otis won the Money In The Bank match and I feel that its been a decline from there. At least Gable got his name back. WWE really dropped the ball on Otis. Gable was happy to be teaming up with Otis and considers himself as a mentor. This was a small exchange before their tag match against Cesaro and Shinsuke Nakamara, The match itself was ok, I'm sure I didn't enjoy it as much as I should have because I was thinking that all four of these men deserve to be higher up the card, especially Nakamura,
Regardless, the match continued and I was surprised to hear Corey Graves putting Otis over. It wasn't long ago that Graves would throw shade towards the working man but maybe had something to do with how Otis got together with Mandy Rose. This match ended with Gable taking the pin. That was intriguing as it seemed that Otis felt he could have picked up the victory for the team, rather than his supposed 'mentor'.
Winners: Cesaro and Shinsuke Nakamura
Sasha Banks vs Carmella for the SmackDown Women's Championship
On paper, this has the potential to be a fantastic match. That's why it was schedule to take place in a weeks time at WWE: TLC. Why are WWE spoiling a PPV match on their weekly show? It makes no sense to me. Regardless of what I think, this match did happen, so here we go. I've been moaning about this match coming one week early but this was a great match, Carmella came into this match, over confident and brought the attack to The Boss from the start. The challenger was leading the first half of this match and targeted the SmackDown Women's Champions' shoulder. This was smart tactic as this injury would prevent Banks from locking in her Bank Statement submission move. After being controlled for the first half of the match, the Champion's adrenaline kicked in. However, Carmella was able to reverse a number of Banks' attacks.
Could we see a Championship change on Friday Night SmackDown? No. I'll tell you why. Carmella's associate got physically involved and pulled Banks out of the ring just when it looked like the challenger was going to submit. This obviously infuriated The Legit Boss, who ending up laying waste to Carmella, so much so that the Champion was disqualified from the match. Technically, Carmella won this Championship match but as we know, according to the rule book, a Championship will not change hands via DQ. Mella now has so much momentum going into TLC. However, there will be an irate Sasha Banks, ready and waiting to unleash hell at the Pay-Per-View.
Winner: Carmella via DQ
Final Thoughts
Was this a good SmackDown? Firstly, let's remind ourselves that this show started with a contract signing for the SmackDown Women's Championship match at WWE: TLC and it ended with said PPV level match closing the show. Usually, Id be excited about something like that but it's too close to the PPV, I think this was not the best decision. Then we had Dolph Ziggler defeating one half of the current Tag-Team Champions, which was great for Ziggler and Roode, heading into WWE: TLC. Next up we continued our journey on the rise of Big-E, he's gonna get there, give it time. One of the start of the show, Billie Kay brightened things up, she may have lost her match but she's already a star. Kevin Owens got one over on Jey Uso but was swiftly put in his place by Roman Reigns. We saw what's going down between Otis and Gable, which has to end in a blowout match with Otis defeating his apparent 'mentor'. Finally, we had the SmackDown Women's Champion, Sasha Banks defending against Carmella, and what an ending that was. Overall, this was a stacked show, with many superstars gaining much needed momentum ahead of WWE: TLC.
Once again, thank you for joining me here at Sports Obsessive. This has been your SmackDown review and I'm sure you are as ready for WWE: TLC as I am. What did you think of the show? What was your standout match? Let me know in the comments below.