Thank you for joining us once again at Sports Obsessive! This week Impact Wrestling was jam-packed with excitement, days before Slammiversary 2021, so let's not waste time, let's get down to business and look back at Impact Wrestling from this past week.
Brian Myers vs Jake Something
This week's show started off with a match between Brian Myers and Jake Something. This story has been played out for a few weeks now. The whole thing here is that Myers in the process of ''teaching'' Sam Beale who to be a professional wrestler. The implications of this match was nothing more than if Jake Something were to win, he would have to admit to the world that Jake Something is indeed, a professional.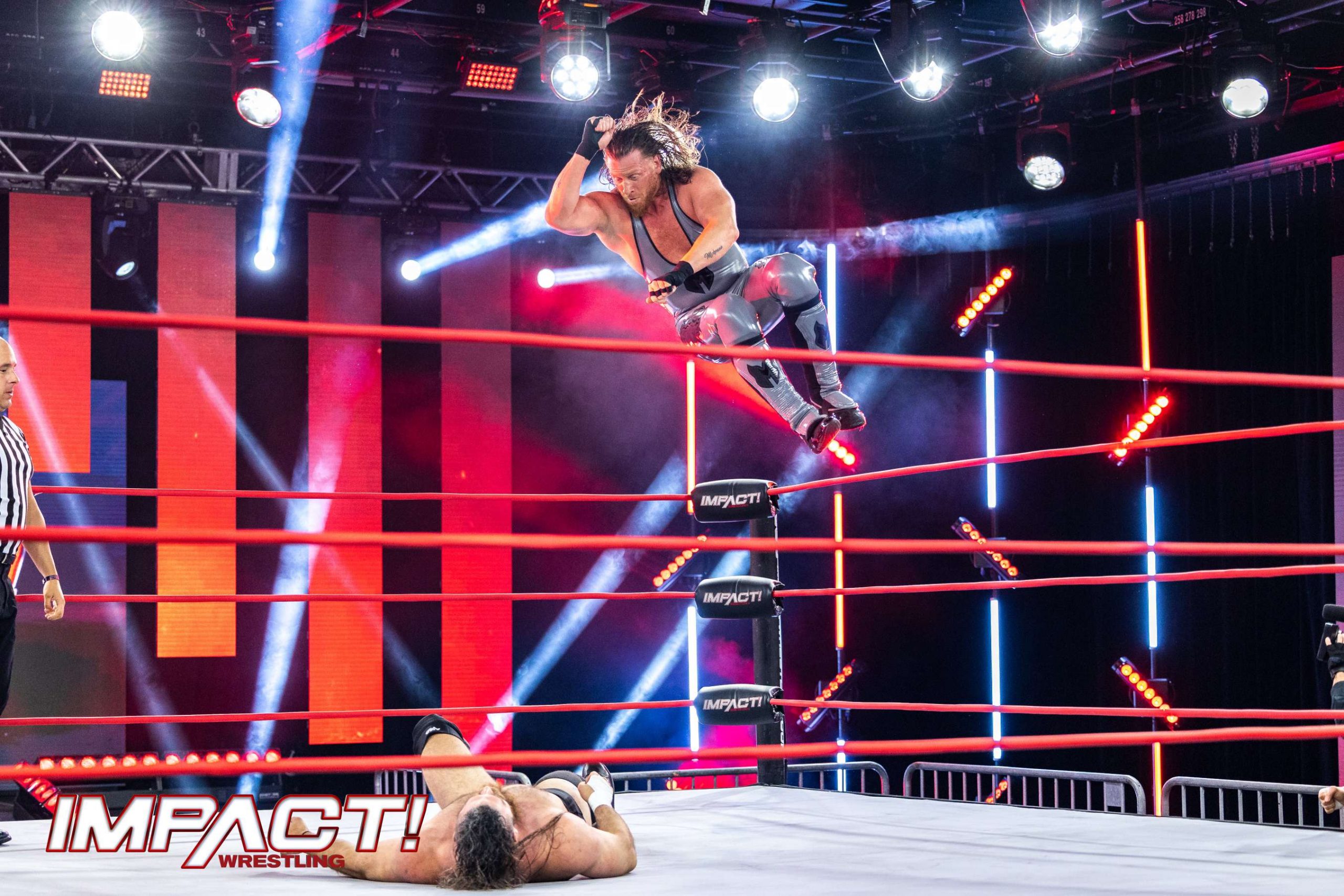 The match had a little back and forth until Myers underestimated Jake which led to a victory for Jake Something, After the match, Sam Beale jumped Jake before Myers could admit something that would be so embarrassing to him. Just before the numbers game became too much, we saw the return of the one and only, Matt Cardona. Cardona was in incredible shape and full of passion.
Hopefully, we see a lot more of Matt Cardona on Impact Wrestling from now on. Perhaps, even at Slammiversary on Saturday night.
Winner: Jake Something
The Virtuosa's Open Challenge / Who Will Deonna Purrazzo Face-Off Against At Slammiversary 2021?
Prior to this match, we saw Deonna Purrazzo backstage with Gia Miller. Purrazzo aggressively reminded Miller that she became a two-time Knockouts Champion without anybody's help (referring to Kimber Lee and Susan). The Virtuosa's not wrong, is she?  It's no secret that Purrazzo has beaten every woman to cross her path. The Champ then decided on the spot to hold an open challenge in hopes to rally up some competition. A newcomer, residing from 'somewhere cold' named Lady Frost answered the challenge in what was her debut with Impact Wrestling. Deonna started off the match with a bit of confident trash talking as she usually does and soon looked to lock in the fujiwara-armbar. I have to say, part of me is going to miss Impact Wrestling's empty arena era solely due to the fact that we won't hear Purrazzo talk the talk while in the ring any longer. Lady Frost reversed a number of Purrazzos maneuvers but the Champ was quick to show not only Lady Frost but the world, why she represents the Knockouts Division so proudly.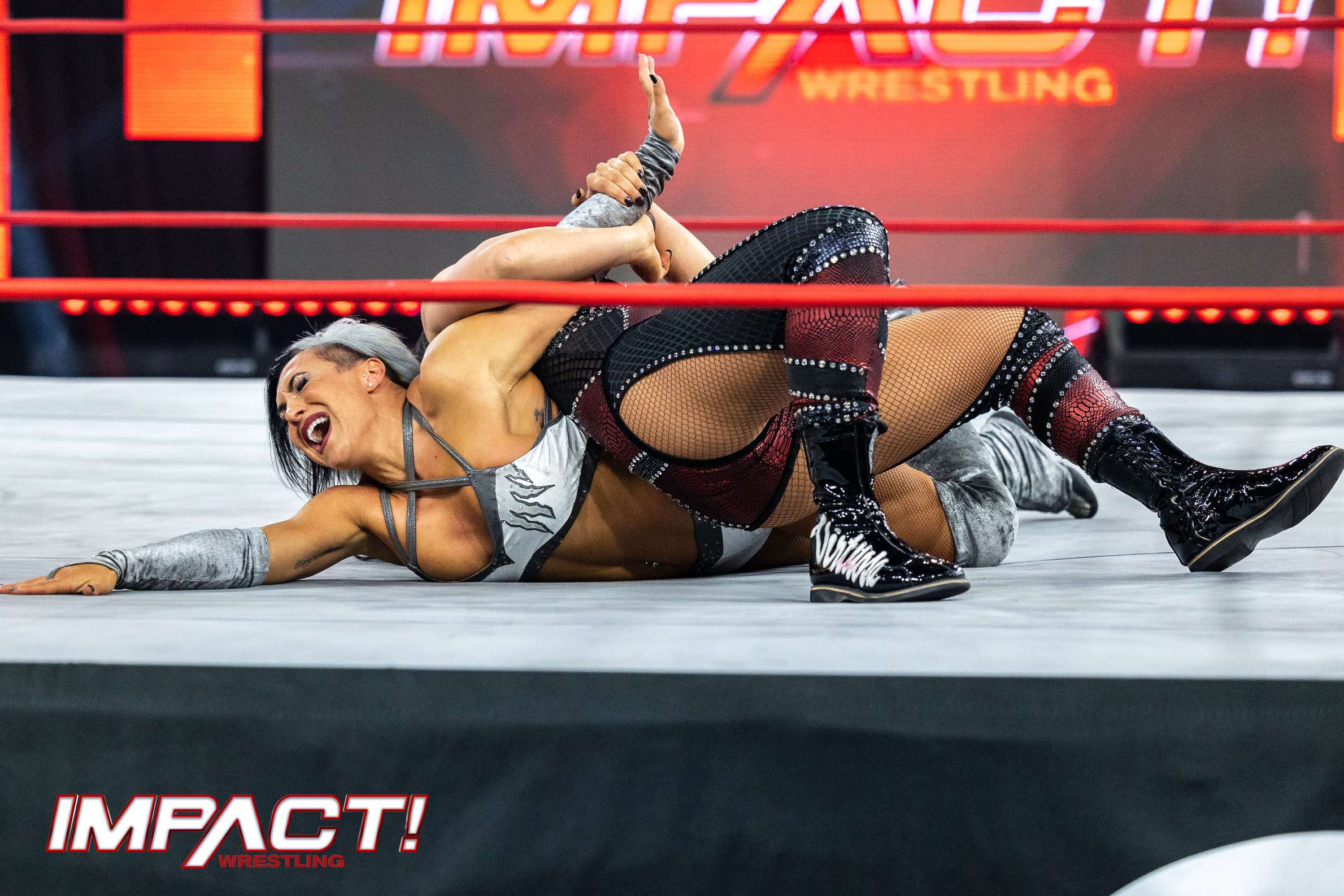 Then… Gail Kim arrived! Yes, a million times, yes. Deonna Purrazzo, being Deonna Purrazzo, politely welcomed Gail Kim to the ring before she swiftly attempted to assert her dominance. Gail Kim implied that she has a Slammiversary announcement. Purrazzo assumed Gail Kim wanted a match but the legendary wrestler shut that down immediately. Kim announced that at Slammiversary 2021, Deonna Purrazzo will defend the Knockouts Championship against a mystery opponent. Naturally, Purrazzo was not beaming with joy after this but this is certainly exciting for us fans!
Even though she lost, props to Lady Frost in her Impact Wrestling debut!
Winner: Deonna Purrazzo
W. Morrisey Competes In A Handicap Match Ahead Of Slammiversary 2021 Bout With Eddie Edwards
Next up, we had a 3 on 1 match in which W. Morrisey was out to make a statement. By no means do I intend to disrespect Morrisey's opponents in this match but it's interesting that W. Morrisey set up a 3 on 1 match for himself against three wrestlers that not many people have heard about. Needless to say, Morrisey obliterated all three men. Morrisey is being built into Impact Wrestling's next top-tier performer. I can really see Morrisey with the gold around his waist very soon and I'd personally be happy to see it.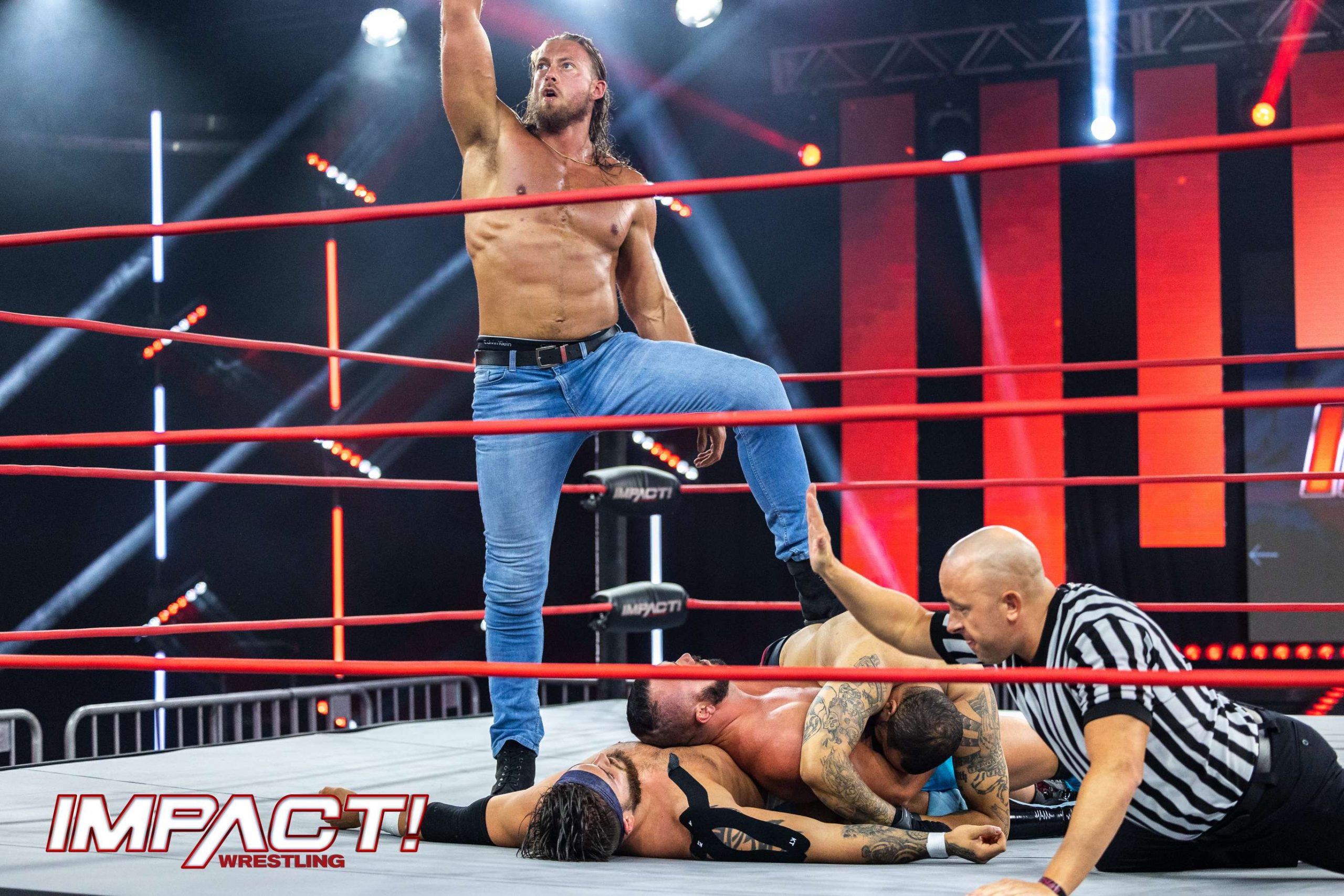 It must have taken about 120 seconds for Morrisey to lay waste the three fully-grown men. Morrisey Stacked all three men atop each other and cockily pinned them by stoping his foot on their bodies. W. Morrisey successfully made the statement that he set out to make and is ready to go to war with Eddie Edwards at Slammiversary 2021.
Winner W. Morrisey
Kimber Lee and Susan vs Rosemary and Havok
The interesting thing here is how well Havok and Rosemary are pairing as a solid tag team as they continue their pursuit of the Impact Wrestling Knockout Tag Team Championships. Kimber Lee and Susan are still suffering after the loss of Deonna Purrazzo from their little friendship circle and that seemed to really come into play during this match. As a fan, simply watching this match, Kimber Lee and Susan didn't seem to be working too well together.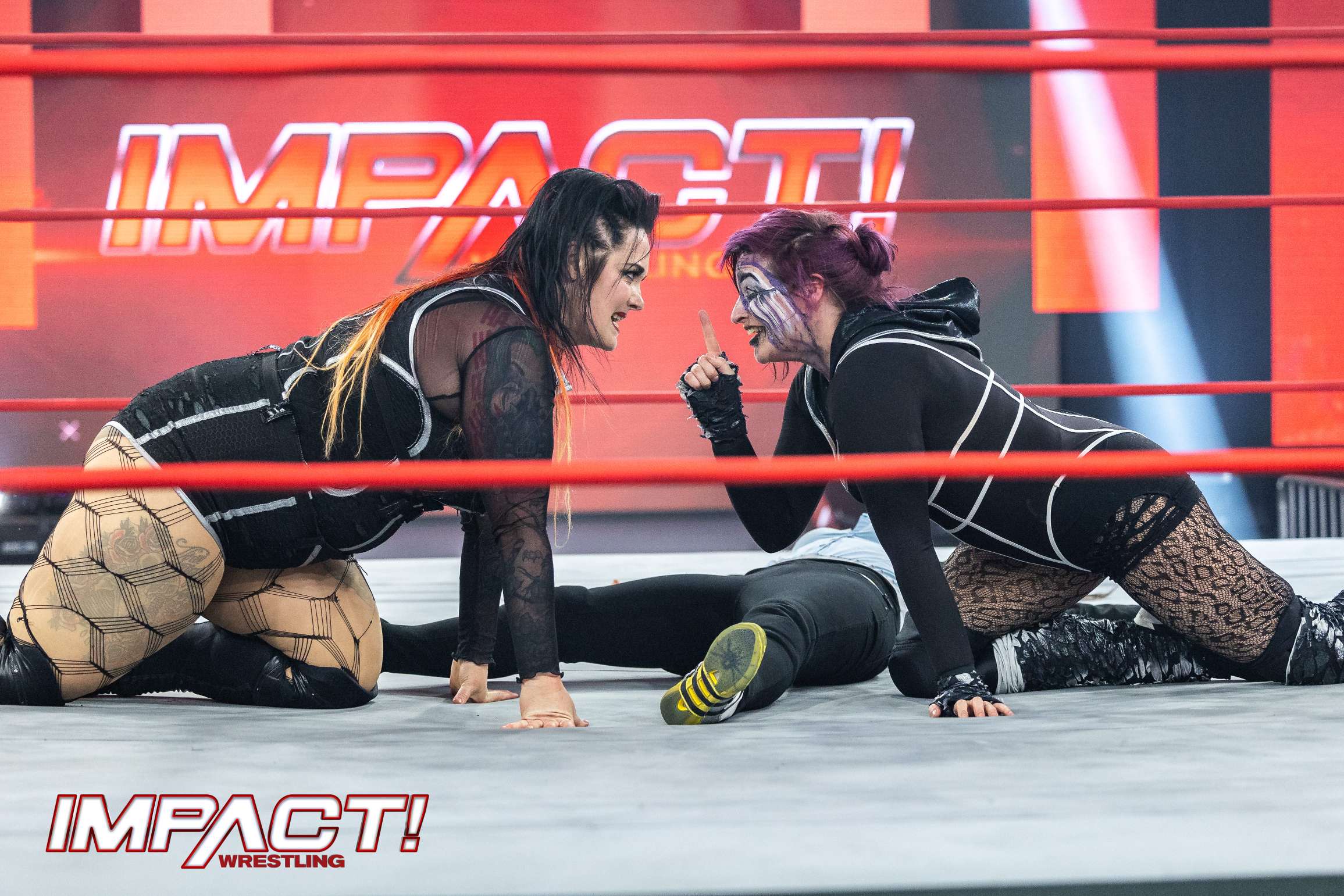 Havok took full control of this match and you have to wonder that if Havok and Rosemary could dominate this well against Fire N' Flava, we could have new Impact Wrestling Knockout Tag Team Champions. Havok ended this match in a destructive fashion and secured the win for both herself and 'The Demon Assassin' Rosemary.
Winner: Rosemary and Havok
TJP vs Deaner vs Rich Swann vs Karl Anderson
Next up, we wound up with a ring full of Impact wrestlers. We had Fallah Bah and TJP. Violent By Design, The Good Brothers, Willie Mack, and Rich Swann all in the ring. This could only mean one thing, a multi-person extravaganza! The four-way match commenced and this really felt like a giant filler match. Rich Swann shined so brightly throughout this match as he usually does when he's in the ring. Swann truly is a performer that you cannot take your eyes off.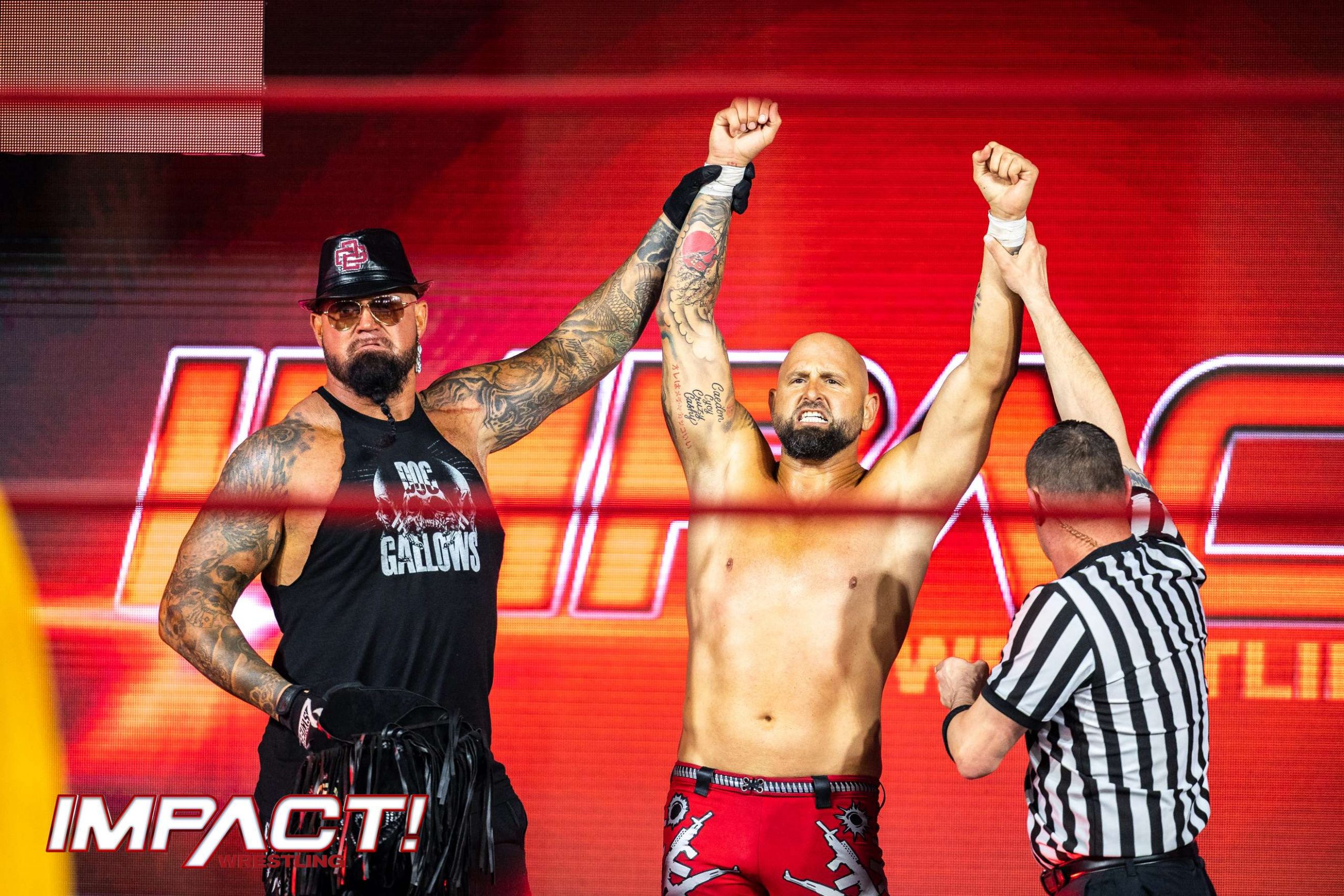 As the match continued, Swann continued his momentum as he fought Deaner of VBD inside the ring. The match ended as Karl Anderson took control over everybody in the ring and gave both Luke Gallows and himself all of the momenta that they may need as they look towards Slammiversary 2021, this coming Saturday night.
Winner: Karl Anderson
The Slammiversary Contract Signing
The final segment of this week's show was scheduled to be Kenny Omega and Sami Callihan signing the contract for the upcoming Impact Wrestling World Championship match at Slammiversary. However, earlier in the night, Don Callis got Sami Callihan arrested! Callis provided 'evidence that Callihan attacked him, unprovoked, with a terribly shot video facing what we were meant to believe was Callihan giving Callis the beating he deserved. This was clearly a set-up. The video was a dud. Don Callis is still an idiot. Sami Callihan will walk out of Slammiversary with the Impact Wrestling World Championship. in my biased opinion. Don Callis did what he felt he had to do because he is afraid of Callihan and did not want this contract signing to go ahead. Reason being that he must be petrified that Omega will lose to Callihan on Saturday night, once again, all in my humble opinion. Omega signed the contract.
Then, as somewhat expected because this is professional wrestling, the lights went out. Then we were shown an extended version of Don Callis' clip in which he was 'assaulted'. However, we then saw that after the punch was thrown, Callis was unharmed as the man who was portraying Callihan was actually John E. Bravo in Sami Callihan cosplay. As I said earlier, it was all a set-up! Then the lights went out again and when they returned, Sami Callihan was in the ring! How did he get out of jail so quickly? Anyways, Callihan and Omega went at it viciously with Callihan piledriving Omega before signing the contract. Sami Callihan then power-bombed Kenny Omega through a table to end the show. Fabulous!
Bring the Impact Wrestling World Championship home at Slammiversary, Sami!
Final Thoughts
My oh my. I'm like a broken record at this point but WATCH IMPACT WRESTLING!. You're not going to get excitement like this anywhere else. Don't get me wrong, WWE can be great, AEW can be great, MLW can be great, GCW can be great.. you get my drift. Impact Wrestling is a promotion that is a diamond in the rough, full of layered, in-depth storylines and jam-packed with some of the greatest wrestlers on the planet. Every episode of Impact Wrestling feels like a typical 'go-home show' in my eyes. It's just that good. Let me know what you thought of the show by dropping a line in our comments below or by having a chinwag with us on FB and Twitter @SportsObsessive.
Thank you as always for joining us here at Sports Obsessive for your Impact Wrestling fix. We look forward to hearing from you and look forward to catching up with you after Slammiversary!