Greetings one and all. Thank you once again for joining me here at Sports Obsessive. Let's get right into it. Happy New Year and welcome to your first WWE SmackDown review of 2021. That's right, 2020 is finally over. I know that we are all equally as happy. As for right now, my motto is onwards and upwards. Hopefully that sentiment will translate positively within the world of professional wrestling.
I cannot fail to mention Jon Huber aka Luke Harper/Brodie Lee. WWE played a brief "In Memorial" graphic after his all too sudden passing at the age of 41.
I want to take this time to say that I am merely a wrestling fan. I have been lucky enough to see Luke Harper wrestle live at couple of WWE house-shows in Europe. Although I am a stranger, I feel like a have lost a member of my immediate family.
My condolences go out to the entire Huber Family.
Last Week's Recap
WWE SmackDown began with a video package documenting the journey that Kevin Owens has been on over the past number of weeks with the Universal Champion, Roman Reigns. From their match at WWE: TLC, 2 weeks ago to their Steel Cage match last week on SmackDown, there have been one constant. That being, Jey Uso. Uso has gotten in the way of KO week after week. Uso even hand-cuffed KO to the Steel Cage on last week's show to assist his cousin, Reigns to a victory. We have come close to Kevin Owens winning the Championship, but this streak that Roman Reigns is on he seems to be untouchable. How will Owens deal will Reigns and Uso?
Roman On 2020
Speaking of which, Reigns and Uso strutted to the ring with Paul Heyman to officially kick off the show. Roman Reigns is a damn good "bad guy." After grabbing the microphone, the Champion smugly wished the fans a happy new year with the most insincere grin on his face. Reigns continued by mentioning how rough of a year 2020 has been but when you're the Tribal Chief then "you make it work." Roman was firing on all cylinders in this promo and showing how great he truly is.
Of course, Reigns had both Heyman and Uso by his side and explained that he was the reason that they both had a successful 2020. He "saved" both of them. Reigns was clearly being arrogant here but can you disagree with him? What would Paul Heyman's on-screen role be without Roman Reigns in 2020? Brock Lesnar is now a free agent, so the alignment of Reigns and Heyman came about perfectly. Let's get to Jey Uso. We all know and love Jey Uso but did you honestly view him as a main-event-level competitor before 2020?
Will Kevin Owens Finally Silence Jey Uso?
I don't think you did. Roman Reigns may be more rugged and brash than before, but if you listen to his words, he's speaking the truth. In the midst of Roman Reigns telling us all how great he is, Kevin Owens music hit and he made his way out to the stage only to be verbally belittled by Reigns who told KO that his time is up in a harsh fashion. The thing to note here was KO's demeanor and his mannerisms. For a man who has lost his last two matches with Reigns, albeit at the hands of an interference, KO was cool, calm and collected. That was until there was a flame sparked within him.
Kevin Owens exploded by telling Roman Reigns and the entire world that Reigns should be embarrassed by what has happened as of late. In KO's view, Reigns has only won the past two matches because his cousin was there to save him. KO announced that he will finally get his hands on Jey Uso, one on one. You have to wonder what will happen in this match and at what point will Reigns intervene?
Big E and Apollo Crews vs King Corbin and Sami Zayn
Originally this was a singes match with the New Intercontinental Champion, Big E, who was out to lay the groundwork for what his IC Championship reign will represent. We saw Big E lock horns with King Corbin while the former IC Champion, Sami Zayn was frantically rambling on commentary. This was an interesting match to say the least. E was dominating over Corbin from the initial bell and like I said, we had Zayn going crazy on commentary.
Zayn was saying that him losing the IC Championship is all a conspiracy and that he has people documenting all the goings on backstage. Sami Zayn is away with the fairies. So much so, that he interfered in this match and ambushed E before this match could even pick up any steam. Soon enough, Baron Corbin's henchmen, Cutler and Blake also ambushed E. This opened the door for a hero to emerge. That being Apollo Crews who bolted to the ring and laid waste to Zayn, Cutler and Blake.
After the commercial, we were made aware that Adam Pearce had now made this into a tag-team match with Big-E and Apollo Crews taking on King Corbin on Sami Zayn. Zayn made an enemy of Cutler and Blake pretty quickly by trying to tell them what to do. Zayn was the legal man and in the ring against Crews. He decided to get in the face of his own partner by telling Corbin to make sure his boys listen to him. Corbin wasn't having any of it and signaled to Cutler and Blake. Corbin, Cutler and Blake decided the abandon the match and leave Zayn to fend for himself. That were your mouth gets you, right? Crews hit Zayn with a signature powerbomb and that was the end of it. Sami Zayn really needs top work on his communication skills.
Winners: Big E and Apollo Crews
Kayla Braxton caught up with E and Crews backstage to ask Big E what could fans expect from him as IC Champion in 2021. Big E gave a subtly nod to the life of Jon Huber aka Luke Harper/Brodie Lee, not only by wearing a "Brodie" armband but by name-dropping Amanda and Nolan, Huber's wife and son. This was a small touch but a tear-jerker nonetheless. Then Big E announced that he will be holding an IC Championship Open Challenge next week on WWE SmackDown.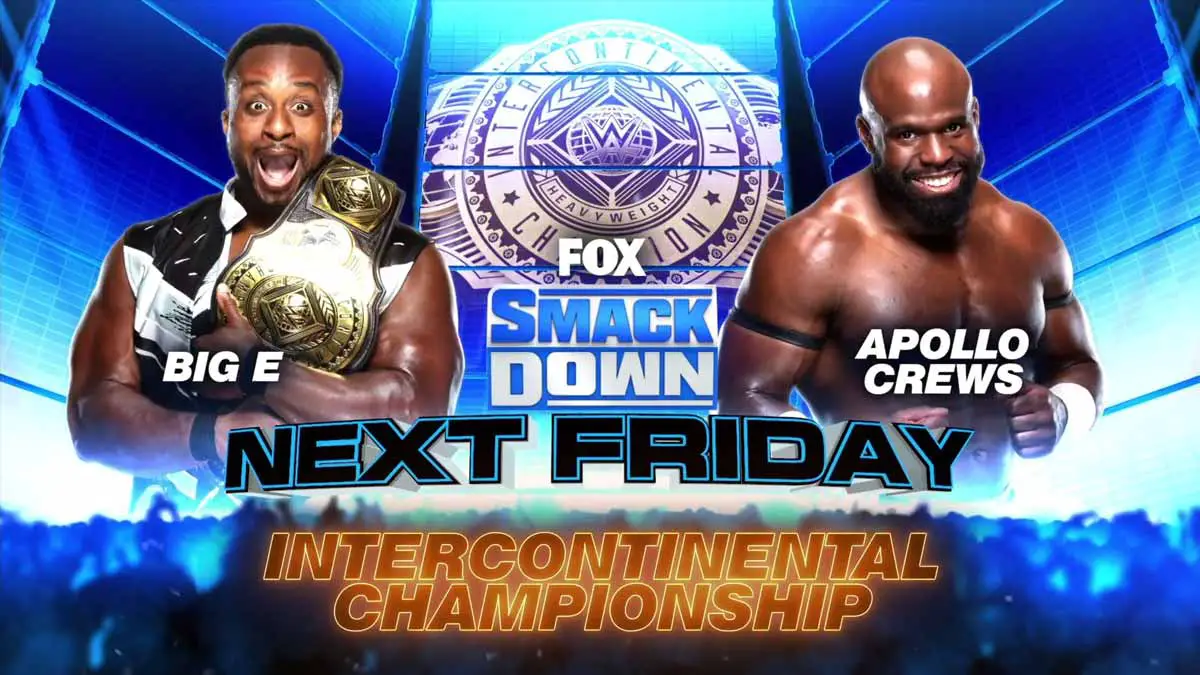 As quickly as E announced the challenge, Crews accepted it. Crews went on to say that he "technically" helped E win the gold. I don't necessarily agree with that, but at least we have something to look forward to next week with Crews vs E for the gold.
The Riott Squad vs Tamina and Nattie
As the night rolled on, the action continued as Liv Morgan and Ruby Riott prepared to take on the former IIconic member, Billie Kay and a partner of her choosing. It came to be known that Kay decided to choose the team rather than the partner. Kay employed the services of Tamina and Nattie to take on the Riott Squad on her behalf. The Riott Squad were ready, as always. Liv Morgan kicked things off against Nattie. While the match was taking place, Billie Kay was spouting off at ringside and I loved every minute of it. Billie Kay is so incredibly annoying and to me, that's entertainment.
Liv Morgan was the legal woman for the majority of this match and at one point Billie Kay found herself in The Riott Squad's corner cheering them on. It made me wonder what Kay was up to but it was clear. Kay's motive here was to rile up Tamina and Nattie. She could perhaps position them into a tag-team championship picture. That's certainly where Liv and Ruby seem to be headed. Liv picked up the pinfall victory on behalf of her team. 2021 has got to be the year of the Riott Squad. I can see Liv and Ruby holding the gold and how great would an eventual Sarah Logan return be?
Winners: The Riott Squad
Sasha Banks and Bianca Belair vs Carmella and Bayley
The next match of the night was a tag team match with the WWE SmackDown Women's Champion, Sasha Banks teaming up with Bianca Belair to take on the team of Carmella and Bayley. There was a lot going on in this match. First off, you have Banks and Carmella on opposing teams. Carmella recently challenged Banks for the SmackDown Women's Championship but came up short. Carmella's teammate for the night was Bayley, a women who led 2020 alongside Sasha Banks. The pairing of Banks and Bayley from 2020 until now was literally perfect. The pairing inevitably came to its end when Bayley stabbed her best friend in the back. Now all of these women were in the ring together. Not to forget, the EST of WWE, Bianca Belair was also in the ring.
I was cheering for Belair to get a pinfall over Bayley or Carmella in this match. Both Mella and Bayley are former World Champions so a pinfall would do great things for Bianca Belair's 2021. Inside the ropes, Banks was squaring off with Mella and got Mella into the Bank Statement submission. Only to have Carmella's associate, Reginald, enter the ring to distract Banks. Reginald escaped from the ring like a worm trying to wriggle away from a fishing hook. Then he pulled of a backflip from the apron, but why? He may be athletic and talented, but I still want to see him getting his head kicked in by Sasha Banks or fed to Roman Reigns. Regardless, the distraction was all it took. Carmella capitalized and pinned the Champion in the middle of the ring after hitting a Mella-Buster.
Winners: Carmella and Bayley
Sonya Deville Returns
This was really exciting. Just as The Street Profits were making their way to the ring. The cameras switch to the backstage area to reveal Sonya Deville backstage, walking with a purpose.
👀 👀 👀 👀#SmackDown @SonyaDevilleWWE pic.twitter.com/X2gSlcmdvi

— WWE (@WWE) January 2, 2021
We saw the likes of Billie Kay, Tamina, Liv Morgan and Ruby Riott looking along in disbelief as Deville sauntered through the corridors of Tropicana Field. In just a matter of weeks, WWE has now had the returns of both Charlotte Flair for Raw and now Sonya Deville for SmackDown.
The Street Profits' New Year's Day Celebration
Time to smile. Even if you don't want to. These guys have the ability to put a smile on your face at any given point of the day. Montez Ford and Angelo Dawkins were singing and dancing and ready for 2021. The Profits were teasing "big reveal." When the time came, the duo revealed a flashy drum set that Dawkins started banging on. Ford then started dishing out predictions and this made me laugh. He went on to say how his rival, Dolph Ziggler has been entertaining the masses for years and continued to steal the show. Montez continued by mentioning that Ziggler has stolen the wrestling style of The HeartBreak Kid, Shawn Michaels.
Ford's comedic prediction was that in 2021, Ziggler will be christened with the name, The HeartAche Kid. This was ridiculously silly, but i still laughed. Ford could recite the bible and I'd probably laugh. One man who wasn't laughing however was Ziggler himself. Ziggler and Robert Roode appeared in the ring and laid waste to the smartly dressed WWE SmackDown Tag Team Champions. The Dirty Dawgs, Ziggler and Roode's new tag team name, came off as a serious threat and may have broke Montez Ford's knee. Ziggler and Roode welcomed the new year by sending a message to the WWE SmackDown Tag Team Champions.
Kayla Braxton met up with Ziggler and Roode as they made their way backstage. This may be a side of these two that I can get behind. These two are ruthless and made it clear that they demand a rematch for the SmackDown Tag Team Championships.
Daniel Bryan and Otis vs Shinsuke Nakamura and Cesaro
Why is Daniel Bryan tagging up with Otis you ask? Earlier in the day, Daniel Bryan was training with Chad Gable and Otis to help him win the 2021 Royal Rumble. Nakamura and Cesaro turned up and started mocking Bryan. Going as far to say that the thought of Bryan winning the Royal Rumble match is "hysterical." This is the same Daniel Bryan that fought his way to the top of the card at WrestleMania 30. Why a few childish words from his opposition are getting under his skin is beyond me.
Regardless the tag team match was made. The opening moments of this match was great. We had Daniel Bryan going at it with Cesaro and we all know how great both of these competitors are. Cesaro and Nakamura played the tag team game very well in this match. They didn't allow Bryan to get a tag to Otis for the first half of the match.
Cesaro threw Bryan over the top rope on multiple occasions. Which may have seemed pointless to some, but this was Cesaro making the point that if this was the Royal Rumble match then Bryan would have been eliminated. Soon enough, Otis was tagged into the match and he changed the momentum of the match straight away. Otis performed his usual shtick here, signature elbow followed by the caterpillar before tagging Bryan back in. Bryan did get the final strike however, as he reversed a pin from Nakamura and positioned him into his signature Yes-Lock to pick up the submission victory on this episode of WWE SmackDown.
Winners: Daniel Bryan and Otis
Kevin Owens vs Jey Uso
By the time that both Kevin Owens and Jey Uso got to ring. This was a fight, not a wrestling match. KO was brutally attacking Uso on the outside to drive home the point that he is sick of Uso's antics. KO and Uso made it into the ring and Uso was in bad shape. At one point in the match, you could feel the intensity and the genuine emotion from KO as he said to Uso "The worst thing is that it's not even your goddamn fault" while fighting him down to the mat. Owens knows that Uso has been brainwashed by Roman Reigns and that Uso would not be doing any of this stuff if it wasn't for his cousin. The pair made their way back to the outside, where KO was still on a rampage.
Uso barely got any offense in during this match. He missed a big splash. Then was met with a Stunner at the hands of KO. Kevin Owens defeated Jey Uso clean via pin fall.
KO Issuing A Beating Or Receiving One?
Earlier in the night, Kevin Owens said that he will beat Uso and then beat him up. KO was ready to keep his promise and started off by giving Uso a second Stunner. As KO beat down Uso, he kept looking over his shoulder. He was luring Roman Reigns out to ringside by mauling Roman Reigns' legit family member. Owens continued the assault by handcuffing Uso to the ring ropes and just battered Jey Uso. KO soon took the cuffs off of Jey and dragged Uso towards the WWE ThunderDome monitors.
This was the biggest mistake that he could have made because as his KO climbed the WWE ThunderDome monitors, he was met by an irate Roman Reigns. Kevin Owens and Reigns were fighting in the crowd, so to speak. KO was laid out by both Reigns and Uso before he was literally thrown from the ThunderDome first level to the ground below. It must have been about a 10- 15 ft drop. KO was sent flying through the air before crashing through a table below. Roman Reigns made his point, but may have put KO on the shelf in the process. Can anybody take down the Tribal Chief? I don't believe so.
Final Thoughts
So there you have it. The first episode of WWE SmackDown in 2021 has come and gone. Our IC Champion, Big E was ambushed in a tag team match, but silver lining is that he will defend next week against Apollo Crews. The Riott Squad beat Tamina and Nattie and hopefully are now on the road to the WWE Women's Tag Team Championships. Daniel Bryan and Otis managed to defeat Cesaro and Nakamura. Last but not least, Kevin Owens finally got his hands on Jey Uso and even defeated him. However, as we just witnessed, KO paid the price at the hands of the Universal Champion, Roman Reigns who rules WWE SmackDown with an iron fist.
In memory of Jon Huber aka Luke Harper/Brodie Lee, please head on over to Pro Wrestling Tees to purchase a Brodie Lee T-Shirt with all proceeds going to the Huber family.
Thank you once again for joining me here at Sports Obsessive and for supporting us. What did you think of this episode of WWE SmackDown? Let me know. Drop me a message below and be sure to join us over on Twitter @SportsObsessive to sign up to be notified of all of our wrestling related articles.
Until next time, folks.