Slammiversary is just around the corner and, with that, Jordynne Grace and Deonna Purrazzo are gearing up for their highly anticipated Knockout's Championship match; Also, the North will be taking on the unlikely duo of Sami Callihan and Ken Shamrock. This week's Impact! television was the last stop before Slammiversary, and Impact! kicked the show off with a match that rocked the show; a ten-woman Knockouts tag-team match.
Taya, Rosemary, Kimber Lee, Kiera Hogan, Tasha Steelz vs Kylie Rae, Susie, Alisha, Havok, Nevaeh
Talk about kicking a wrestling show off with a bang; Impact Wrestling showed the world how it was done this past Tuesday night with this ten woman tag-team match. Honestly speaking, I find matches with this many competitors to be an absolute cluster. However, this match put me in my place. Hogan and Havoc started the match off for their respective teams. In a matter of seconds, all ten women were outside the ring bickering until Susie, who still freaks me out, took everyone out with a diving senton from the apron. After the initial madness was over, Taya and Kylie Rae ended up being the legal women in the match and were scrapping in the middle of the ring. Rosemary soon made her way into the ring after a tag from Taya and brought the attack to 'Smiley' Kylie Rae.
As the match went on, there were a number of frequent tags from the team of Taya, Rosemary, Kimber Lee, Kiera Hogan and Tasha Steelz. Hogan was soon the legal woman in the match and began dominating Kylie Rae. Rae was definitely the victim of a beatdown. The creepy Susie then tagged herself in the match and pounced onto Kimber Lee who also got the hot tag. The next few minutes was just tag after tag after tag in a fast-paced sequence. It ended up with Susie planting Kimber Lee with her signature move, 'The Panic Switch'. Susie picked up the pinfall victory!
After the bell, all hell broke loose and every woman in the match started pummelling one another, The final woman standing was, in fact, Kylie Rae, who will now be walking into Slammiversary this Saturday night with a full tank of momentum.
Winners: Susie, Kylie Rae, Alisha, Havok, Nevaeh
XXXL vs The Deaners
Both of these teams have had their eyes on the TNA Tag Team Championships for quite some time and were out to prove their worth this past Tuesday. Needless to say, XXXL are big men – surprise, right? Anyway, they were really throwing their weight around during this match. Now, that's a combined weight of 801 lbs, but their opponents, The Deaners, are no pushovers.
Larry D of XXXL started off the match with Cousin Jake of The Deaners. The two began matching their strengths and flexing their muscles up until Larry D ran though Cousin Jake, knocking him to the mat. In only a moments notice, however, Cousin Jake had kicked back up to his feet and grounded the big man, Larry D, with a body slam of mega proportions. Soon enough, Cousin Cody and Acey Romero had both become the legal men in this match and were brawling it out on behalf of their respective teams. Romero had a quick 2 count on Cousin Cody. At this point, Larry D had tagged himself back in, but Cousin Jake had also successfully tagged himself in without being seen by XXXL, causing confusion to Larry D. Cousin Jake picked up the pinfall victory over Larry D, giving The Deaners the upper hand in the tag team contendership stakes.
Once the match ended, XXXL kicked seven days of stuffing right out of The Deaners and were left standing tall.
Winners: The Deaners
The Contract Signing
'The Virtuosa' Deonna Purrazzo was backstage with TNA Knockouts Champion Jordynne Grace, preparing to sign the contract ahead of their Championship match this Saturday night at Slammiversary. Now, if when reading this, you feel its quite Purrazzo heavy – that is because I am biased towards 'The Virtuosa'. I apologise for nothing.
Deonna was the first to sign the contract for what will be a blockbuster wrestling match. As Grace went to sign the contract, Deonna firmly slapped Grace's hand down to the table in order to inform Grace what she is getting herself into. Deonna had the following to say:
There's no trickery here, you're not being fooled. When you step into the ring with The Virtuosa, you are stepping into the ring with class; you're stepping in the ring with sophistication, and Saturday, you're exiting the ring without the Knockouts Championship.
Jordynne Grace, who has single-handedly been running the Knockouts division, retaliated by standing up, forcefully signing her name on the dotted line and getting in Deonna's face to say 'I don't think you know what you're getting yourself into.. right now'. With that said, Grace literally slammed Deonna's face into the table they were sat at. Deonna retreated and Grace walked out of frame very confidently.
Will we see a new Knockouts Champion at Slammiversary or will Jordynne Grace's reign continue?
Moose & Rohit Raju vs Tommy Dreamer & Crazzy Steve
Ahead of their upcoming match at Slammiversary, Moose and Dreamer faced off in opposite corners for this tag team match. Dreamer and Raju started this one off roughly, with Dreamer soon getting the upper hand with a suplex to Raju. Crazzy Steve made his way into the match after a quick tag from the ECW Alumni. Raju, who needed to catch his breath, tagged Moose in and at that point this match's pace really picked up. Crazzy Steve allowed Dreamer to get his hands on Moose days early with a sly tag to his partner.
Dreamer and Moose brawled for a number of minutes proving that they are both physically and mentally ready for their battle at Slammiversary. After Moose was physically dominant over Dreamer, Raju and Crazzy Steve soon became the legal men for their respective teams. Raju went for the sneaky school boy roll up, but Crazzy Steve was a number of steps ahead and nailed him with a springboard DDT, followed up with a swift pinfall for the victory.
Winners: Crazzy Steve and Tommy Dreamer
Backlot Brawl: Rhyno vs Hernandez
Hernandez started off by literally ramming Rhyno into the side of a truck. This rivalry had escalated over the past number of weeks and these two were now kicking tar out of one another over money – quite literally! Rhyno knocked Hernandez down temporarily, picked up the wad of cash and  was attacked by a traffic cone-wielding Hernandez in return.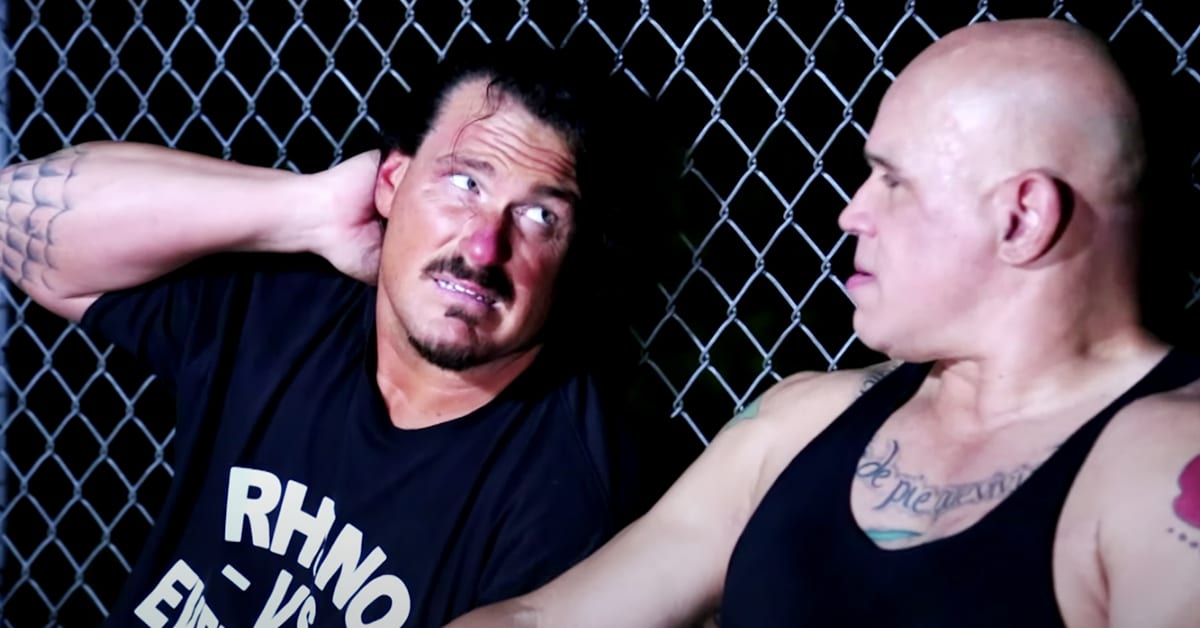 I'm not going to lie, this was hokey as hell but I still enjoy this kind of stuff. Hernandez was leaning up against a chain-link fence when Rhyno instinctively went for the GORE! After bringing the attack to Hernandez, the two men were sat next to each other, looking worn out, and decided to split the money they were fighting over.
This fight was what it was! Wrestling is subjective, after all.
Final Thoughts
The closing moments of this week's Impact Wrestling showed video montages of Ace Austin, Trey and  Eddie Edwards preparing for their 4-way TNA Heavyweight Championship match this Saturday at Slammiversary, a match which will also included the highly speculated mystery competitor who has been teased as a former Champion making their return to Impact Wrestling.
Now, the names that have been thrown in that hat include the likes of Doc Gallows and EC3. The mystery competitors could also (but probably wont be); Sting, who has teased having his last match in the professional wrestling world; or Kurt Angle, who wrestled a substantial period of his career within TNA and Impact Wrestling. Whoever the mystery competitor is, we are in for one hell of a surprise and one hell of a night in general.
Who do you think the mystery entrant will be? Who do you think will walk out of Slammiversary as Knockout's Champion? Will Shamrock and Callihan be capable of teaming up long enough to endure and defeat The North? We will all find out this Saturday night at Slammiversary 2020.