Welcome back to Sports Obsessive. This week's SmackDown started off with a re-cap of the antics we witnessed one week prior as the Universal Champion, Roman Reigns was now scheduled to defend his pride and joy against WWE Official Adam Pearce at the Royal Rumble. The whole shtick here is that Adam Pearce was once a wrestler years ago and is being forced into this match against possibly the #1 wrestler that the WWE has to offer right now. I'm not sure what to expect at the Rumble but one phrase that should always come to mind when you watch wrestling is 'expect the unexpected'.
Jey Uso Has His Eyes Set On WWE Gold
Speaking of Roman Reigns, his cousin and general 'right hand man', Jey Uso, made his way to the ring as things got rolling on this week's edition of SmackDown. Uso was pretty much in the ring for two reasons. One was that he truly believes that everybody should be thanking Roman for all that he has done and continues to do. Spoken like a true cult victim. Secondly, Uso announced that he will be competing in the upcoming Royal Rumble match.
Uso went on to say that when he wins, quite presumptuously, he will go on to not only challenge but defeat Raw's WWE Champion, Drew McIntyre (or Bill Goldberg, whomever holds the gold). Uso continued by declaring that he and Reigns will continue to dominate and run World Wrestling Entertainment.
Shinsuke Nakamura Was Out For Revenge
Jey Uso vs. Shinsuke Nakamura
One man who may disagree with just about everything that Uso spouted is Shinsuke Nakamura, who made his entrance to his old music, which was an incredible moment. Nakamura was the second-to-last man in the gauntlet match on last week's show, a match Adam Pearce won, thanks to Reigns and Uso taking out Nakamura. A few heated words were thrown around before Nakamura literally kicked Uso right in the kisser. The two then had a match which was officiated by long time WWE Ref, Charles Robinson (I'll follow up on him in a moment).
This was a decent match throughout and I really enjoyed watching it. Mid-match, Nakamura's tag team partner, Cesaro, made his way out to the ring (music and all). Cesaro didn't interfere in the match but he joined Michael Cole and Corey Graves at the announcers booth. This was a very elaborate way for Cesaro to announce that he too will be participating in the Royal Rumble match. Aside for looking out for his friend, I believe his announcement was the only reason he came out.
The match continued for a bit until Nakamura defeated Jey Uso. Uso was livid and clearly embarrassed. After the commercial break, we saw Uso catch up with Charles Robinson. Uso was laying in to the legendary referee and telling him point-blank that he doesn't know how to do his job. Uso then heavily implied that he has the power (through Roman Reigns) to have him fired. I really like when WWE incorporate referees into the storylines. It's 2020 and Tim White is still one of my favourite WWE referees, simply due to past storyline involvement. As long as Robinson does not really get released, everything will be fine. I know what you're thinking, I read too much into these things but hey-ho.
Winner: Shinsuke Nakamura
The Street Profits Are Ready For Ziggler And Roode / Roman Reigns Wants a Last Man Standing Match At The Rumble
As the show rolled on, we had a bunch of backstage segments. Firstly, we had a brief discussion between Sonya Deville and Adam Pearce, which was interrupted by Paul Heyman as he handed a contract to the WWE Official to sign. Needless to say, it was the contract for the upcoming Royal Rumble match against Roman Reigns. After some taunting and some harsh words from the former ECW mastermind, Pearce signed the contract, which was set up to make a no DQ match. Paul Heyman was soon on his way.
Next up, we saw SmackDown's greatest interviewer, Kayla Braxton, catching up with Montez Ford and Angelo Dawkins aka The Street Profits. The Profits reminded us of their lengthy Championship reign from 2020 as the confidently and comedically announced that they were ready for anything that Dolph Ziggler and Robert Roode have in store for them.
Finally, we were led to a private room backstage, in which Roman Reigns was having a conversation with Apollo Crews. Paul Heyman scurried into the shot which prompted Crews to think that was his cue to hit the bricks. Reigns told Crews to stay because he might just learn something. Heyman proudly handed over the contract to Reigns and included that it was set to be a no disqualification match. Reigns immediately let Heyman know that he was not impressed. Reigns went on to tell his lapdog that he wanted a Last Man Standing match with Pearce and that he would not sign the contract until Pearce does the same later in the night in the ring.
We still don't know what Crews was doing in there with Reigns, I'm sure we'll find out together, next week on SmackDown.
Ding Dong, Hello!
While this edition of SmackDown was full of Royal Rumble entry announcements, we also had a debut of a brand new segment. Bayley was set to host her own talk show later on in the show with the debut of Ding Dong, Hello! I'm a fan of WWE talk shows to a degree. Over the years, we've had some great shows such as Piper's Pit, The Highlight Reel and The Peep Show. Bayley's guest for her premiere show was revealed to be Bianca Belair.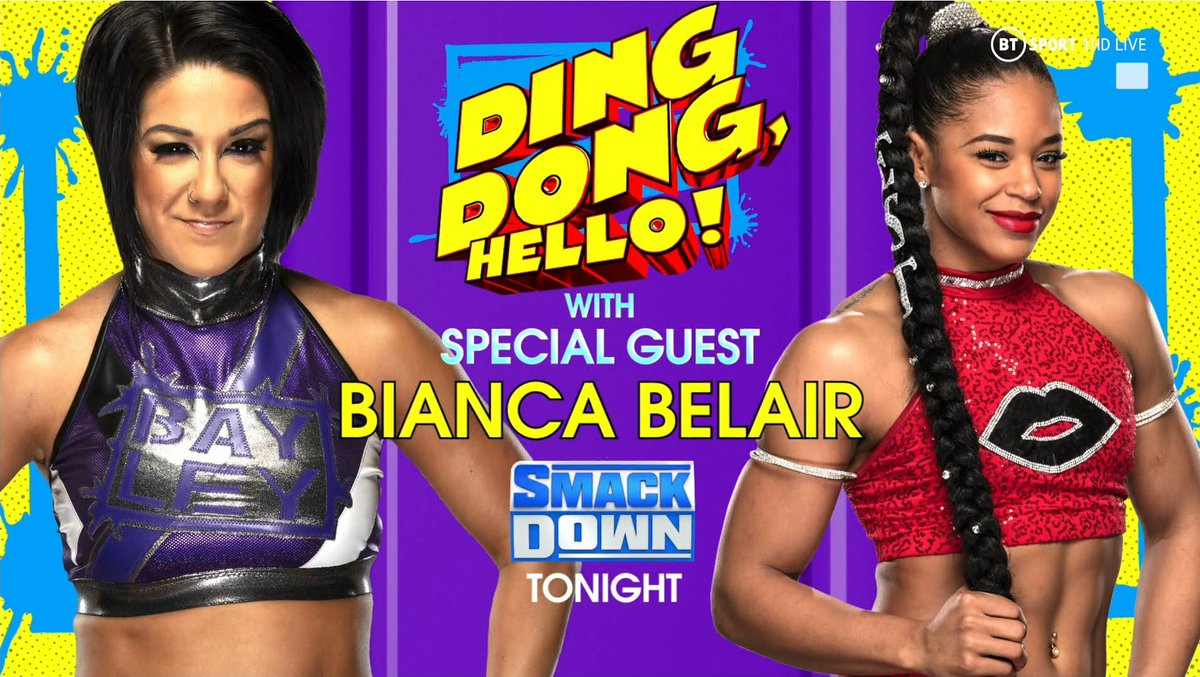 I have all the confidence in the world that this segment will be a barn-burner because all we all know Bayley has personality for days. This reveal truly is great for SmackDown and has the potential to freshen things up along with fuelling future rivalries within the women's division.
Billie Kay Continues To Get In Her Own Way
Natalya vs. Liv Morgan
Speaking of the women's division, the next match on the card was a singles match featuring Natalya, with Tamina at ringside, taking on Liv Morgan of The Riott Squad, accompanied by Ruby Riott and 'third member' of The Riott Squad, Billie Kay. Nothing against Billie Kay but I still miss Sarah Logan. Kay jumped straight onto commentary with Cole and Graves before the match commenced. The dynamic here was a very interesting one. Inside the ropes, you had Natalya, who was in full heel mode and throwing her weight around against the younger yet equally talented Liv Morgan. On top of all that talent, we had Billie Kay doing what she does best—running her mouth on commentary. The match itself was unsurprisingly a great match but the finish really threw me off.
Natalya spent the majority of the match in the driver's seat, although we had a glimmer of hope that Morgan was going to power through and knock off the veteran of the women's division. After a solid few minutes of wrestling, Billie Kay had just about enough of seeing Liv Morgan getting beat down by Natalya so decided to join Ruby at ringside to cheer Morgan on. This ended up with Kay getting too close to Tamina on the outside and that's the last place you'd want to be. Stricken by fear, Kay found herself in the ring, trying to escape from Tamina. Somehow this split-second interference was enough for Natalya to 'steal' a victory via a roll-up.
Is a clean finish too much to ask for?
Winner: Natalya
Baron Corbin Continues To Target The Mysterio Family
Baron Corbin vs. Rey Mysterio
Over the past number of weeks, Baron Corbin has been making life miserable for not only Rey Mysterio but also his son Dominic. On last week's show, Corbin attacked Dom right after Rey had finished wrestling a match. Corbin then laid out Rey, right in the middle of the ring. Rey had a one-on-one match granted with Corbin and was ready to put the smug Corbin in his place.
I never get tired of seeing Rey Mysterio wrestle. His in-ring style has always been something that grabbed my attention since I first began watching him in WCW. Dominic joined Cole and Graves on commentary for this match and it was quite refreshing. Dominic came across as a very humble young man and even mentioned that in 2021, he would like to win the SmackDown Tag Team Championships alongside his father. That would be a great sight to see!
Corbin was so relentless in his approach to this match, at one point even putting his hands on Dom after slamming Rey to the ground on the outside. Another refreshing point that I would like to add here is that whilst Corbin was brutally attacking Rey, Dom did not interfere to save his father.
Dom even commented on this and basically said that this is his father's business and that he wouldn't want to cause a DQ. You could see by the look on Dom's face that he was seconds away from getting physical with Corbin but he kept his cool. Perhaps this is testament to how Dom was raised to be such a respectful individual.
Back inside the ring, Rey picked up the pace for a moment and set up Corbin for the 6-1-9, only to be slammed down to the mat at the hands of Corbin. Corbin did however go back to trying to intimidate Dom and sucker-punched him to the ground. At this point, the furious Rey Mysterio hit Corbin with an inverted variation of the 6-1-9. Rey then looked as if he was going to go for the pin but Dom ran inside the ring, full of rage. Rey told his son to stay out of the ring for now, clearly looking out for him. Corbin picked up on the opportunity at hand and finished Rey with his 'End of Days' signature move.
You have to wonder if this will cause any friction between Rey and Dominic. Many have speculated that father and son will tag together but personally, I do prefer the idea of Rey vs. Dominic down the line.
Winner: Baron Corbin
Will Adam Pearce Accept The Tribal Chief's Challenge?
After the match, we saw Paul Heyman cross paths with Adam Pearce once again. Heyman informed Pearce of the updated stipulation and tried to phrase it in a way that he was doing Pearce a favour. Peace was made aware that Roman has yet to sign the contract and the final segment of SmackDown will be the official contract signing between the two. I find it very difficult to believe that we are to expect that a member of the WWE management team has even the slightest chance of a victory against the Universal Champion at the Royal Rumble. Something has to be up.
The Premier of Ding Dong, Hello!
The former SmackDown Women's Champion debuted her new talk show on this week's SmackDown
Here we go. I was legitimately excited for this new talk show to be taking place on SmackDown. Ding Dong, Hello! had everything that you could want from a WWE talk show. It had the props (APA-style standalone door, armchair.. the works!) Bayley made her highly anticipated entrance as the host of the show and, in one swoop, already took a dig at Marvel Studio's WandaVision. Bayley entered through the standalone door and made Bianca do the same, including ringing the doorbell. Great stuff! (I'm easily entertained). Bayley may never win a WWE Slammy for 'host of the year', but this segment was really funny. Bayley started off with the simplest question that could have possibly come to mind and that was why does Bianca call herself the EST of WWE.
Us fans already know that Bianca uses this nickname to call herself the b(est), the fast(est), the strong(est) etc.. Bayley didn't give her guest a chance to answer but instead started to waffle on about how she beat Bianca on a previous episode of SmackDown. The segment was entertaining for what it was. Nobody needed to be hit over the head with a coconut or smashed by a plant pot named Mitch. Instead, Bayley and Bianca revealed that next week on SmackDown, they will compete in an obstacle course challenge.
Let's see how that goes!
Its All In The Hips
From a brand new segment to a familiar one; we were brought backstage where Daniel Bryan was just finishing up a training session with Otis and Chad Gable. As we know, D-Bry has been working on his hip movements in preparation for his performance at the Royal Rumble match that takes places on January 31st. Kayla Braxton aka the greatest interviewer in SmackDown history was on hand to get a few words from the guys.
Daniel Bryan had the following to say:
That's what I love about Chad and Otis. They bring a fresh, positive approach. Training in the Alpha Academy way, if it makes me this much better as we get closer to the Royal Rumble, I'm all in.
When questioned by Braxton if the loss to Shinsuke Nakamura last week on SmackDown affected his confidence, Bryan continued by saying:
Shinsuke Nakamura is a Royal Rumble match winner. There is absolutely no shame in losing to him. I have an infinite amount of respect for Shinsuke and I think he feels the same way about me.
Now, this wouldn't be an official WWE backstage segment without an intrusion, right?
Cue Cesaro. The 'Swiss Superman' entered the scene and straight up told Bryan not to speak on behalf of Nakamura. Cesaro continued by saying that Nakamura shook Bryan's hand after their match last week because he felt sorry him. Someone clearly needs to take a nap. Cesaro then mocked the Alpha Academy and hilariously performed some kind of hip-thrust / macarena combination. This encounter was the lead-up to a one-on-one match between Bryan and Cesaro. If you have followed both stars since their Ring of Honor days, you already knew that this match was going to be exceptional.
Daniel Bryan vs. Cesaro
As we are all too well aware, the WWE machine has no shame in ignoring the past lives of Bryan Danielson and Claudio Castagnoli. That is why the topic of conversation surrounding this incredibly technical match was that Daniel Bryan has never won a Royal Rumble match, let alone a Battle Royal. Whereas, Cesaro was the first winner of the Andre The Giant Memorial Battle Royal back at WrestleMania 30. Looking back, Bryan did pretty well for himself that night too.
Needless to say, this was a textbook technical wrestling match performed by two of that greatest wrestlers to lace up a pair of boots. We saw an example of Bryan's years of experience in this match as he targeted Cesaro's left arm and continued to work on it throughout the match. With the storyline here circling around the upcoming Royal Rumble match, I don't see Bryan winning the match. Not because I'm not a fan or don't believe in him as a character but because I don't feel its time. If Bryan is going to go on to be positioned into a Championship picture, I would much rather we wait until we can definitely have fans in attendance.
Imagine if we were ever to get Bryan vs Reigns for the Universal Championship, the crowd reaction would make things that much sweeter. Back to Cesaro. We all know he's as strong as an ox and is also deserving of a World Championship reign. I'm not too sure that's in the cards for 'The Swiss Cyborg' just yet. Cesaro hit Bryan with his signature swing during this match and he did so with such ease.
Both men were utilising a lot of submission moves during this match. It was almost like both men were more interested in one-upping one another than rushing to win the match, which is always great to see. The match ended after Bryan failed to hit his signature 'Yes!' kicks which led to Cesaro hitting his 'European Uppercut', followed by his finishing 'Neutraliser', to defeat a former WWE World Champion in Daniel Bryan. What a win for Cesaro.
This victory does lead to the question that this is the second straight week that Bryan has lost his matches on SmackDown—what does that do to his confidence going into the Royal Rumble? The second point to raise is that this was an undeniably massive victory for Cesaro. Could this be the momentum that he needs going into the Royal Rumble match?
Winner: Cesaro
Sasha Banks To Participate In An Intergender Wrestling Match
Will Carmella's sommelier, Reginald, accept Sasha Banks' challenge?
Kayla Braxton was back with the word on the street as she was joined by former SmackDown Women's Champion and the winner of the first annual Women's Money in the Bank ladder match, Carmella. Mella was quick to talk trash about the current SmackDown Women's Champion, Sasha Banks. Mella defeated Banks two weeks ago on SmackDown (albeit in questionable fashion). Mella was running her mouth about how Banks is afraid of her.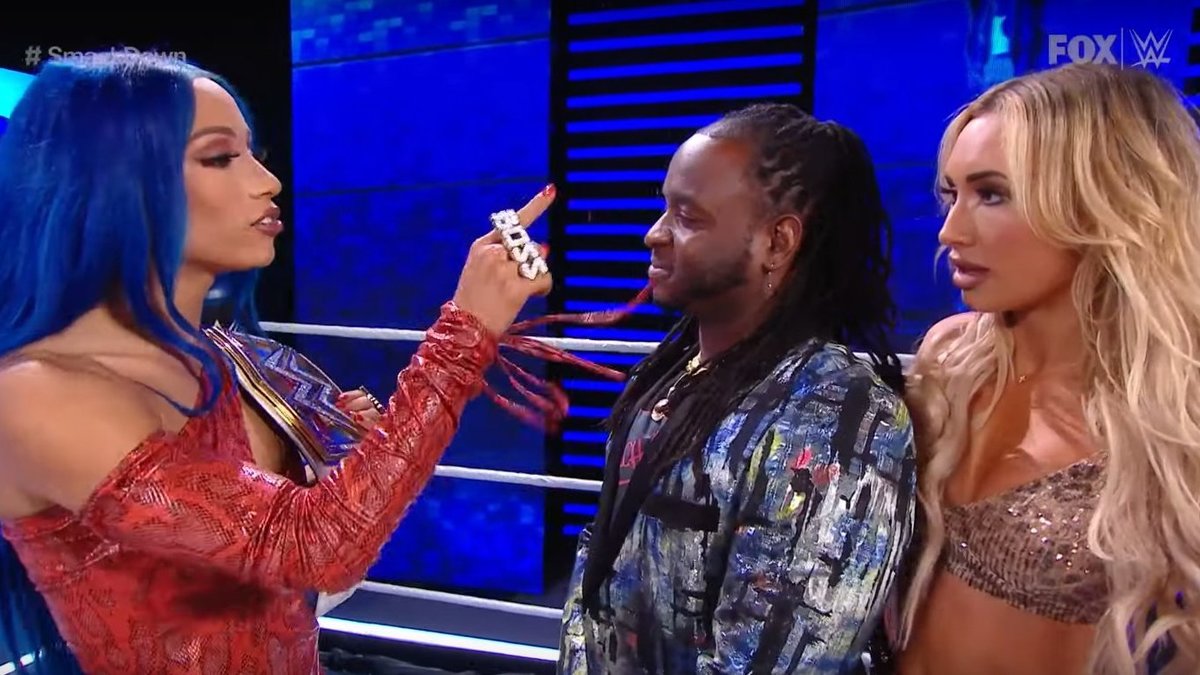 Mella must have never heard the phrase 'never speak The Legit Boss' name in vain' because just like that, Banks was on the scene and knocked Mella to the ground in an instant. Mella's sommelier, Reginald, got in Banks' face in defence of Mella and that was questionable in it of itself in regards to WWE. It was then revealed that Banks will grant Mella a rematch for the SmackDown Women's Championship if she can have a match with Mella's sommelier, Reginald.
This is really interesting. WWE have dipped their toes into intergender wrestling over the years, most recently with having Nia Jax participate in the Men's Royal Rumble match in 2019 and with having a physical altercation between Randy Orton and Beth Phoenix during the Edge feud.
Apollo Crews vs Sami Zayn
Before we get into this match: this was the first match of the night in which I noticed that WWE were testing out 8K camera technology. This is incredibly exciting to me. It makes me wonder, what does the WWE have in store for us? If you missed this, go back and check out the scene just before the show cut to commercial while Apollo was making his entrance to the ring.
Back to the action. As we know, earlier in the night, Apollo was hanging out in the locker room with Roman Reigns. Was Apollo picking the Champs brain? What was it all about? I was hoping to find out something during this match. Mr. Conspiracy Theory himself, Sami Zayn, made his way to the ring for his match with his own documentary crew because he truly believes that everybody is out to get him. I love this wacky iteration of Zayn. It's so interesting to see a character take this route and to have it taken seriously (to a degree).
The WWE Intercontinental Champion, Big-E, was on hand during this match as he made himself at home, laying upon a lavish couch at ringside whilst on commentary. That is certainly the Championship treatment! We have had a lot of 'guest' commentator's on this week's SmackDown and we know that it can help build storylines. Inside the ring, we saw Sami Zayn trying to cheat to win multiple times, even getting a warning for the ref. The story here is that Sami Zayn feels he needs to reveal 'the truth' as he obsesses over all of these fictitious conspiracy theories in his mind. Zayn really should have kept his eye on the ball, however, as his wandering mind led to Apollo stealing a victory through gripping Zayn's tights for momentum.
The cheater has become the cheated. Sami's never going to let this slide.
Winner: Apollo Crews 
The Contract Signing
Adam Pearce meets with the Universal Champion
Seriously, you need to check this 8K footage out. Reigns, Uso and Heyman were filmed in 8K as they sauntered to the ring. To recap this story, Adam Pearce is not a wrestler. He was a wrestler once, and a former NWA World Heavyweight Champion to boot, but that was a long time ago. Pearce is a member of WWE's management team and has found himself in Roman Reign's eye line. Not only is Roman Reigns the Universal Champion but his new persona is ruthless. This is a side of Reigns that we had never seen before and instead of asserting his dominance by targeting a worthy WWE Superstar as a rival, he has taken the easy route.
This new version of Roman Reigns is a bully. After telling Pearce to take a seat, Roman intimidated Pearce once again by forcing him out of his chair. After some toying around, both Pearce and Reigns signed the contract for the Last Man Standing match at the Royal Rumble. Reigns said softly 'that's the last contract you'll ever sign' with a menacing grin on his face. The most interesting thing to come out of this segment came when Pearce grabbed a microphone and responded to Reigns 'I've waited all night for you to sign that' and walked away confidently.
This left a confused look on the face of The Tribal Chief. Clearly, Pearce had something up his sleeve ahead of the Royal Rumble. While Pearce was walking up the ramp, he began to stumble. Pearce revealed that he had a recurring knee injury and knew that when the contract had been signed, he could utilise the age-old 'Card Subject To Change' clause as part of the WWE management team.
Pearce announced the he may not be medically cleared to wrestle at the Royal Rumble but had already scouted a suitable replacement. Cue Kevin Owens! KO returned after being thrown from a height from the WWE ThunderDome at the hands of Reigns and Uso. KO promptly signed his name on the contract and made it official. Reigns hung his head in pure frustration as the reality set in that KO will be challenging Roman Reigns for the Universal Championship at the Royal Rumble.
Final Thoughts
I never say a bad word about SmackDown, and there's a reason for that. This week's show was no exception to the rule. The Reigns/Uso/Heyman collaboration continued to rule the roost in WWE. We are on the road to the Royal Rumble and it looks like Sasha Banks will defend her SmackDown Women's Championship against Carmella at the PPV but plans to run through Reginald first. Next week on SmackDown, we have not only Bayley and Bianca's obstacle course to look forward to but it's also been announced that Big-E will be defending his WWE Intercontinental Championship against Apollo Crews. Finally, KO has returned! Will he dethrone Reigns as Champion at the Royal Rumble? If he doesn't win, he's definitely going to go out swinging.
What did you think of this week's show? How are you feeling going into the Royal Rumble? Let us know what you think in our comments and on Facebook and Twitter @SportsObsessive.
Until next time, folks.