Welcome to Sports Obsessive. This week's edition of Impact Wrestling has been reported to have a record breaking low viewership. This is not good news for Impact and personally, I don't know why more wrestling fans are not tuning in. Impact puts on show after show, week after week, and goes all out for fans. The roster is stacked, the crew and backstage personnel work themselves to the bone and have been doing so under the circumstances that pandemic has forced upon them. Despite all that, Impact Wrestling still airs every week, and great stories are being told. Impact Wrestling is highly underrated, in my opinion. Watch the show!
Eddie Edwards Jumped In The Parking Lot
With that said, this week's show started off with a continuation of the friendship that has been building between NJPW star Kojima and Impact Wrestling's very own Eddie Edwards. Kojima and Edwards have been tagging as of late and even came close to becoming the new Impact Wrestling Tag Team Champions last week, but unfortunately fell short to Violent By Design. After their loss, Kojima and Edwards were seen backstage and Edwards gracefully and respectfully asked Kojima for a one on one wrestling match in an Impact Wrestling ring before Kojima heads home to Japan. Kojima agreed to the match but a man who was watching this conversation from the shadows did not. This man was W. Morssisy (Caz XL).
Morrisey called out both Kojima and Edwards and declared that there was no friendship here. Morrisey is clearly trying to cause a rift between the two and perhaps get inside Eddie Edwards' head. The Kojima-Edwards match was scheduled to kick off this week's show. Kojima made his way to the ring first. Eddie Edwards music then hit, but uncharacteristically, Edwards was a no-show. All of a sudden, the big, bad, W. Morrisey' appeared on the big screen. We could all predict where this was going. Morrisey ranted on about Eddie Edwards having the respect of the locker room and that everybody would watch his back. Morrisey then asks the question: 'who was watching Eddie Edwards' back 'when I just jumped him in the parking lot?' I'm all for a Morrisey-Edwards feud and I love how this was told. Morrisey is such a badass and a complete professional. I'm looking forward to seeing how this all unfolds.
Impromptu Tag Action: Kojima and Jake Something vs. Brian Myers and Sam Beale
Kojima was left in the ring after this announcement until 'The Most Professional Wrestler' Brian Myers decided to stroll on out. My question is, where is Matt Cardona? I need to see Cardona come back over to Impact and put Myers in his place. Myers had Sam Beale following him down the ring, taking notes. Myers decided to not only talk down to Beale in a patronizing manner but also disrespect the NJPW star by saying to his protege, 'There's nothing to learn from Kojima'. When it comes to heels in professional wrestling, there was only one wrestler than I strongly disliked as a young lad and that was WWE's John 'Bradshaw' Layfield. Now, as an adult, Bryan Myer's is p*****g me off, almost to that same level. When you think about it, that's gotta good though. Myers is clearly great at what he does but the character is nasty. Myers turned his back on Kojima and began calling out Jake Something, which was the ultimate show of disrespect to Kojima.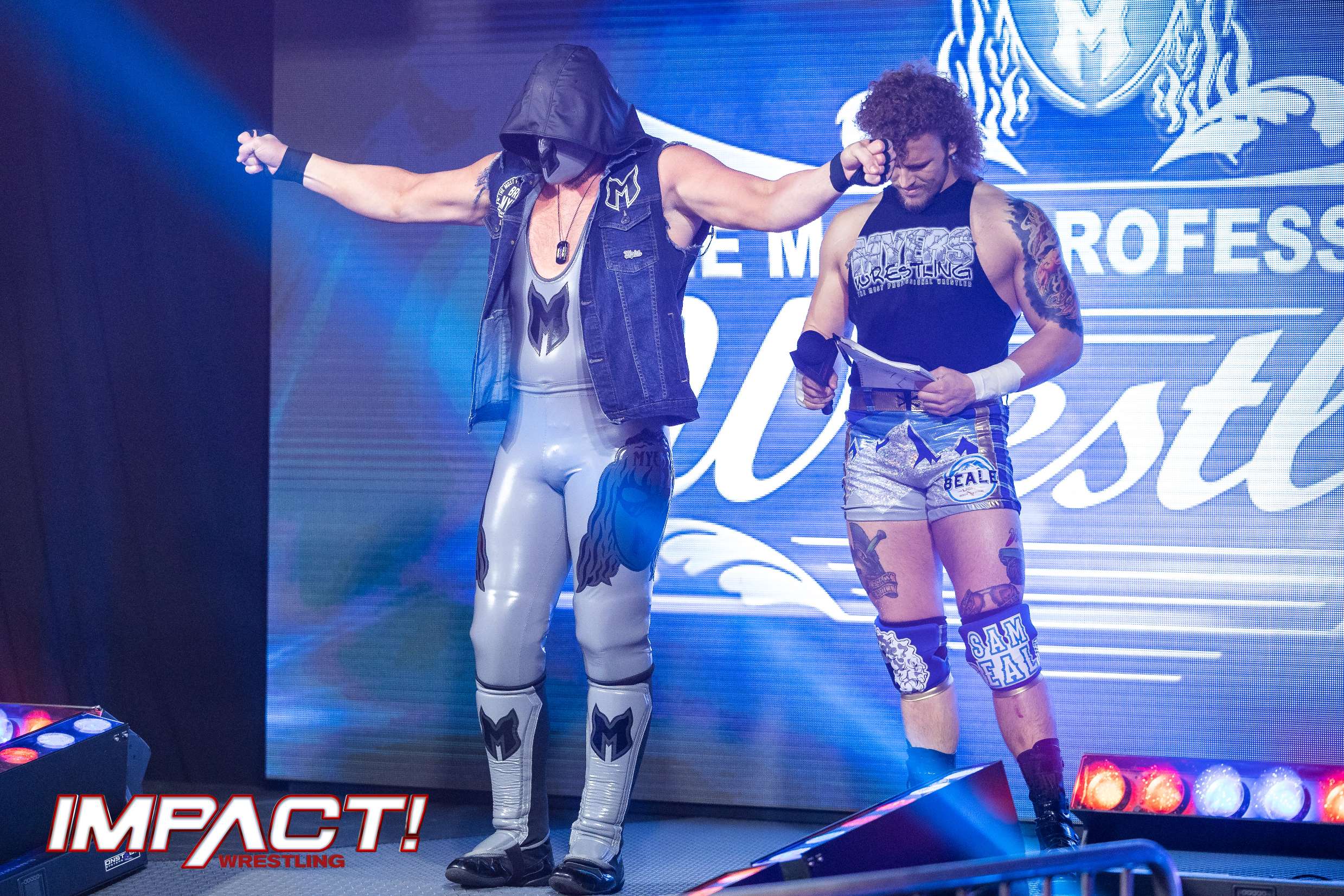 Needless to say, a fight broke out. Kojima was being beat down 2 on 1 by both Myers and Beale until Jake Something came running down the ramp to even the playing field. Jake cleared the ring in seconds. This is professional wrestling, which means that this was officially made into a tag team match. For what it was, this was an interesting match. The spotlight was definitely shining on Jake Something and deservedly so. Myers put on a good showing during this match; as much of a loud-mouth as he has been since joining Impact Wrestling, he was backing up everything that he has said with his in-ring actions. No matter the tactics that Myers and Beale came up with, the passion that Kojima and Jake had was more powerful. I really enjoyed the hard-hitting, face-paced action that this match had to offer. At one point, Kojima spiked Beale with a DDT and blasted Beale with his finisher to pick up the victory.
What an impromptu match!
Winners: Kojima and Jake Something
Tenille vs Rachael Ellering
Next up, Tenille was in action as the feud continues with Ellering/Grace. As usual, Dashwood was accompanied by 'Kaleb with a K'. Ellering was ready to put a stop to Tenille's attitude. Tenille has been doing her utmost, as of late, to get in between the pairing of Elerring and Jordynne Grace. It seems to be working too, if last week's segment between Ellering and Grace is anything to go by.
Tenille came into this match with the same 'I don't give a f*** about you or anybody else' attitude. It's safe to say that Tenille can walk the walk as much as she can talk the talk. Rachael Ellering was desperate to gain any form of momentum during this match but the story that was being told did not seem to have that in the cards. I have to say, I am very invested in this storyline. I love when we have a definitive good guy and a definitive bad guy.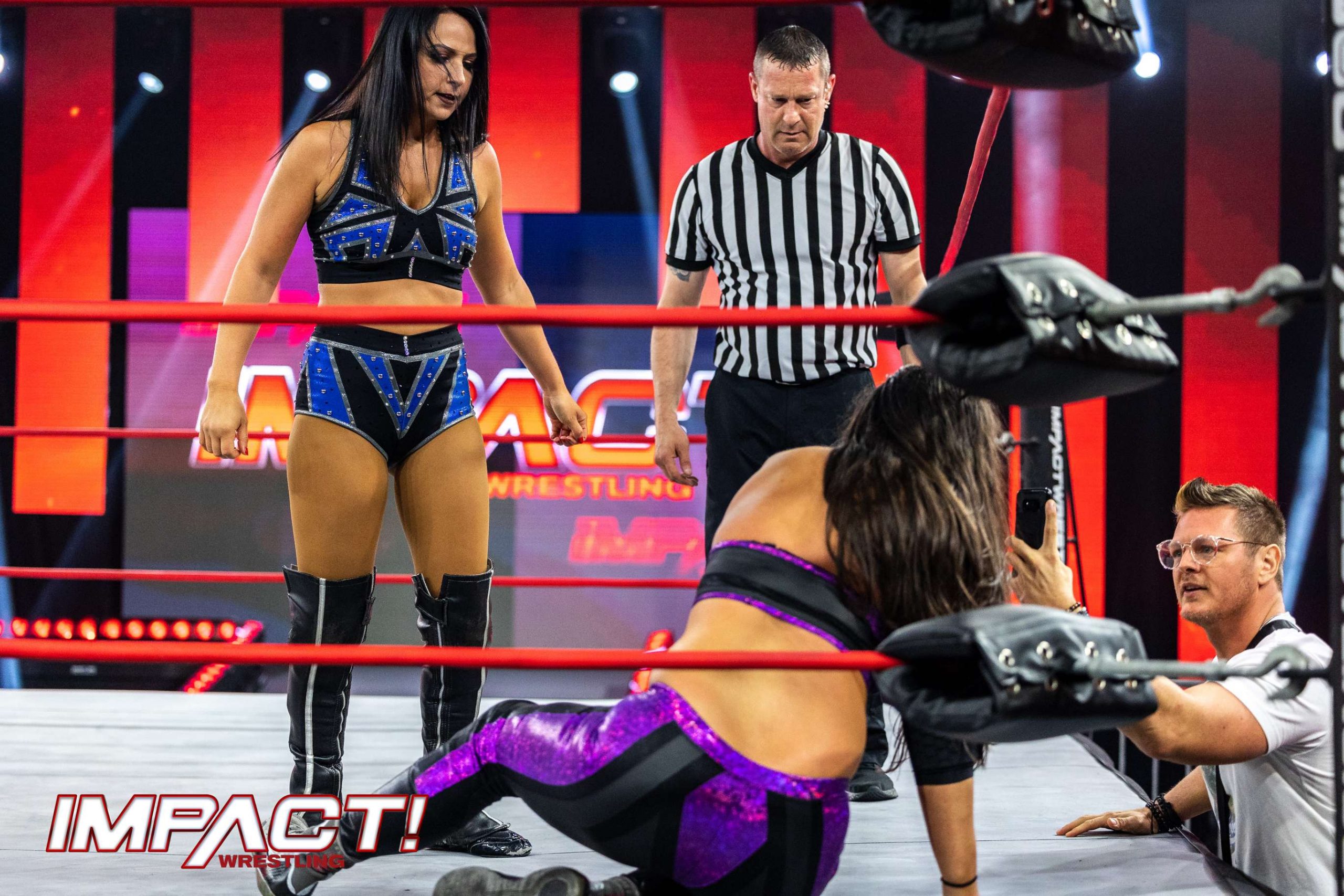 Dashwood has been incredibly impressive as of late. As the match continued, Ellering found the tiniest opening and took advantage immediately but Tenille managed to bend the rules to her advantage by having 'Kaleb with a K' cause a slight distraction. At a moment's notice, Ellering rolled up Tenille for a three-count, from out of nowhere. Ellering turned the table and secured a victory.
This was great because it led to Tenille losing her temper and continuing the attack on Ellering . Then something great happened. 'Kaleb with a K' got into the ring and before he could do anything, wrestling legend and friend of Ellering, Jazz, stormed the ring. Jazz fought off both Kaleb and Tenille momentarily until the numbers game was too strong. This was when Jordynne Grace ran down to the ring in an explosive manner! Grace saved the day and even rekindled her relationship with Ellering.
The ladies are back and the tag team division had better watch out!
Winner: Tenille
TJP and Fallah Bahh vs. Rich Swann and Willie Mack
This match was a little all over the place. In terms of tag teams, all men involved are obviously exceptionally talented and deserve the spotlight each and every week on Impact Wrestling. The opening moments of this match was really just a display of how well all involved know each other and their move sets. The spot of the match came about when Bahh, TJP and Mack were on the outside, next to the ramp, and Swann did his thing by fliping off the turnbuckle very fashionably.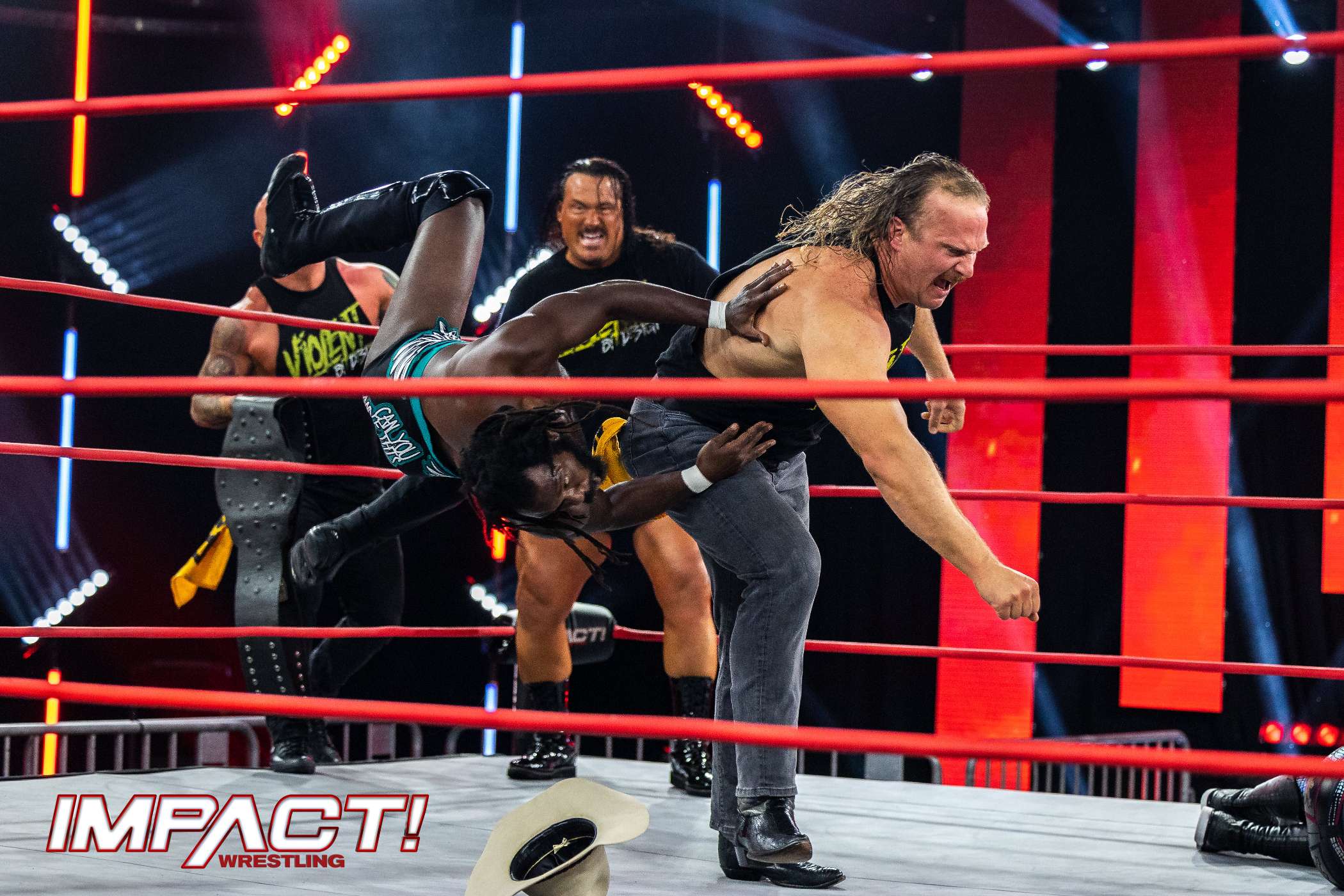 It was at this moment that the match ended, as quickly as it began. Violent By Design interfered and massacred everybody. VBD's actions were clear; they are proving themselves to be the most destructive force in Impact Wrestling and it's hard to disagree.
Result: No Contest
Chris Bey vs. Petey Williams
The looming storyline here is that of the return of the Ultimate-X match at Slammiversary 2021. Bey and Williams will both be participating in the match, so perhaps this match was an opportunity to soften up some of the competition ahead of the X-Division Championship match. Chris Bey made this match his own, as he often does. Bey may be one of the best wrestlers that Impact Wrestling has in their arsenal at this moment in time. The interesting thing here is the age difference. Bey is 25 and Williams is 38. By no means is Williams struggling to keep up, in fact, he's proving that he can still go with the entirety of the roster and that is incredible. We do have to wonder, will the younger Bey have the advantage at Slammiversary in terms of agility and determination, or will Williams' experience and dedication come into play? This match was so intense and led to Bey defeating Williams with style. Bey is ready for Slammiversary.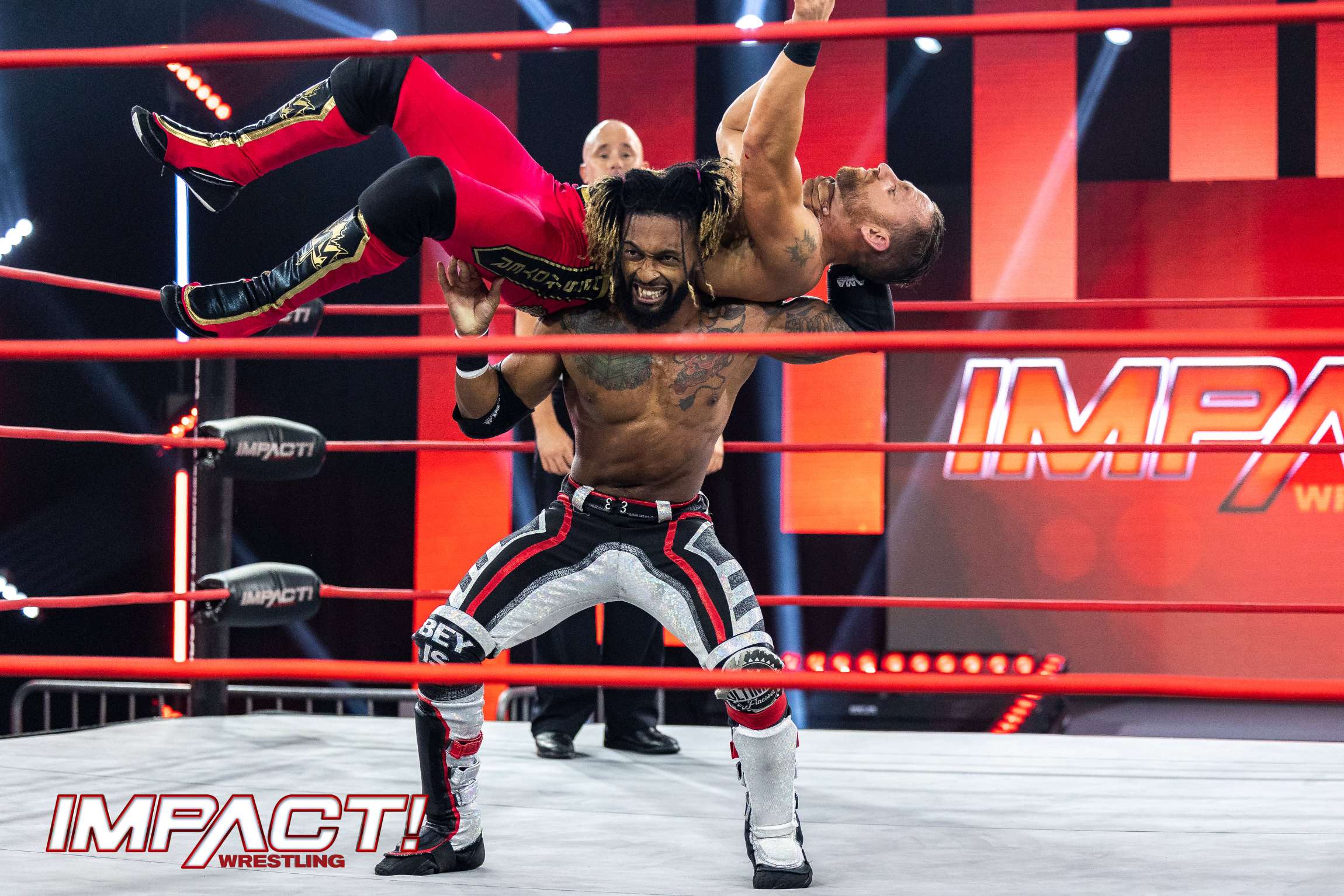 As Bey was celebrating, Ace Austin, Rohit Raju, and Mad Man Fulton came down to the ring and brought the fight to Williams, clearly to further the damage to Petey Williams. Trey Miguel and Josh Alexander then came down to aid Williams and before we knew it, we had all the participants of the X-Division Championship in the ring. This would have been more exciting to me but I'm pretty sure that we saw this exact scenario last week on Impact. Regardless, Slammiversary is setting up to potentially be the pay-per-view of the year.
Winner: Chris Bey
Steve Maclin vs. Manny Smith
Maclin has been off to an impressive start since arriving on the Impact Wrestling scene. This week, Maclin was set to squash Manny Smith in singles action. Maclin is currently 2-0 at Impact Wrestling and if this keeps up, we very well could have a future main eventer. Maclin is a brute. He is big, bad, destructive, and is simply there to inflict pain upon any poor soul that crosses his path.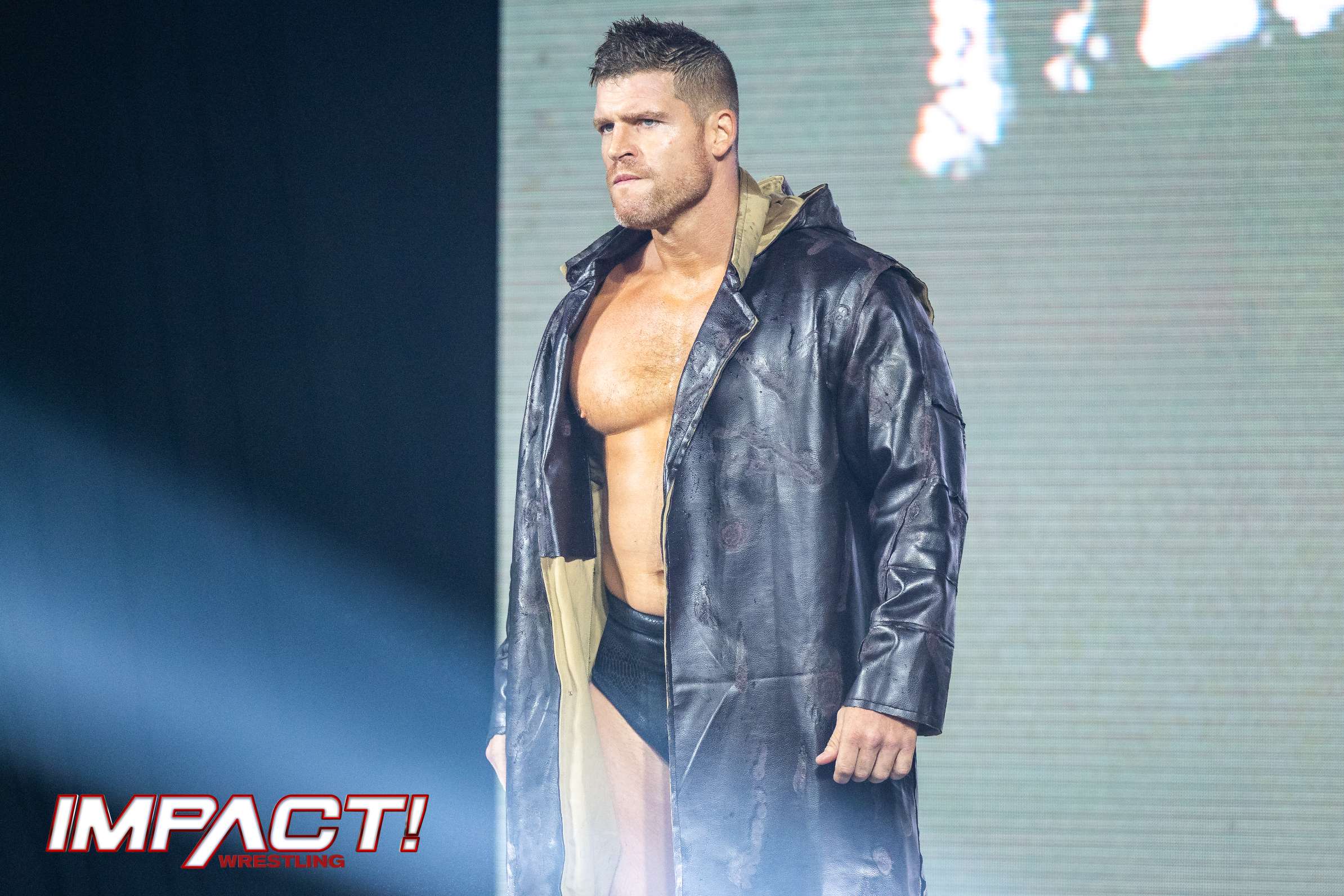 To be honest, Smith didn't have a chance in hell of winning this match, simply because of who he was in the ring with. It's only been a few weeks, but by the way that Maclin is being portrayed, the future looks bright. Needless to say, Maclin claimed the victory and is now 3-0 in Impact Wrestling.
Winner: Steve Maclin
Team Callis: Kenny Omega & The Good Brothers vs. Team Dreamer: Moose, Sami Callihan, and Chris Sabin
Is there anything better in professional wrestling right now than Kenny Omega, Karl Anderson, and Luke Gallows working for different companies yet sharing the ring? I don't think so. Not only that, but when The Good Brothers made their way down the ring for this match, Anderson was wearing Omega's All Elite Wrestling Championship, and Gallows was wearing Omega's TNA World Heavyweight Championship and they looked great with the gold strapped around their waists. Kenny Omega then made his way to the ring wearing his Impact Wrestling World Heavyweight Championship. The match was underway and both Moose and Callihan were chomping at the bit to get their hands on AEW's Omega. Team Dreamer were really struggling to get along, which made you believe that Team Callis would walk away as the victors.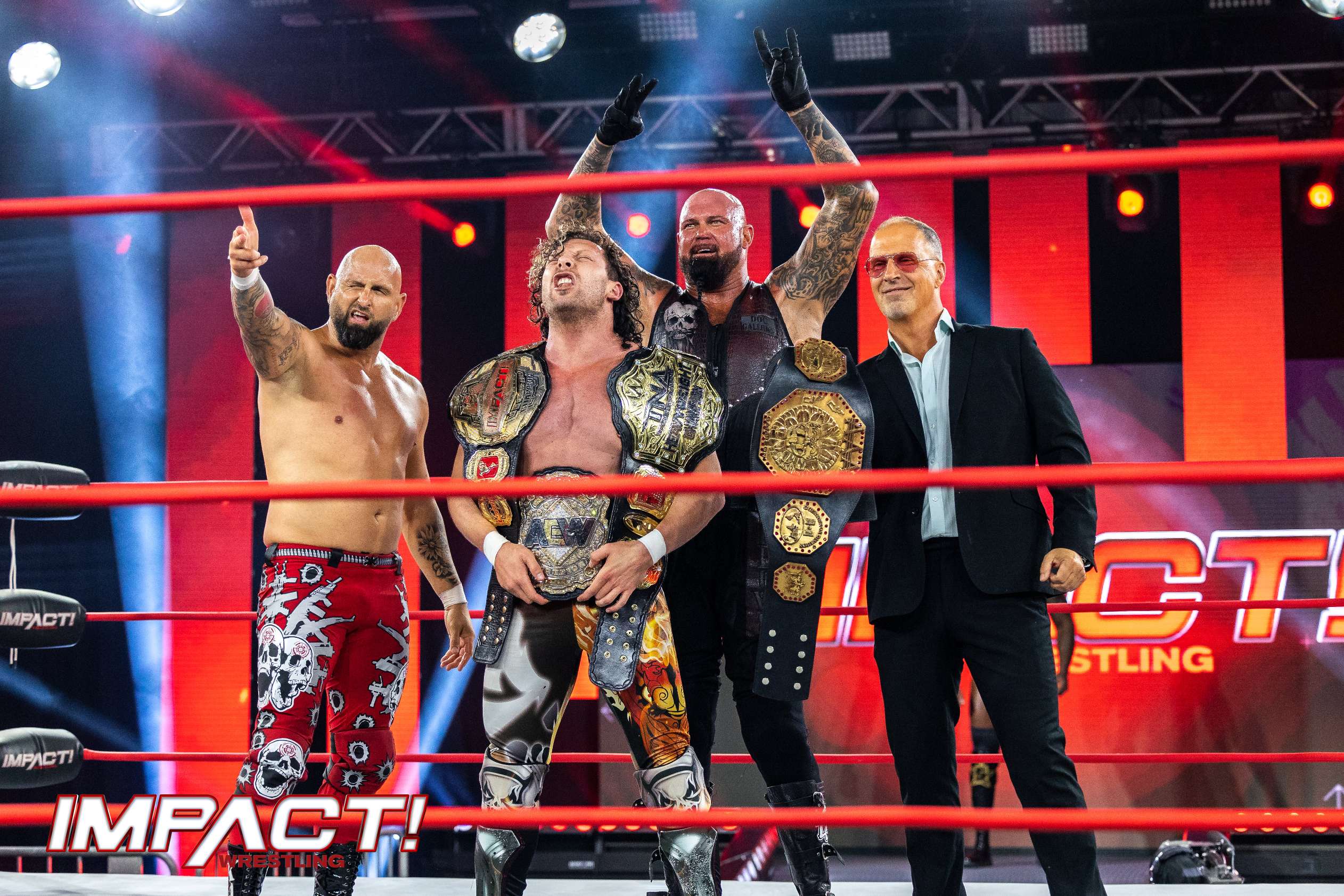 This match was great promotion for the upcoming Slammiversary PPV. Omega avoided Callihan at all costs. Gallows spent quite some time in the ring and dominated over Sabin. Team Dreamer seemed to fall apart in front of our very eyes as Moose refused to be tagged in when Kenny Omega was the legal man. Is Moose afraid? Sabin remained the legal man of Team Dreamer and took out all three members of Team Callis single-handedly. After this, Moose tagged himself in to take all the credit, and this was when the whole thing fell apart. Moose attacked Tommy Dreamer outside the ring after Don Callis shoved the ECW legend into the former Impact Wrestling World Champion. Back inside the ring, we had Sabin, who was tagged back in, struggling to hold his own with Kenny Omega. Omega hit the snap dragon suplex, followed by The Good Brothers hitting the magic killer in order to pick up the victory. Kenny Omega and The Good Brothers reign supreme.
Winners: Team Callis (Kenny Omega & The Good Brothers)
Final Thoughts
Once again, I do not understand why this edition of Impact Wrestling received the low viewership that has been reported. This show was stacked! From W. Morrisey jumping Eddie Edwards and starting a new storyline to Tenille Dashwood getting her ass kicked by Jordynne Grace to Kenny Omega and The Good Brothers stealing the show, what's not to like? At the time of writing, Slammiversary is 12 days away and the excitement is building at a rapid pace. Don't forget to check back in with us here at Sports Obsessive as we will be predicting the results of the card in its entirety!
Thank you as always for joining me for your Impact Wrestling fix, please do not hesitate to get in touch with us with any questions or comments on our social media. You can find me @JayCorco on Twitter and you can find us all over @SportsObsessive on Twitter and Facebook.