Impact! Wrestling started off this week with Josh Matthews and Madison Rayne opening up the show to announce that the TNA Heavyweight Championship is now vacant. This is due to the fact that the former Champion, Tessa Blanchard, is no longer a part of Impact Wrestling. The Championship will now be up for grabs at the upcoming Slammiversary pay-per-view in a fatal-4-way match between Ace Austin, Eddie Edwards, Trey and one more participant who has yet to be announced.
Suicide vs Chris Bey
This weeks action commenced as Chris Bey made his way to the ring to face Suicide in one-on-one competition. Bey kicked things right off with offence that forced Suicide to the corner turnbuckle. Bey continued the attack with multiple kicks to the chest before leading his opponent to the opposite side of the ring. Bey was sent over the rope by Suicide, only to land on his feet on the apron. Bey retaliated with a springboard splash, which was modified into an arm-drag, and went for a standing moon-sault, which Bey altered to land on his feet as he sensed movement from his opponent.
Suicide brought his first share of offence to the match with an incredibly impressive sequence of leap-frogs, followed up with an arm-drag of his own to assert his dominance. Suicide continued his offence with an atomic drop and a running drop-kick right to the face of Bey. Suicide went for a lion-sault to Bey, however Bey got his knees up right in the nick of time. This was Bey's opportunity to get back into this match. Bey's frustration was clear at this point. Bey pounced onto Suicide and started deliver forearm after forearm to the face – he was really laying them in!
Suicide soon attempted to gain some momentum but was stopped in his tracks when Bey delivered a nasty clothesline to the neck of Suicide. Bey went for the pin attempt soon after but Suicide kicked out at two. Just after Bey delivered a flurry of chops to the chest of his opponent, Suicide somehow locked a submission move in. The hold was secured in what seemed to be a split second and Chris Bey looked like he was genuinely in trouble as Suicide wrenched back Bey's left arm. Suicide instantly performed a sunset-styled flip, which was transitioned into a pin fall attempt. Bey instinctively kicked out at two for a near-fall.
Bey shot to his feet immediately and hit Suicide with a spinning kick right to the head. Goodnight, Suicide. Bey went for the pin attempt but once again Suicide kicked out at two – he would not stay down! This seemed to infuriate Bey, as he had some choice words for the referee who was officiating this match. Bey hit Suicide with a strong suplex.  Bey then dove from the second rope with a moon-sault but was met with canvas, as Suicide managed to quickly avoid danger.
Suicide followed up with a powerful running drop-kick, impacting the chest of Chris Bey and driving him back-first into the corner turnbuckle. Suicide was ready to put Bey away after delivering a stiff boot to the face as he lay against the corner turnbuckle. As Bay lay on the mat, Suicide hit Bey with a double stomp to the chest in hopes of having his arm raised at the end of this match. Suicide positioned Bey for the pin fall attempt,  but Bey still kicked out at two!
As the match seemed to be nearing its end, Chis Bey's pal, Johnny Swinger, jumped in the ring to attack Suicide. Suicide had just sent Bey to the outside of the ring off the back of a powerful Irish-Whip and he also sent Swinger flying out of the ring next to his pal, Bey. Suicide then vaulted to the top rope and risked it all by hitting a coffin-drop, taking out both Chris Bey and Suicide outside of the ring. When Bey and Suicide made their ways back into the ring, Suicide hit a snap-suplex and made his way atop the turnbuckle once again. This time, Johnny Swinger leapt up on the apron and pushed Suicide off of the turnbuckle, sending him down and hitting the ropes, before falling to the mat. Bey took advantage of the situation when he got to his feet and delivered a springboard knee to the face of Suicide and picked up the pin fall victory.
Winner: Chris Bey
Backstage Segment #1
Gia Miller was backstage ready to Interview the self-proclaimed 'TNA Heavyweight Champion' Moose, ahead of his match on this week's show against Crazy Steve. First, I just need to remind you that since Tessa Blanchard was the TNA Heavyweight Champion but left Impact Wrestling recently, the story here is that Moose found the Championship and has claimed it as his own. Moose Called out Crazy Steve for never taking anything seriously. Moose also declared that this match between the two is only a 'big match' because Moose will be in the match. Moose went on to say about how Crazy Steve is all about 'fun and games' and that Moose did not get to be where he is at today as Heavyweight Champion, or have had a 7 year NFL run in which he earned millions and millions of dollars, by playing around. Moose closed the segment by saying that he was going to show Crazy Steve why he is 'the legend know as Moose'.
Reno Scum vs Fallah Bahh & TJP
The next match of the night was a Tag-Team division match with Reno Scum (Adam Thornstowe and Luster the Legend) taking on the team of Fallah Bahh & TJP. The second that Bahh and TJP had their backs turned during their entrance to the ring, Reno Scum definitely lived up to their name by jumping Bahh and TPJ from behind. Bahh quickly brought the defence by taking out Thornstowe with a clothesline until he was stood toe to toe with Luster the Legend. The bell rang and this match was officially underway.
Luster hit Bahh with a clothesline of his own but Bahh did not budge. Bahh hit another hard clothesline, which left Luster teetering until TJP slipped into the ring, quickly got the tag from Bahh and attempted a roll up on Luster. TPJ clocked Luster in the side of the face with a standing drop-kick and promptly tagged Bahh back in.. Bahh was not here to mess around as he instantly hit Luster with a belly-to-belly suplex, taking the big man off his feet. TJP was tagged back in, whereupon he proceeded to jump on the back of Bahh as Fallah hit Luster with a running body-slam. TLP decided to attempt the pin fall on Luster the Legend once again but Luster kicked out at one, sending TLP flying into the air in the process.
Next up was a positive showing of a number of upper-cuts followed by an impressive showing of TJP's athleticism where Luster the Legend whipped TJP towards the ropes and TJP spun through the middle ropes almost faster than my eyes could follow and he still landed on the apron on his feet! Sadly, Adam Thornstowe was not nearly as impressed with TJP as I was and grabbed him off the apron, knocking him out on the outside of the ring. Thornstowe threw TJP's limp body back in the ring to be fed to Luster the Legend.
Luster manhandled TJP and it was clear that TJP needed to tag Bahh desperately if he were to counteract the dirty tactics of Reno Scum. Thornstowe was then tagged into the match and he continuously drove big booted stomps into the back of TJP. Luster was tagged back into the match and his top priority was to take Bahh out of the picture, which he did with a strong running attack, sending Bahh flying from the apron to the outside of the ring. Luster quickly brought his attention back to TJP, bringing the attack. Thornstowe then tagged himself into the match. TJP managed to get Luster into a spinning head-scissors position where the big man was taken down for a moment. This was enough time for TLP to finally make the tag to the fresh Fallah Bahh.
Bahh was on fire as he brought the fight to Thornstowe, squashing him in the corner of the ring. Luster was not well pleased with this and launched a big boot right into the face of Bahh. Luster dropped to his hands and knees while Bahh was left leaning against the corner turnbuckle. At this junction, Throwstowe came running across the ring and used his partners back as a launch-pad, launching himself high enough into the air to deliver a double foot stomp to the back of the helpless Bahh in the corner of the ring. These guys may be scum but that was one hell of a move!
Thornstowe went for the quick cover but somehow TPJ resurfaced from nowhere and managed to save the match. At this point of the match, all hell had broken loose. No one was following the rules of a Tag-Team match as all men were in the ring. Bahh and Thornstowe were the legal men, but TJP was brawling with Luster up until the point that Luster was thrown out of the ring. Back in the ring, Bahh had delivered a Samoan-Drop to Thornstowe and TLP got involved by hitting Thornstowe with the Mambo Slam from the top rope. Bahh decided enough was enough and pinned Thornstowe for the one-two-three and picked up the victory for his team. What a match!
Winners: Fallah Bahh & TJP 
The North address Ken Shamrock
The World Tag-Team Champions Ethan Page and Josh Alexander made their way to ring to address their recent actions against 'The Worlds Most Dangerous Man' Ken Shamrock. Page called out Shamrock by stating that Shamrock will never find a tag partner in Impact Wrestling due the fact that Shamrock 'has no friends, has rage issues and cannot manage his temper'. Page continued to call out Shamrock by calling him 'nuts' and that he is in need of professional help. Needless to say, Shamrock made his way down to the ring, ready to kick some ass. Shamrock was not concerned that there were two of them and one of him, he was just ready to throw down. Then, Sami Callihan joined forces with his 'enemy' as he appeared in the ring side by side with Shamrock and the two completely laid  Page and Alexander to waste. Josh Matthews hit the nail on the head while on commentary, as he said seeing Shamrock and Callihan work side by side is like seeing Batman and the Joker join forces. Then, in a split second, the lights went out and Callihan vanished just as quickly as he appeared. What does this mean for the future of Shamrock and Callihan?
Moose (c) vs Crazzy Steve (for the TNA Heavyweight Championship)
So: was this match really for the TNA Heavyweight Championship, when Moose had just found the Championship and claimed it as his own? Either way, here was the match, and it had not even started when Moose had already begun to kick up a fuss. Moose was not happy with Dave Penzer's job of announcing him to the ring, moaning that it lacked enthusiasm. After forcing Penzer to declare Moose as the 'best wrestler in the world', Moose was finally pleased and ready to begin the match. The match kicked off with a collar and elbow tie up, with Moose gaining the initial advantage. Moose is a 6 ft 6′, 275 lb behemoth of a man and showed that by throwing Crazzy Steve halfway across the ring. Crazzy Steve was not going to let Moose intimidate him in this match. He ducked a clothesline attempt and began to slash Moose' chest with a series of echoing chops. The self proclaimed TNA Heavyweight Champion looked infuriated with Crazzy Steve and attempted a takedown but was sent flying over the top rope to the ground on the outside of the ring, courtesy of Crazzy Steve.
Crazzy Steve looked to follow up by diving to the outside of the ring onto Moose, but was caught mid-air and thrown into the steel section of the ring apron. Moose was relentless and continued the attack by simply picking Steve up off the apron and throwing him directly into the steel steps. As blood began to seep out of the mouth of Crazzy Steve, the referee began his 10 count, potentially counting Crazzy Steve out of this match. From here, the match became very one-sided. Moose rolled his opponent back into the ring and simply powered over him for several minutes with no offence on Crazzy Steve's part. Moose shocked Crazzy Steve's system with a devastating running knee to the torso, seemingly flattening Crazzy Steve. Somehow, Crazzy Steve mustered up enough energy to propel himself to the top rope to attempt a diving cross-body slam to Moose, yet Moose caught his opponent mid-air once again. Moose responded with a throwaway slam, literally throwing Crazzy Steve over his head to the opposite side of the ring. Moose showed off his athleticism next with a kick-up, egotistically implying that he had not busted a sweat throughout this match. Moose then hit his opponent with a crushing spear and by the way that Crazy Steve's body fell limp, we knew it was over. Moose pinned his opponent for the three count and picked up an impressive victory in this singles match.
Now, remember that Moose considers himself to be the TNA Heavyweight Champion after stealing the Championship. He is not the Champion. However, as we know at Slammiversary, there will be a  fatal-4-way match between Ace Austin, Eddie Edwards, Trey and a mystery participant who is returning to the company and is a former Champion. Moose wanted to send a message to this mystery participant and he did so by continuing to beat down on Crazy Steve after this match had finished. After seeing enough of this carnage, ECW alumni Tommy Dreamer ran down to the ring, looking to restore order. Dreamer gently pushed Moose away from Crazy Steve as if to say, 'we get it, take it easy'. At this point, Moose seemed to finally be walking away and Dreamer was attending to Crazy Steve who was still coughing up blood. Moose returned, however, with a kick to the side of the head of Dreamer. Moose pounded down on the skull of Dreamer with multiple forearms. Moose was left as the only man standing and I guess this rubbed his ego up the right way enough as he was happy enough to walk away.
Winner: Moose
Tommy Dreamer addresses Moose
When Impact returned from commercial, Tommy Dreamer had made it back to his feet and was stood in the middle of the ring, making a statement to his attacker, Moose. Dreamer started by praising Moose's physical abilities as an athlete. Dreamer continued by saying:
I have been in this business for 30 years. I have faced and fought thousands of wrestlers and I could count on one one hand the amount of wrestlers that have the natural God-given ability and talent that you have. You used all of that natural God-given ability and talent to make it all the way to the NFL and, because I know you, I know your story. You didn't have dreams about playing in the NFL. You did it because your friends told you to come and play. With that talent, you actually became an NFL player for 6 years and once football says goodbye to you, you become a professional wrestler. Why? Not because you had dreams of becoming a professional wrestler but because you were looking for another pay-check.

Because of your natural God-given ability, you became one hell of a professional wrestler. You're one of the fastest rising stars, but maybe, like in the NFL when you didn't listen to one of your coaches, you didn't listen one of your friends like an Eddie Edwards or a Tommy Dreamer or a D-Lo Brown or a bunch of men and women who learned this business and learned from their mistakes and didn't want to see you make them! Now, you're going to be a bust in professional wrestling as well because guess what Moose? You didn't win any Championship. You couldn't cut it here so you just created a title for yourself. That's not how titles are won or lost and if you think that I'm mad about this, I've been beaten up by better.

Moose, there was an idol of mine named 'The American Dream', Dusty Rhodes, and he talked about Hard Times. Maybe you haven't noticed but we're in the hardest times of the world and the world has stopped but professional wrestling hasn't. You've been looking at this place as a pay-check and not because of heart and passion. Give me a locker room of men and women from Impact Wrestling that worked their asses off. We're afraid but Impact Wrestling has done everything in their power to make us happy and the only people who complained was you, you narcissistic son of a *****.
Dreamer closed the promo by stating that Moose was a footnote in the NFL and will only be a footnote in Impact Wrestling because he is merely a waste of talent.
If you didn't have goosebumps after this passionate promo, you may need to check your pulse.
Kiera Hogan vs Havok
Hogan started off looking to gain the upper hand by darting towards Havok with a running drop-kick, knocking Havok down to the mat, just as the bell rang. Hogan was on fire early on, successfully grounding Havoc and keeping her opponent at bay. This was only momentary however, as Havok grabbed Hogan by the shoulder and forced her down to the mat. Havok knocked Hogan senseless with a clothesline to the throat and Hogan then seemed to be like putty in Havok's hands. Havok stood a little to close to the ropes, which gave Tasha Steelz, who was ringside for Hogan, an opportunity to distract Havok. Havok responded by kicking Steelz in the face and that seemed to be the end of that. Back in the ring, Havok went for a leg-drop to Hogan. However, Hogan moved out of the way just in time and managed to kick Havok right in the head before pouncing on her opponent and continuing the brawl. Hogan remained in control of Havok for quite some time during this match.
When Impact returned from commercial (again), Hogan was locking in a sleeper-hold and was really wrenching it in! Havok was desperate to get out of this predicament so she ran towards the turnbuckle with Hogan on her back and slammed Hogan back first into the corner turnbuckle. Hogan did not budge! Hogan remained locked onto Havok and continued to wrench that sleeper-hold tighter and tighter. Havok was clearly struggling to breathe at this point and in a final desperate effort, Havok sprinted towards the corner turnbuckle, once again slamming Hogan back first into the corner and forcing Hogan to release the hold.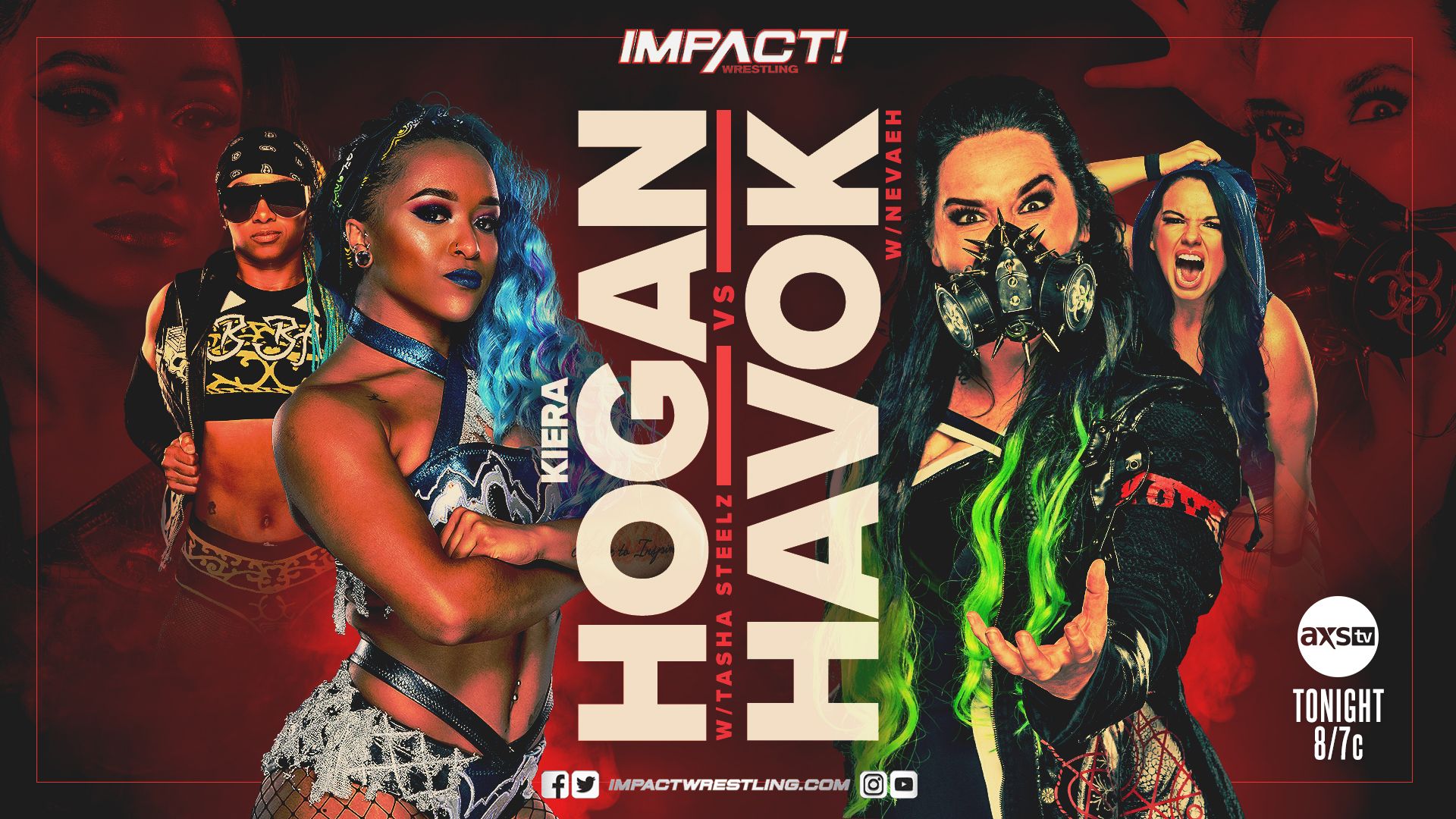 The damage was clearly done to Havok, though. This was an incredible strategy from Kiera Hogan. Hogan continued to lead this match, even at one point using her dreadlocked hair to choke Havok with! I have never seen anything like it. The referee must have been oblivious because he simply allowed it. You'd think that would be a definite disqualification in a wrestling match! Either ways, Hogan was in a good position up until Havok managed to daze Hogan with a big boot to the face. Havok had Hogan laid up in the corner of the ring and delivered multiple running boots to her face..
After three running knees to Hogan's face, Havok looked like she had this in the bag. Tasha Steelz, who knew Hogan was in trouble, jumped atop the apron to taunt Havok. Steelz had Havok's face mask that she wears to the ring and put it on to mock Havok. That is not something that I would recommend in this day and age, whether you've been tested negative for Covid-19 or not. Havoc grabbed Steelz by the throat and proceeded to choke her out for that display of disrespect. While being choked out, Steelz managed to throw the mask to Hogan, unbeknownst to Havok and the referee! The ref was attending to Steelz momentarily which gave Hogan the opportunity to smash Havok in the face with her own mask. She quickly followed up with a super-kick to the face of Havok, then a kick to the knee which lowered Havok and positioned her for a devastating kick to the side of the head, allowing Hogan to pick up the pin fall victory.
Winner: Kiera Hogan
Mad Man Fulton vs Trey
The main event of the night saw Mad Man Fulton, who was accompanied by Ace Austin, taking on Trey in singles competition. Now, as we know, Austin and Trey will be participating in the fatal-4-way match at Slammiversary, so this match looked like an attempt to soften Trey from Austin's stance. Fulton and Austin had already made their ways to the ring. Trey had just walked onto the stage and was staring down both men before making the walk down the aisle.
Trey knew what he was up against. Hecharged to the ring, slid under the ropes and ducked an immediate big boot attempt from Fulton. Trey bounced off the ropes and bypassed Fulton and dove through the middle rope, performing a suicide dive that took Ace Austin out on the outside of the ring. Trey jumped back up onto the apron to meet Fulton, who was ready to attack. Trey kicked Fulton right in the head and leapfrogged over him while Fulton fell out of the ring. Trey bounced back off the ring ropes once again and performed a second suicide dive, this time looking to take Fulton down. However, Fulton caught Trey mid-dive and threw him back into the ring, thus derailing all the momentum that Trey had gained since the start of this match. This was an incredibly impressive start by Trey nonetheless. The match continued on with Trey seemingly in the driver's seat, as he repeatedly countered each and every powerful strike that Fulton had to offer. Trey's agility and endurance was on show throughout this match as he pulled off numerous aerial attack to Mad Man Fulton.
Fulton managed to use his size and strength to his advantage. He began to throw Trey around like he was a toy. In a matter of moments, Fulton has holding Trey above his head, with one hand, before dropping Trey's body to the mat. Let's not forget that Fulton is 7 foot tall, so that was one hell of a drop for Trey and I can only imagine the damage that the drop alone would have caused. Austin was cheering on the outside and he had good reason to. Last week on Impact, Fulton did Austin's dirty work by beating down Eddie Edwards (another participant in the upcoming TNA Heavyweight Championship match at Slammiversary) and now with Trey being dominated, we can image the confidence that Austin will have going into Slammiversary. Trey tried to retaliate with a headscissors takedown but Fulton locked in a rear naked choke that transitioned into a back suplex, turning Trey inside out. Fulton was in clear control here and Trey knew it. When cornered at the turnbuckle, Trey grabbed Austin's pole that he brings to the ring during his entrance and whacked Fulton right in the face.
This led to a DQ but it may have been a wise decision by Trey, who needs to stay fresh ahead of his Championship match at Slammiversary.
DQ Finish
Winner: Mad Man Fulton