Welcome to Sports Obsessive and thank you for joining me for the latest Impact Wrestling review.
This week's show kicked off with the highly anticipated moment that has been dubbed 'The Summit'. Scott D'Amore went over Don Callis' head and directly invited the president of All Elite Wrestling to appear on Impact Wrestling to discuss the main event of the upcoming Impact Wrestling PPV event, Against All Odds.
The All Elite Wrestling and Impact Wrestling Summit
Right on cue, Tony Khan made his way down the ramp and The Summit had begun. As D'Amore and Khan were about to get down to business, Don Callis couldn't help but interrupt. Callis did his best to butter up Tony Khan by complimenting his business skills and complimenting AEW's World Champion, who also happens to be the Impact Wrestling World Champion, Kenny Omega. Callis quacked on and on for an unnecessary amount of time, trying to convince Tony Khan to not alter the main event of the upcoming Against All Odds event. As it stands, the main event is set to be Impact Wrestling's Moose vs All Elite Wrestling's Kenny Omega. However, Scott D'Amore believes that Impact Wrestling mainstay, Sami Callihan, has earned a spot in this match. Callis disagreed.
Tony Khan and Scott D'Amore spoke amongst themselves and decided that the main event of Against All Odds will in fact be Moose vs. Kenny Omega. Tony Khan then continued by expressing that the best venue for this match would be Daily's Place, which is where AEW has called home since the pandemic began. Tony added that he guarantees that Sami Callihan will not be there and that AEW's security will be on hand. Of course, in professional wrestling logic, this means that Sami Callihan will somehow break into Daily's Place and get involved in this Championship match, right?
Callis was thrilled with the news as this was exactly what he wanted all along. D'Amore then dropped the bombshell that no matter who wins between Moose and Omega, the winner will face Sami Callihan for the Championship at Impact's next PPV, Slammiversary 2021.
Don Callis Wants Sami Callihan Out Of Action, Indefinitely
Don Callis was seen backstage with Kenny Omega and The Good Brothers, Karl Anderson, and Luke Gallows. Basically, Callis is the equivalent of a small child who has not gotten their way. However, instead of having a tantrum, Callis is planning on having Anderson and Gallows take Sami Callihan out of action, indefinitely. That was until the thorn in his side, Scott D'Amore, confronted him again. D'Amore decided to book a match on the spot for Against All Odds, which would be The Good Brothers vs. Sami Callihan and a partner of his choosing in a street fight.
Rosemary vs. Havok W/ Against All Odds Implications
The first match of the night was a Knockouts Division match in which Rosemary took on Havok. Rosemary is set to take on Deonna Purrazzo at Against All Odds this weekend, but if Havok were to win this match, Havok would be inserted into the Knockouts Championship match. This match was interesting for what it was. Rosemary kicked off the match in explosive fashion as she delivered her signature spears to Havok from the gate.
Havok retaliated and gained some momentum but this all ended after four spears in total, Rosemary picking up the three count victory and building some momentum of her own as we gear towards Against All Odds.
As soon as the match ended, Susan, Kimber Lee, and the Knockouts Champion, Deonna Purrazzo, ran to the ring and beat down both Rosemary and Havok. Purrazzo was not going to wait for Against All Odds as she wrenched on Rosemary with the Fujiwara arm-bar. The Virtuosa is not ready to let go of the Knockouts Championship any time soon.
Winner: Rosemary
Kimber Lee vs. Tasha Steelz
This was an impromptu match made by Susan. Apparently, Susan has some pull at Impact Wrestling. Susan and Kimber Lee are set to take on the Knockouts Tag Team Champions, Tasha Steelz and Kiera Hogan, at Against All Odds, so I guess this was a matter of softening up the competition. Kimber Lee was incredibly aggressive in this match and was fighting as if she wanted to prove a point. Steelz took control in a matter of time and proved why she is one-half of the Knockouts Champions by picking up the victory. The Champions now have all the moment that they need going into Against All Odds.
Winner: Tasha Steelz
Steve Maclin Has Arrived
This was a short promo but it had me smiling from ear to ear. The intensity and passion that this man has are second to none. Impact Wrestling has found its newest main-eventer in Steve Maclin.
My words cannot do it justice, check it out for yourself:
"My back is against the wall and it is do or die." #IMPACTonAXSTV @SteveMaclin pic.twitter.com/vBiFDr6OSr

— IMPACT (@IMPACTWRESTLING) June 11, 2021
Rohit Raju and Chris Bey vs. Petey Williams and Trey Miguel
There's nothing like a bit of Tag Team action on Impact Wrestling. That's exactly what we had this week as Rohit Raju teamed up with Chris Bey to take on Petey Williams and Trey Miguel. This match was as fast-paced and hard-hitting as you'd expect. There were a lot of former Champions in this match, which meant that each participant was a high-calibre professional wrestler. Raju was the most impressive early on as he pummeled Petey Williams. Each participant of this match, along with Ace Austin, will be taking part in a No. 1 Contenders X-Division Championship match at Against All Odds, with the eventual winner going on to challenge Josh Alexander.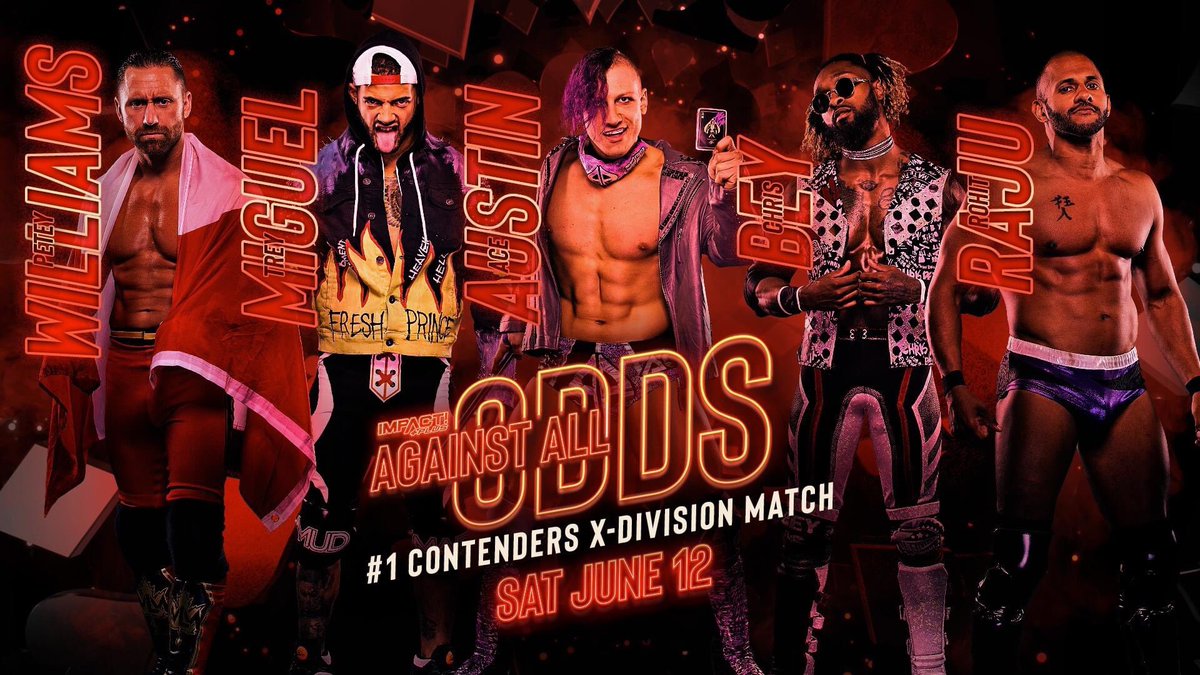 The man of the match was the former 'rascal', Trey Miguel. Miguel was on fire in this match and was exhibiting his new perspective and attitude when it comes to his in-ring activity. Miguel went on to win this match for his team. Not long afterwards, Mad Man Fulton and Ace Austin ran to the ring to weaken the competition but were soon taken out by Raju, Bey, Williams, and Miguel.
Who will become the No. 1 Contender at Against All Odds?
Winners: Petey Williams and Trey Miguel
Joe Doering vs. Eddie Edwards
Violent By Design watched from ringside as Doering took on Eddie Edwards. VBD has been incredibly successful since its inception and has even received comparisons to such professional wrestling factions as WWE's Evolution. Many name Edwards as 'the heartbeat of Impact Wrestling' and we were seeing why firsthand during this match. Edwards seemed to be one step ahead of the much larger Doering at all times. This led to VBD member Rhyno trying to interfere on the outside once the referee's attention was diverted. Rhyno's attempts were wasted as Eddie Edwards once again seemed to get the upper hand on the situation. Edwards was closing in on a victory, prompting Deaner of VBD to get involved in plain sight of the referee, which led to the inevitable disqualification. In a matter of moments, we saw VBD beating down on Edwards until Kojima came to his aid as repayment of last week.
Kojima is ready to fight Doering at Against All Odds and what a battle it is going to be.
Winner: Eddie Edwards Via DQ
W. Morrisey vs Willie Mack In A No DQ Match
As if W. Morrisey was not dangerous enough as it was, he was now unleashed in a No DQ match against Willie Mack. Morrisey is set to face off against Mack's best friend, Rich Swann, this weekend at Against All Odds. Mack was seen earlier in the night asking Swann to not intervene in this match, no matter what. Mack was very impressive in the early moments, proving that he has unrivalled passion and an unwillingness to quit. W. Morrisey, on the other hand, is just a beast. Morrisey has been dubbed as a 'stone cold killer' in Impact Wrestling and the reasoning for this was on full display as he brutalized Mack with weapon after weapon.
This match became very ugly very quick. The use of weapons helped with that. Mack did everything that he could to fight his way out of this one, not only for himself but also for Rich Swann. W. Morrisey was just too much of a powerhouse though. Morrisey regained control of the match and just obliterated Mack in the closing moments of this week's main event. Morrisey wins.
As soon as the match finished, Morrisey continued the attack on Mack which led to Swan running out to tackle the giant. In no time, security had filled the ring as they attempted to control W. Morrisey.
W. Morrisey vs Rich Swann at Against All Odds will be unmissable.
Winner: W Morrisey
Final Thoughts
There we have it. The 'go home' show before Against All Odds has come and gone. Tony Khan has said his piece and Scott D'Amore has guaranteed that Sami Callihan will face the winner of the Moose vs. Omega match. The Knockouts Championship will be on the line as Purrazzo defends against Rosemary in what has been proven to potentially be the match of the night. The Knockouts Tag Team Championships will also be up for grabs as Tasha Steelz and Kiera Hogan prepare to defend their Championships this weekend. Finally, W. Morrissey and Rich Swann will go toe to toe in what is promised to be an all-out brawl.
Thank you once again for joining us here at Sports Obsessive and be sure to join us again next week for your weekly Impact Wrestling review. You can follow Sports Obsessive on Facebook and Twitter @SportsObsessive to keep up to date with all things wrestling.