Welcome to Sports Obsessive, were glad to have you join us for this week's Impact Wrestling review.
If you and I share the similarity of taking a break from watching professional wrestling, only to return by tuning into this week's Impact Wrestling, you would've been as stumped as I was.
Josh Alexander vs TJP for the X-Division Championship
Josh Alexander and TJP were on the tail end of a brutal Iron Man Match for the X-Division Championship as Impact Wrestling went on the air. There were eight minutes on the clock with Alexander in the lead 1-0. Josh Matthews advised us that Alexander scored the first and only fall (as of yet) 20 minutes into this 60-minute clash. To set the scene, Alexander was bleeding from his dome and while both he and TJP had been wrestling for quite some time, they had an infinite amount of heart and passion to put on a stellar performance as the Impact Wrestling roster watched from ringside.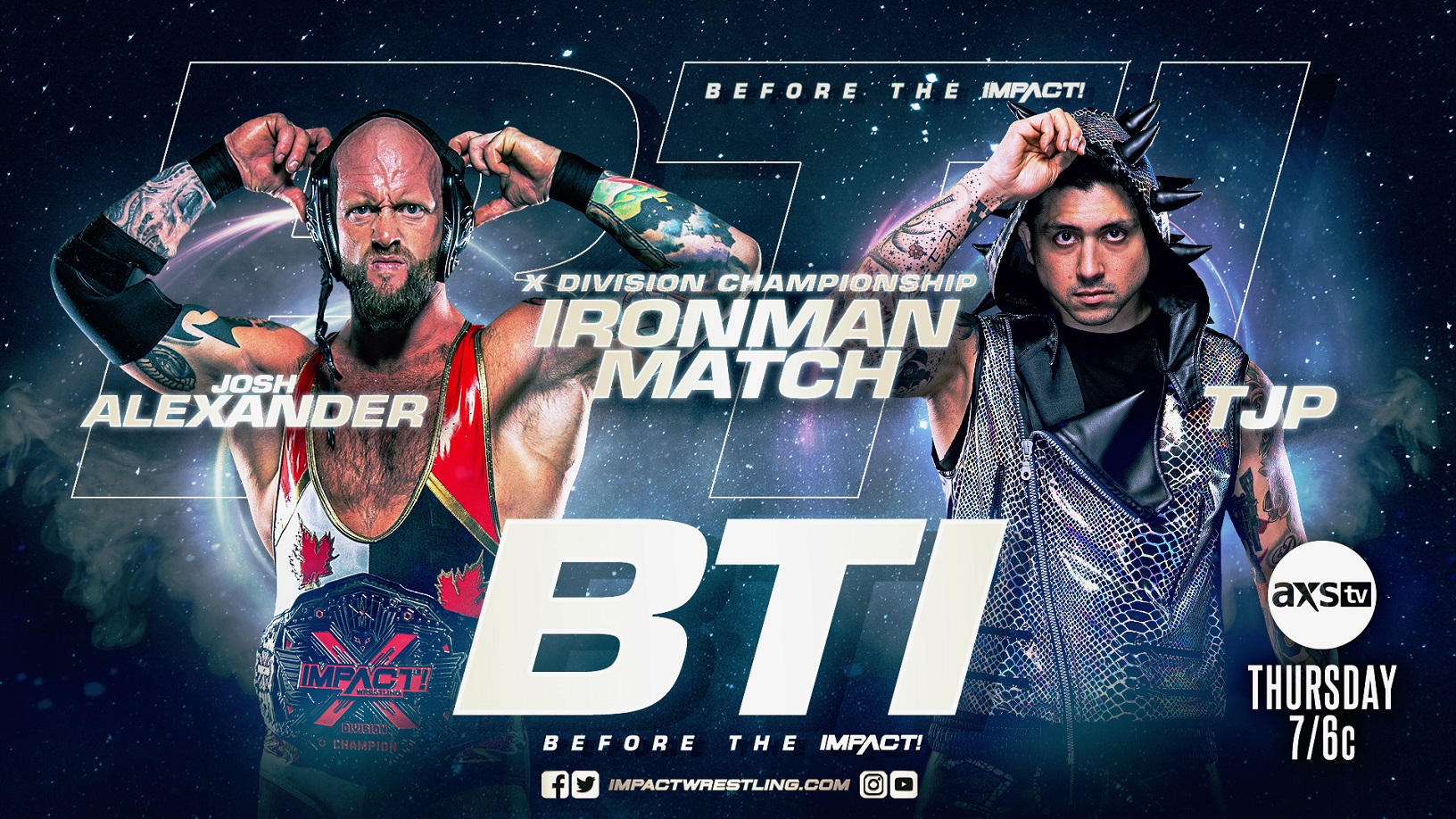 I have to say that kicking off the show in this fashion, hooked me straight away. The 8 minutes that kicked off the show was all that it took to get me emotionally invested in this. Well played Impact Wrestling. The match drew closer to its end with Alexander wrenching an ankle lock onto TJP in the center of the ring, only to have TJP roll out with 4 seconds on the clock and somehow get a three-count pinfall. The match ended in a tie. Much like I could not believe that I had missed the brunt of this match, Alexander could not believe that he would be going into sudden death.
After over 60 minutes, Alexander, defeated TJP to retain his X-Division Championship in a matchup that I need to view in its entirety!
Winner: Josh Alexander
Rohit Raju vs Jake Something in a Tables Match
Like many, I usually enjoy table matches but was unsure what to make of this match. I felt no motivation to enjoy this match and perhaps the reason for this could be attributed to my absence from watching wrestling as of late but I must say that the commentary team did not help one bit as they veered off into conversation as to what was going to happen later on in the night as well as future pay-per-view events. This really took me out of the moment and temporarily derailed my interest going into this singles match. Regardless, Raju took full advantage of the No DQ rule as he introduced a number of foreign objects into the Impact Wrestling ring.
Throughout the match, Raju's mean streak was in full effect, with Jake Something taking the brunt of the attack. The turning point came about in the match after Raju hit Something with a double stomp from the top ropes onto steel chairs. Somehow, someway, Jake Something managed to change the direction of this match and closed this segment by spearing Raju through the propped-up table. Goodnight Rohit Raju.
W. Morrisey vs Rich Swann
Here we go, perhaps, one of the greatest professional wrestlers around right now has to be W. Morrisey. I'm 100% biased as a fanatic of the formerly known Big Cass from WWE,  Morrisey confronted Impact Wrestling authority backstage earlier in the night and straight out said that he wanted an immediate match with Rich Swann, The match was granted on the spot but was phrased to state that Swann had already asked for this match to go down. Either way, this was sure to be a barn burner.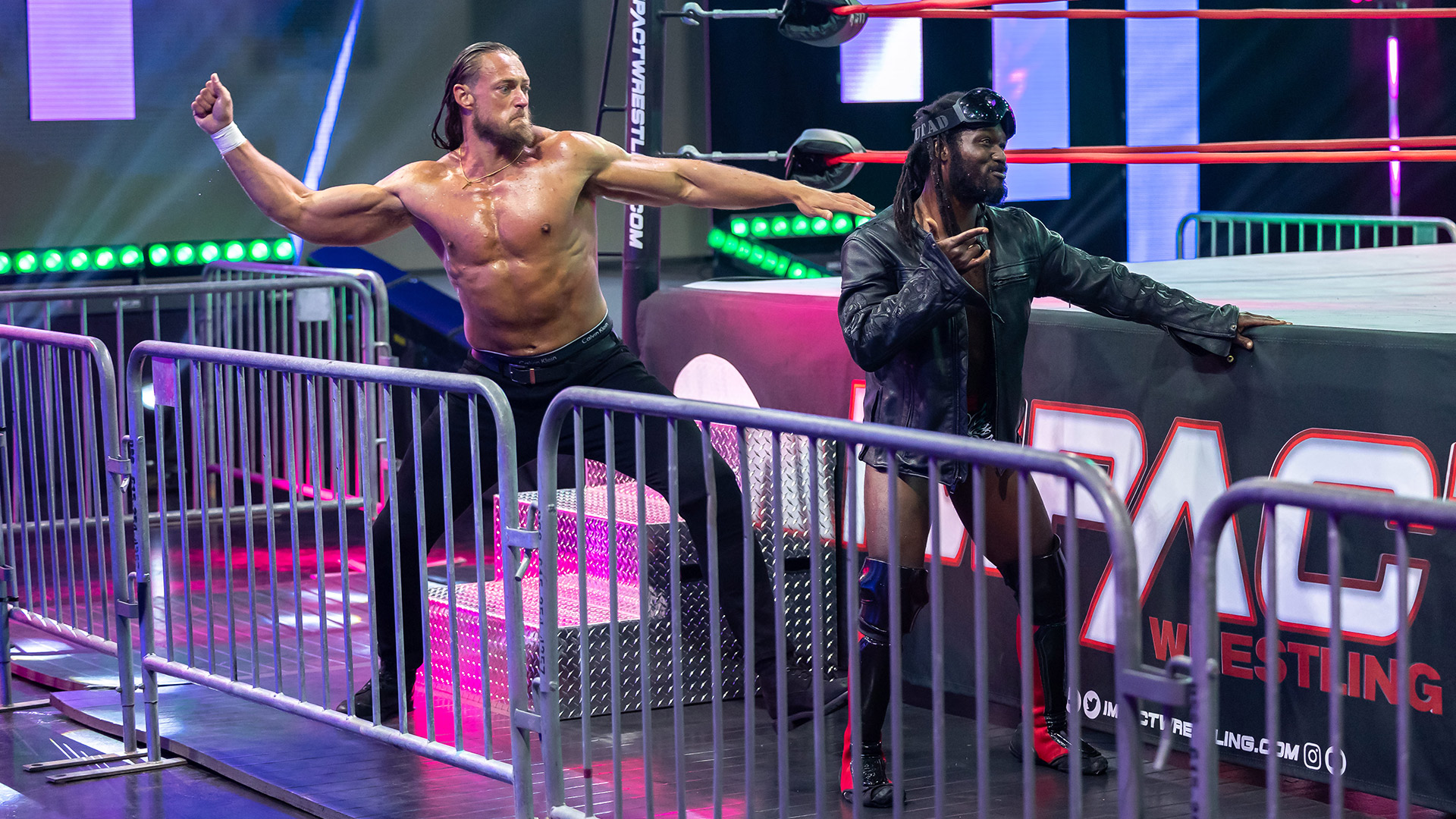 Before the former World Champion, Rich Swann had even finished styling and profiling during his entrance, Morrisey could be seen lurking directly behind him. It seemed that Morrisey had shown up to Impact Wrestling this week to kick ass and chew bubblegum but he was all out of bubblegum. Morrisey clubbed Swann in the back of the head before simply beating up Swann. As expected, Swann tried to fight back. In a matter of minutes, Morrisey was confronted by a flock of security personnel who felt that this beat down was too much, Willie Mack showed his face in an attempt to save Swann but he too was laid out. This was incredible. The sense of tension was top-notch, W Morrisey is the future of Impact Wrestling and I'm loving every minute of it.
Jordynne Grace and Rachel Ellering vs Kiera Hogan and Tasha Steelz aka Fire and Flava
Nothing like a bot of tag team action on Impact Wrestling, This match was entertaining for what it was. Grace and Ellering make a very interesting duo and this was on full display as they took on Kiera Hogan and Tasha Steelz this past week. Grace found herself as the legal woman in the match multiple times during this contest and was determined to join Ellering in becoming the new Impact Wrestling Women's Tag-Team Champions.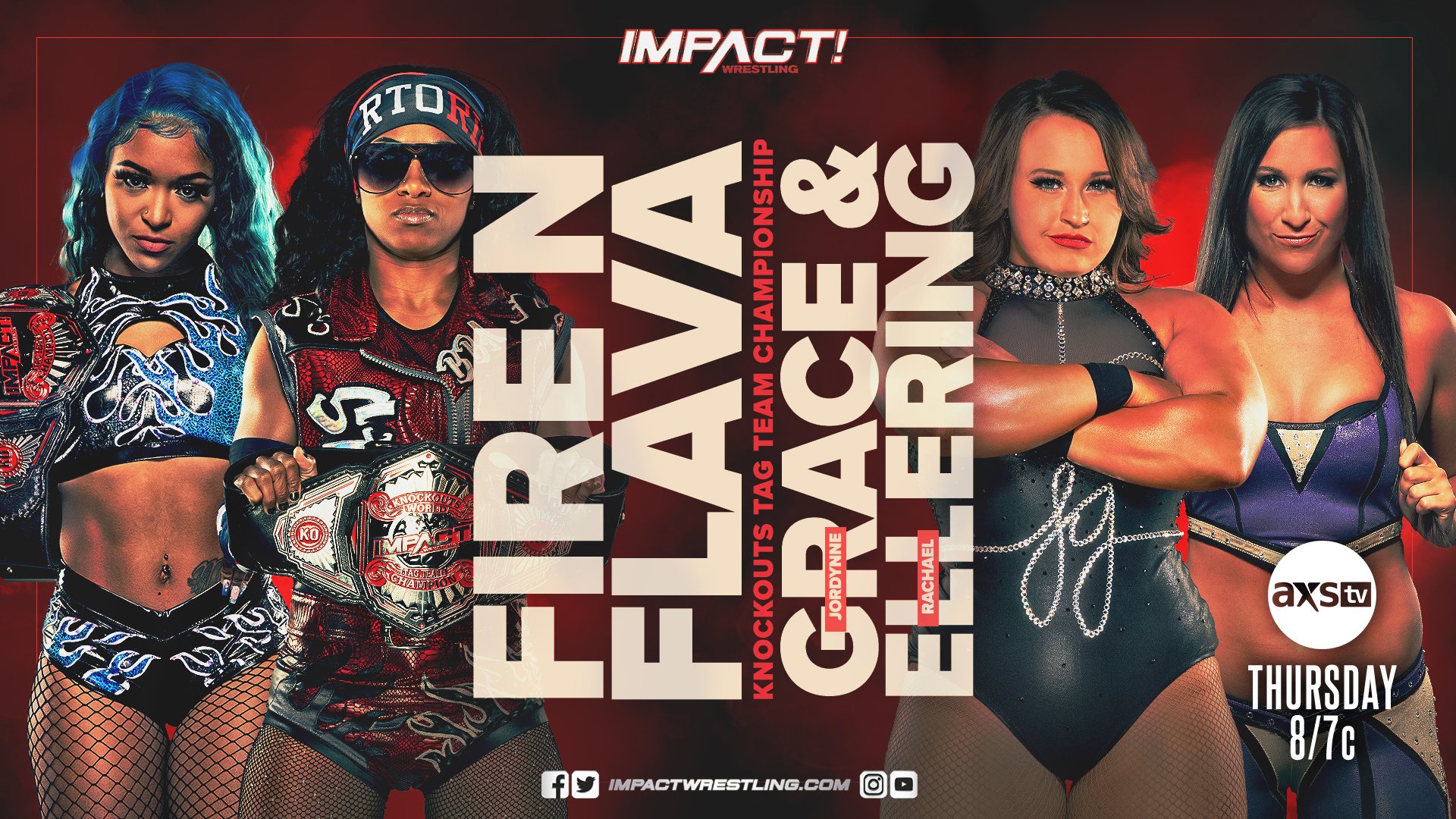 There were a number of close calls and impressive double attacks during this match that kept me engaged throughout, Despite a great showing from Grace and Ellering, Fire and Flava retained their Championship and continue to reign supreme on Thursday nights.
Winners: Fire and Flava
Deaner vs Kojima
Representing Impact Wrestling's newest heel faction, Violent by Design, Deaner took on NJPW's Kojima in singles action. The matchup was an interesting one, with Kojima leading the match from the offset. Truthfully, I didn't know much about Kojima, going into this match but I can safely say that I am now a fan, Kojima brought the fight to Deaner and looked to be in a great position. We just needed to remember the rest of Violent by Design were ringside and were not to be trusted.
With thanks to Eddie Edwards, running in to provide Kojima with some backup, Kojima was untouched by Violent by Design and picked up a pinfall victory over Deaner. Kojima may have won this match but now, Eddie Edwards may have a target on his back.
Winner: Kojima
The Main Event
Moose vs Sami Callihan
Moose and Callihan went one on one on this week's edition of Impact Wrestling in a match that held much importance for Moose. Moose is scheduled to face AEW star, Kenny Omega for the Impact World Championship at Against All Odds late this month. As the match progressed, Moose dominated and had built up the momentum that he requires going forward. Callihan became visibly frustrated during the match, which led to Moose capitalizing and continuing the attack. Moose is known as a man who possesses insane levels of athleticism. This was prevalent when we saw Moose charge towards a groggy Calihan who was propped atop the turnbuckle and delivered a nasty superplex followed by his signature 'Go to Hell'. What happened next really ramped up the excitement. Callihan kicked out of a pinfall attempt from Moose and looked as if he were to pick up the victory.
That was until he was jumped by The Good Brothers, Karl Anderson, and Luke Gallows, who were followed by AEW star, Kenny Omega. The AEW and Impact World Champion, Omega proceeded to beat both Moose and Callihan, As typical of a heel move as this was, it was entertaining. This Impact Wrestling / AEW crossover has not lost any steam as of yet. The question is, which promotion will be standing on top at the end of the night at Against All Odds.
Winner Via DQ: Sami Callihan
Final Thoughts:
A MAJOR bombshell was dropped after this match and that was that with Callihan technically picking up the victory via DQ, he may have made his way into the Omega/Moose match at Against All Odds. As per Impact Wrestling official, Scott D'Amore, All Elite Wrestling President, Tony Khan, will appear on Impact Wrestling next week to address this situation.
This week's Impact Wrestling truly was an eventful one. We have a lot going on as we gear closer to Against All Odds on June 12th
Thank you once again for choosing Sports Obsessive as your #1 destination for all sports reviews and news. If you enjoyed reading this article, please let us know on Twitter and Facebook @SportsObsessive.