Welcome back to Sports Obsessive for this week's edition of Impact Wrestling.
This week's main event was set to be a blockbuster Championship match as Eddie Edwards and Kojima challenged Violent By Design.
As always, thank you for joining us. This week's show was immense, so let's dive in, head-first!
Don Callis Forces His Way Back Into Impact Wrestling
The show started off with a recap of what, in my opinion, has to be the hottest angle in Pro Wrestling right now; that being the war that has been brewing between Don Callis, Sami Callihan, and AEW's, Kenny Omega. Last week, Callis got fired from Impact and Callihan promised to make Callis watch as he brutalizes Kenny Omega. Callis rocked up to Impact Wrestling this week with a mega chip on his shoulder after initially being refused access to the arena. Callis threw his weight around and eventually got his way. Not only was Callis at Impact, but so was the All Elite Wrestling and Impact Wrestling Champion, Kenny Omega.
Rosemary vs. Kiera Hogan
The first match of the night was a Knockouts match featuring Rosemary and Kiera Hogan. Rosemary may very well be one of the most talented wrestlers out there right now and certainly one of my personal favourites on the roster. Kiera Hogan is also in that conversation, as she is currently one half of the Knockouts Tag Team Champions, alongside Tasha Steelz. As the old adage goes, if Rosemary were to pull off a victory, perhaps she'd insert herself into the Tag Championship picture.
Hogan dominated the beginning portion of this singles match (with the assist from Tasha Steelz). That was until momentum shifted in the favour of 'The Demon Assasin' Rosemary. Rosemary did, however, have to deal was Tasha Steelz on the outside multiple times as this match progressed, which led to Havok coming out as a show of support for her on-again-off-again tag team partner, Rosemary.
As far as opening matches go, this was great. This match had your standard good guy-bad guy aspect and included the potential implications of a Championship match down the line. We all love a slow-burner when it comes to our wrestling, don't we? As the match continued, Hogan looked to be closing in on a win until Rosemary snatched the victory.
Will we see Rosemary and Havok vs Fire N' Flava for the Knockouts Championship at Slammiversary? I hope so!
Winner: Rosemary
Is There Tension Between Tommy Dreamer and Scott D'Amore?
Gia Miller met up with Tommy Dreamer backstage, which opened up a conversation regarding Dreamer being the person that the board sent to fire Don Callis from Impact Wrestling. The idea that was presented here was that Dreamer has Impact Wrestling's best interest at heart and part of me does not doubt that in the slightest. Scott D'Amore then showed up to thank Dreamer for caring so much about the company, which led to Dreamer stating that he will always be around to 'oversee' the goings-on at Impact Wrestling.
As you would expect, this created a little tension. Dreamer then revealed that the board have requested that he stay at Impact as an advisor/consultant. D'Amore was not happy one bit with this news, but who would be? Who would want to go to work every day, being in a position of power, but being aware that you are being monitored? I sense a falling out between Tommy Dreamer and Scott D'Amore very soon.
Keep your eyes and ears peeled.
Susan vs. Deonna Purrazzo
Susan challenged the Knockouts Champion on this week's edition of Impact Wrestling. Can we just take a moment to appreciate how far along Purrazzo has come over the past number of years, especially since joining Impact? Purrazzo has got to be the most talked-about wrestler in the world right now. Susan was hilarious in this match. I know that Susan is not meant to be funny but she is. Susan dropped a few one-liners during this match that you couldn't help but love, watching the wrestler do her thing in a suit while she tried to avoid the Champions Fujiwara armbar.
As time passed during this match, the more aggressive Purrazzo became. Purrazzo would've been able to put Susan away at any point during this match but refused to. The Virtuosa was simply toying with her opponent. Susan slipped through the cracks at one point and hit a superplex from the top rope, which Deonna Purrazzo countered into a Fujiwara armbar because she may be the greatest wrestler on the planet.
Well played, Champ!
Winner: Deonna Purrazzo
Rohit Raju and Shera vs. Petey Williams and Trey Miguel
This match was yet another amalgamation of what we are going to see at Slammiversary in the X-Divison Championship match. This was a showcase of everybody's ability, and while every wrestler in the ring impressed, Trey Miguel stood out above the rest. Trey has been a part of Impact Wrestling for quite some time and might be on the verge of making singles history within the company. Trey is such a fresh, fast-paced wrestler; not many can match his speed and intensity. Trey ended up in the ring with Raju and these two brought colour and definition to the match.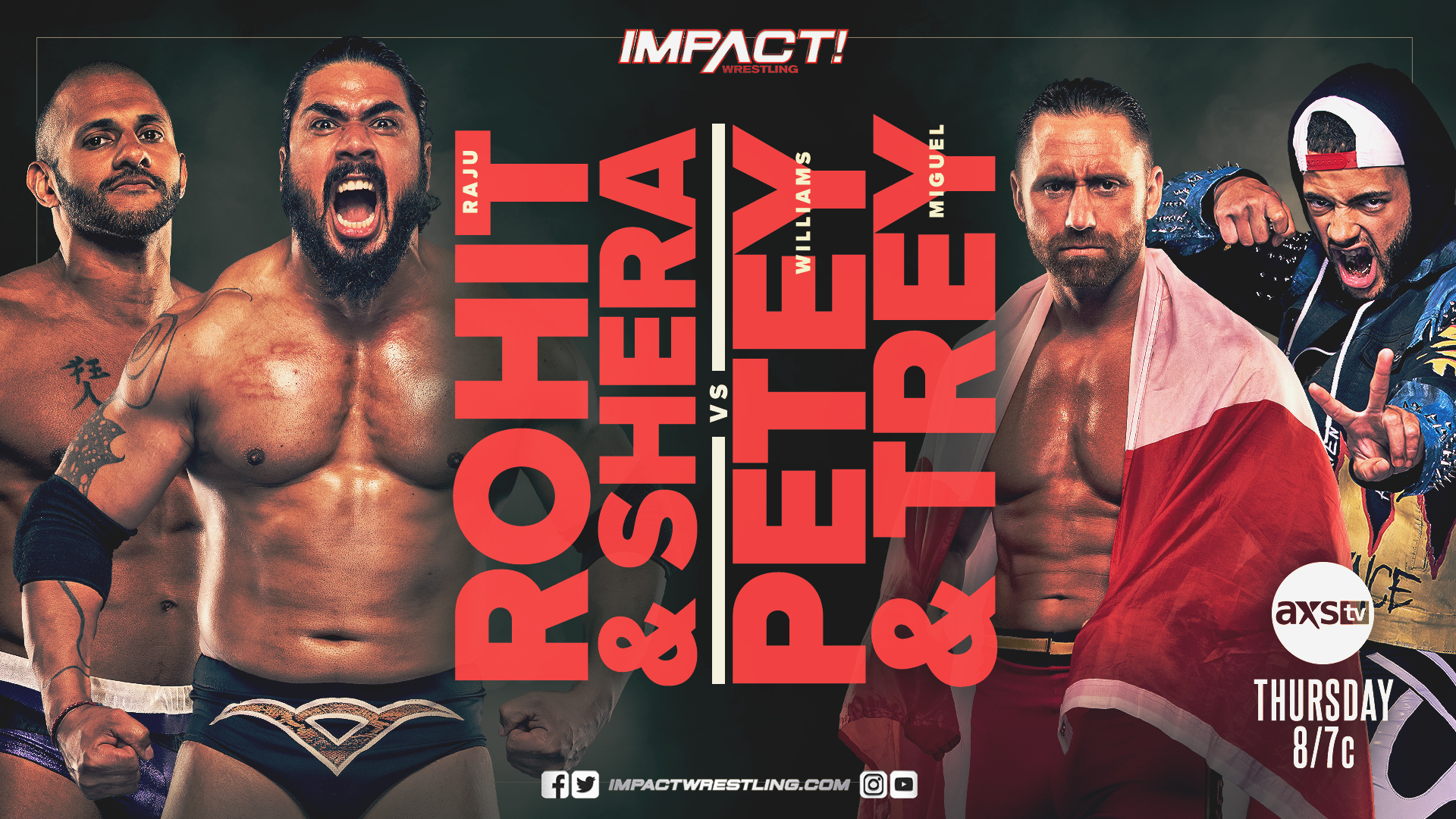 That was, until Ace Austin and Mad Man Fulton slowly walked to the ring, which contributed to Raju and Shera claiming the victory albeit by distraction. In a matter of time, the participants of the upcoming X-Division match were in the ring and laying waste to each other. Austin, Fulton, Raju, and Shera stood tall and the end of this ambush on Williams and Miguel.
How will things unfold at Slammiversary? Stick with Sports Obsessive to find out!
Winners: Rohit Raju and Shera
What Does The Future Hold For Rachael Ellering and Jordynne Grace?
An emotionally defeated Rachael Ellering was in the ring and had a few things to get off her chest. Ellering invited Jordynne Grace down to the ring to discuss some issues that have arisen since they won the Knockouts Championship from Fire N' Flava at Rebellion. These issues may have originated when Elerring and Grace lost the gold but that's what Ellerring needed to address.
Ellering opened up about how her life was in dire straits before joining Impact Wrestling. Ellering revealed that she suffered from depression and that her friends and family encourage her with words of positivity that she soon began to hate hearing. The story is that Jodynne Grace has been experiencing her own iteration of depression as of late and Ellering has just realized that she has been trying to force positivity upon Grace and now feels waves of guilt.
Grace soon interrupted Ellering with aggression and passion all bottled into what was most likely the promo of the night. Grace made no bones of reminding Ellering just who Jordynne Grace is. Grace was on fire and the two came face to face as it seemed that Grace was going to flatten her friend and tag team partner. Wrestling legend, Jazz came down to the ring as a voice of reason to the two younger wrestlers. Grace couldn't determine whether or not she wanted to go solo or stay in the tag division with Ellerring. Grace vacated the ring and within a moment's notice, Tenille Dashwood made her way to the ring. Luckily for Tenille, Grace was no longer in the ring because if she were, Grace would have stomped the life out of the Aussie. Instead, Rachel Ellering was the one to lay out Dashwood.
Sometimes, it's not all about you, Tenille. Surprisingly.
Sam Beale vs. Jake Something
Beale was been under the tutelage of Brian Myers as of late, and this match was about showcasing the lessons that Myers feels he has taught Beale and potentially what will transform him into a 'real wrestler'. Sam Beale is clearly great at what he does; if he weren't, he wouldn't be at Impact Wrestling.
.@JakeSomething_ taught @sambeale23 a painful lesson. #IMPACTonAXSTV pic.twitter.com/L5h0nufs2n

— IMPACT (@IMPACTWRESTLING) June 27, 2021
The cocky, know-it-all Brian Myers is supposed to be the ultimate bad guy. The thing is, personally, I'm too much of a fan to ever dislike the guy, even though I'm supposed to. Beale lost this match to Jake Something and you'd better believe that Brian Myers had something to say about that, directly after the match. Hilariously, Myers went on to tell Beale that this loss was in fact Jake Something's fault, due to him being unprofessional, for whatever reason.
This was just a funny segment to me. Hopefully, we're leading up to a match between Beale and Myers down the line, with Beale defeating his tutor.
Winner: Jake Something
Eddie Edwards and Kojima vs. Violent By Design For The Impact Wrestling Tag Team Championships
Last week, Edwards and Kojima earned the opportunity to wrestle for the Impact Wrestling Tag Team Championships. Violent By Design use the Freebird rule, which basically means that any combination of the faction can defend the Championships. Deaner and Joe Doering were ready to defend against Eddie Edwards and Kojima. This was a classic Tag Team match that really showed what Impact Wrestling has to offer as a promotion. We have the babyface team of Edwards and Kojima battle it out, tooth and nail, against the brutally violent, yet incredibly impressive heel faction, VBD. Doering stood out during this match, not only because of the fact that he's a giant but because of his dominance in the ring. Doering grappled Kojima down to the mat and used his power over the New Japan Pro Wrestling star for an impressive period of time.
Eventually, Kojima managed to get the desperation tag to Edwards a.k.a. the heart and soul of Impact Wrestling. Edwards hit a Blue Thunder Bomb from the offset along with a double suicide-dive attack with Kojima. Since then, Edwards and Kojima were in full control! If there was a Championship change after this match, not only would it be great for Edwards and Kojima, but it may have been the beginning of the demise of VBD. VBD are still relatively fresh as a faction and need to come across as dominant as they can.
Towards the end of the match, the challengers were on fire and had so many close pinfall attempts. If you are an Impact Wrestling fan (I know you are), you have to be behind Eddie Edwards in every single match he has: Eddie Edwards never gives up and it's admirable to say the very least. Edwards was seconds away from victory as he geared up for his 'Boston Knee Party' attack but was met with Doering's reversal into a 'Revolution Powerbomb'.
VBD halted all momentum that Edwards and Kojima had build and retained their gold.
Violent By Design reigns supreme.
Winners: Violent By Design
Final Thoughts
Holy S***. Once again, Impact Wrestling failed to disappoint by pulling off a weekly show jam-packed with Pay-Per-View level matches. From seeing Rosemary defeating one-half of the Knockouts Champions to Deonna Purrazzo silencing Susan, what's not to love? Not only that, but the drama between Rachael Ellering and Jordynne Grace continues to boil and who can tell how this one is going to turn out? Will Tenille Dashwood get her comeuppance or will Ellering and Grace part ways?
All we know for certain is that we are well on our way to Slammiversary 2021. Let's do it!
Thank you once again for joining me here at Sports Obsessive for your Impact Wrestling fix. Be sure to join me again next week as all of these exciting storylines continue to unfold!