Welcome back to Sports Obsessive. We're back for another week of compelling action, courtesy of NXT UK. On this weeks show, A-Kid Puts His NXT UK Heritage Cup on the line against Tyler Bate!
The NXT Cruiserweight Champion, Jordan Devlin swiftly kicked off the show with week one of his Open Challenge. It wasn't long until the challenge was answered. Oliver Carter challenged the self proclaimed 'Irish Ace' for the Championship.
Jordan Devlin vs Oliver Carter for the NXT UK Cruiserweight Championship
This match started off, with Devlin, unsurprisingly viscous in the opening moments. Carter did put up one hell of a fight but Devlin was on a whole different level. The Champion was so brutal in his approach and we've learned that he is this way because he feels that he has something to prove to himself. Mid-way through the match, Smith was making some ground in this battle and knocked Devlin out of the ring, Carter followed up with a suicide-dive and looked like his was on to a winner. The Champion was down and the challenger knew he had to back himself up.
The more momentum that Cater had behind him, the more Brutal Devlin became, The Irishman was not going to drop his Championship. Devlin is still annoyed that across the pond, there was an interim Cruiserweight Champion crowed as Devlin couldn't travel to America to defends his gold due to the Covid-19 situation. Devlin used all of the anger and angst and applied that to wrestling techniques to brutally dismember Carter to pick up the victory,
The Open Challenge will continue.
Winner: Jordan Devlin
The Saga Between Jinny and Piper Niven Is Far From Over
We all know what's going down between these two. If you don't know, listen up. Niven challenged Kay Lee Ray for the NXT UK Women's Championship in a Falls Count Anywhere match, a number of weeks ago, Niven looked as she was closing in on a victory until Jinny inserted herself into the picture and cost Niven the match and potentially the Championship.
One way or another, this issue between @viperpiperniven & @JinnyCouture will have to be settled! #NXTUK pic.twitter.com/o57HLCToLY

— NXT UK (@NXTUK) December 10, 2020
Last week on NXT UK, NIven caught up with Jinny backstage and a bit of brawl ensued. On this weeks show, Jinny was asked what she had to say about the whole situation. Jinny stated that Niven had the nerve to attack her last week but that Niven does not bother her right now. Jinny then vowed that she will catch up with Viper Piper Niven when she least expects it.
I know this is going to be a slow burner but the pay off is going to be great, mark my words.
Noam Dar's Supernova Sessions
This was the first episode of Noam Dar's own talk-show that will be taking place on NXT UK each week. Personally, I'm of talk-shows within wrestling. Think about it, Piper's Pit was great, Jericho's Highlight Reel was exceptional as was The Kevin Owens Show. Miz TV is entertainment in its purest form and A Moment of Bliss really took on a life of its own. Do you agree or disagree with me? Either way, here we are. Noam Dar has his own show. However, I'm not Dar's biggest fan.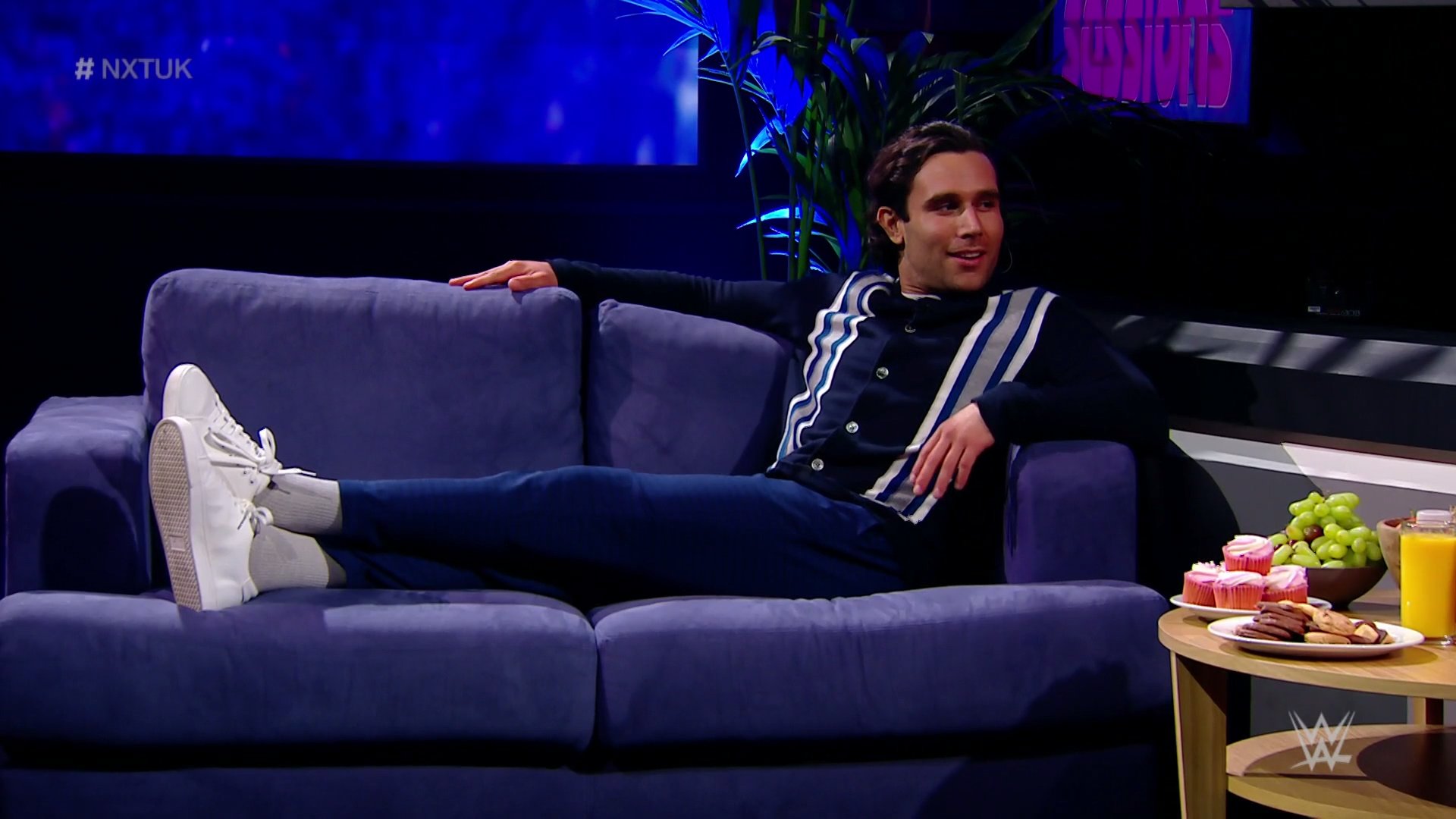 Dar introduced his first guest, A-KId, who won the NXT UK Heritage Cup two weeks ago. Dar began by mocking Kid's accent and continued by wanting to clear up a 'misconception' that he and Kid are rivals. Dar told Kid that he has been has mentor since the beginning of his NXT career. A-Kid certainly disagreed. Dar went on to call himself A-Kids sensei and demanded that he be thanked for getting A-Kid to where he is today, which is completely ridiculous. A-Kid took offense to Dar's words and stated that one of the main people who helped him was Tyler Bate, who then appeared on Supernova Sessions. Dar tried to stir things up between A-Kid and Bate and managed to have the two agree to a match on this show for the NXT UK Heritage Cup.
Xia Brookside vs Isla Dawn
Brookside was out to prove herself against Isla Dawn in one on one competition and put on an impressive showing from the opening bell, displaying her agility. The experienced, Dawn threw the 22 year old, Xia Brookside, down to the mat and continued to ground her opponent. At one point. Isla Dawn kicked Brookside in the chest and it echoes throughout the BT Sports Studio! This match began to really go back and forth in terms of who was in control. Both Brookside and Dawn were competing at an equal level and it was hard to even wonder how this was going to end. This was an enjoyable match throughout as the story that was being told as far as I could tell was that Isla Dawn is the more experienced wrestler and rough around the edges, whereas Xia Brookside is a young wrestler that your going to want to cheer because she comes off as such an underdog.
We all love a good underdog story, don't lie to yourself. Mid-match, a member of the NXT UK crew began placing suitcases near the ramp, you read that correctly. Why? I know it sounds strange but here's what happened; As the match was going on inside the ring, Nina Samuels appeared on the TitanTron saying 'Xia, I told you, Brookside's are only worthy of carrying my bags.' For some reason, that really pissed me off. I told you I'm a sucker for an underdog. Meanwhile, Isla Dawn picked up on the distraction and kicked Brookside upside the head and that was all it took to pick up the victory.
Xia Brookside needs to get her head straight and deal with Nina Samuels.
Winner: Isla Dawn
A-Kid vs Tyler Bate for the NXT UK Heritage Cup
Two weeks after putting on a potential match of the year candidate in the NXT UK Heritage Cup Finals, A-Kid was defending his newly won Cup against a friend of his, Tyler Bate. This match all came about after Noam Dar talked them both into going at it. As we know, this style of match was broken up into a block of rounds, with each round lasting for three minutes.
Round 1: This round saw A-Kid staying on top of Bate, using his recent experience in this style of match to his advantage. With just over 60 seconds left in this round, Bate made his way back to his feet and showed that can maintain control. This round ended without any competitor getting a pin-fall or submission. This was more of a feeling-out process.
Round 2: Round 2 showed A-Kid maintain leverage via a submission move on Tyler Bate. Bate, who has been A-Kids mentor since his arrival in NXT UK was determined to put his protégé in place. The final 40 seconds of this round showed a lot of mat based grappling, with both competitors still trying to get the upper hand. The pace picked up during this round.
Round 3: This round was one of the more pivotal rounds. Both men were in their groove and showing more offence than defence. Bate controlled this round for the first two 120 seconds. A-Kid put on an impressive showing but Bate managed to pick up a roll up pin fall.
Round 4: This round showed how much pressure A-Kid was under. A-Kid was now one fall behind and the round brought the physicality. Mentor and Mentee were now in a fight. Bate delivered uppercut after uppercut but A-Kid managed to control Bate with 90 seconds left on the clock. A-Kid latched a sleeper hold on Bate with 60 seconds left. A-Kid did not get a pin or submission in this round but he did wear our Tyler Bate.
Round 5: Round 5 commenced and both men were visually worn. A-Kid went for a number of pin falls but Bate escaped each time. A-Kid pulled of a brutal springboard DDT from out of the blue and picked up a pin fall victory. Will A-Kid retain his Heritage Cup?
Round 6: With each man at 1 pin fall each, this final round could not have been more tense, Bate used his veteran experience to beat down A-Kid but Bate soon found himself flat on the mat after an elevated dropkick for the Heritage Cup holder. The round ended with A-Kid sliding into a pin fall with 57 seconds on the clock to retain his Heritage Cup.
Not only that but the mentee had defeated the mentor in an impressive fashion.
Winner: A-Kid
Final Thoughts:
It's no secret that I'm a fan of NXT UK and I usually end up saying that same thing; that NXT UK always blows it out of the water. Guess what? NXT UK blew it out of the water, again! This may be one of the best brands in wrestling right now, with some of the best talents that the world has to offer. All I can say is, as soon as its safe to do so, I will be going to a NXT UK TakeOver, and will have the time of my life. Do you have any opinions on who will step up to Jordan Devlin next week? Will Xia Brookside get her revenge on Nina Samuels for costing her the match against Isla Dawn? Did you enjoy Supernova Sessions with Noam Dar? Let me know in the comments sections what you think and join me right here again next week as I continue to run through all things NXT UK.