We are approaching the holiday season for 2020, which means one thing in the world of WWE. It is time for WWE: TLC 2020. The company's annual, December Pay-Per-View is right around the corner. Here at Sports Obsessive, we are truly hoping that WWE end this calendar year with a bang. The card certainly is promising so let's get into it!
Today we have Sam, Neil, Jon and James, giving you their predictions of WWE: TLC 2020.
The New Day (c) vs. Shelton Benjamin & Cedric Alexander of The Hurt Business for the Raw Tag Team Championships
Sam: Even though I know MVP and Lashley will get involved making Slapjack and T-Bar get involved. May end up in a disqualification, but I think The New Day pulls it out.
Neil: Ah, the feud that never ends. And it won't end here either. It's time for the WWE to either put up or shut up with The Hurt Business and I expect them to pick up the tag titles, though I'll eat Xavier Woods pointy boot if it's clean.
Jon: This is a fairly late addition to the card but should be a fun match. This is also the match that I am going to go against my theme and better judgement. For some reason, my gut tells me that Sheldon Benjamin and Cedric Alexander are going to pry the titles away from the New Day in this one. I could totally see the Hurt Business stacking up on titles with MVP leading them into a dominant 2021. They get my vote here. The Hurt Business Capture the titles
James: I don't want to have to watch this match again. No disrespect to the talent involved but this match has been done way too many times, in my opinion. I'm hoping for a quick match with the New Day going over and finally putting this saga to rest.
Sam's Take: The New Day
Neil's Take: The Hurt Business
Jon's Take: The Hurt Business
James' Take: The New Day
Nia Jax & Shayna Baszler (c) vs. Asuka & ? for the WWE Women's Tag Team Championships
Sam: Who is Asuka's partner? I think if it is Mandy Rose then it turns into a very good match. I think they possibly put Mandy Rose over a the last minute. However if it is anyone else then no way. Not even close especially if it's Dana Brooke or Lacey Evans. I think there's a possibility that Lana gets involved though.
Neil: I hate to say it, but I think that the WWE will put the belts on Asuka and Lana, if for no other reason than to get under Sam's skin, that the WWE made Lana a Champion.
Jon: Lana was supposed to be teaming with Asuka against the WWE Women's tag team champions. Unfortunately, the Ravishing Russian will be out of action for up to a month, following another attack by Jax and Baszler. This leaves Asuka without a partner for the big title match. Rumors are swirling, yet totally unconfirmed, that this will lead to the return of the Queen, Charlotte Flair. I, for one, hope that it isn't.
Not that I don't want a Flair return. I just don't think that this is the right way to reintroduce her.  As for who will replace Lana, I have no earthly idea. Continuing the theme of my predictions, I don't think it matters much as I expect Nia and Shayna to leave with the belts still firmly around their waists.
James: I want Asuka's partner to be Kairi Sane. Of course it's not going to happen because Kairi has moved back to Japan. I'm just selfish. Realistically, I'm thinking Asuka's partner is going to be either Lana or Charlotte. I'm hoping it's Charlotte. People moan about Charlotte, but why? She's a great wrestler and this is wrestling when its all said and done.
If I was booking this, I would have Asuka and Charlotte defeat Jax and Baszler. However, it appears that Lana will be standing alongside Asuka. The current Champs need to go off into singles competition in my opinion. It's time to drop the gold.
Sam's Take: Nia Jax & Shayna Baszler
Neil's Take: Asuka & Lana*
Jon's Take: Nia Jax & Shayna Baszler
James' Take: Asuka & Lana*
"The Fiend" vs. Randy Orton
Sam: If this a wrestling match then Randy Orton wins, but if its a magic match then "The Fiend". I think it starts out as a wrestling match. Randy Orton takes over and Alexa Bliss gets involved. The Fiend takes over until Randy Orton starts using Bliss to win.
However, the program isn't over.
Neil: If "The Fiend" doesn't win this and in an impressive way, thus erasing the memory of whatever the hell that WrestleMania match, then Vince McMahon can CONTENT REMOVED AS IT VIOLATED EXCESSIVE USE OF FOUL LANGUAGE POLICY.
Jon: "He" hasn't forgotten what Randy did to the Wyatt Compound a few years back. Randy has been targeting Bray's weak spot, Alexa Bliss. Orton also tried to burn Wyatt alive, just for him to re-emerge from the flaming box as the Fiend. I honestly don't know what to expect here. Randy was white hot while they were building back up as the legend killer.
At the same time, the Fiend character doesn't lose too often. I think Randy could afford the loss more so than Wyatt can, at the moment. I hate to see him lose so soon after being in the title hunt, but I feel like that's where this is headed.
James: On one hand, you have Randy Orton, a multi-time World Champion, a decorated athlete and performer. Orton has been known as the Legend Killer, a disrespectful character who once spit on Mick Foley's face (yes, I'm still mad). Orton was a member of Evolution, one of the greatest factions in wrestling history.
On the other hand, you have Bray Wyatt. Honestly speaking, Wyatt has had creative struggles in the WWE, that was until "The Fiend" emerged. "The Fiend" is like nothing we have seen before. Randy may have faced Bray Wyatt in the past. This is different. "The Fiend" is a separate entity.
Randy Orton is in trouble.
Sam's Take: "The Fiend"
Neil's Take:  "The Fiend''
Jon's Take: "The Fiend"
James' Take: "The Fiend"
Roman Reigns (c) vs. Kevin Owens for the WWE Universal Championship
Sam: Boy, I would LOVE for KO to beat him. We have all heard that Reigns' title run was supposed to be short. I think it should end now and let him get upset to take it out more on Jey Uso. However, I can't see Roman and Paul Heyman allowing that to happen. I think they know they are the best thing going for WWE and they call the shots. I hope I'm wrong on this one because I will be celebrating when WWE: TLC has come and gone.
Neil:  Sorry KO, I love you, man but The Tribal Chief is gonna eat you alive.
Jon: Initially, I had no interest in this match, as it felt rushed and forced. However, the Tribal Chief is the hottest thing in the company right now and KO always makes for great character work. Over the last few weeks, they have turned this into something that people (mainly myself) actually care about.
The TLC stipulation is right up Owens' alley, but we all know that he has no chance of actually leaving with the Universal Championship while Reigns is still adding layers to his story.
James: Look, we cant just overlook Kevin Owens. Do you remember his NXT Championship run? We all know that KO is exceptional and that the WWE are lucky to have him. However, Reigns has always been the company's top-dog (no pun intended). Now, after years of thunderous boo's, the fans are behind Roman, i think. It's difficult to truly know because the cheers are all pumped in via the WWE ThunderDome.
Regardless, going by how I feel about this new iteration of Reigns, and what I've read online, Reigns has finally been accepted by than fans but as a bad-ass tribal chief. Roman Reigns is not losing this match unless Jey Uso turns on his cousin.
I don't see that happening.
Sam's Take: Roman Reigns
Neil's Take: Roman Reigns
Jon's Take: Roman Reigns
James' Take: Roman Reigns
Drew McIntyre (c) vs. AJ Styles for the WWE Championship
Sam: I feel the same exact way about this one as I do Reigns vs Styles. I think either Reigns or McIntyre need to lose. McIntyre just lost so it's Reigns' turn. Like I said, I just don't see it happening. I do see Sheamus getting involved "accidentally"with the possibility of The Miz causing chaos with the Money In The Bank briefcase. This allows McIntyre to retain.
Neil: Genuinely don't know. The sensible money says they're fully behind McIntyre BUT AJ Style is AJ Fricking Styles, so don't be surprised to see The Phenomenal One walk out as champ with a little interference from Omos. If they get him back from developmental in time
Jon: Again, another match that feels like WWE is forcing on us. AJ won the right to face the Scottish Psychopath in a triple threat match a few weeks ago and they've been trying to build this program since. AJ has solicited help from Miz and Morrison, while McIntyre has been budding up with Sheamus.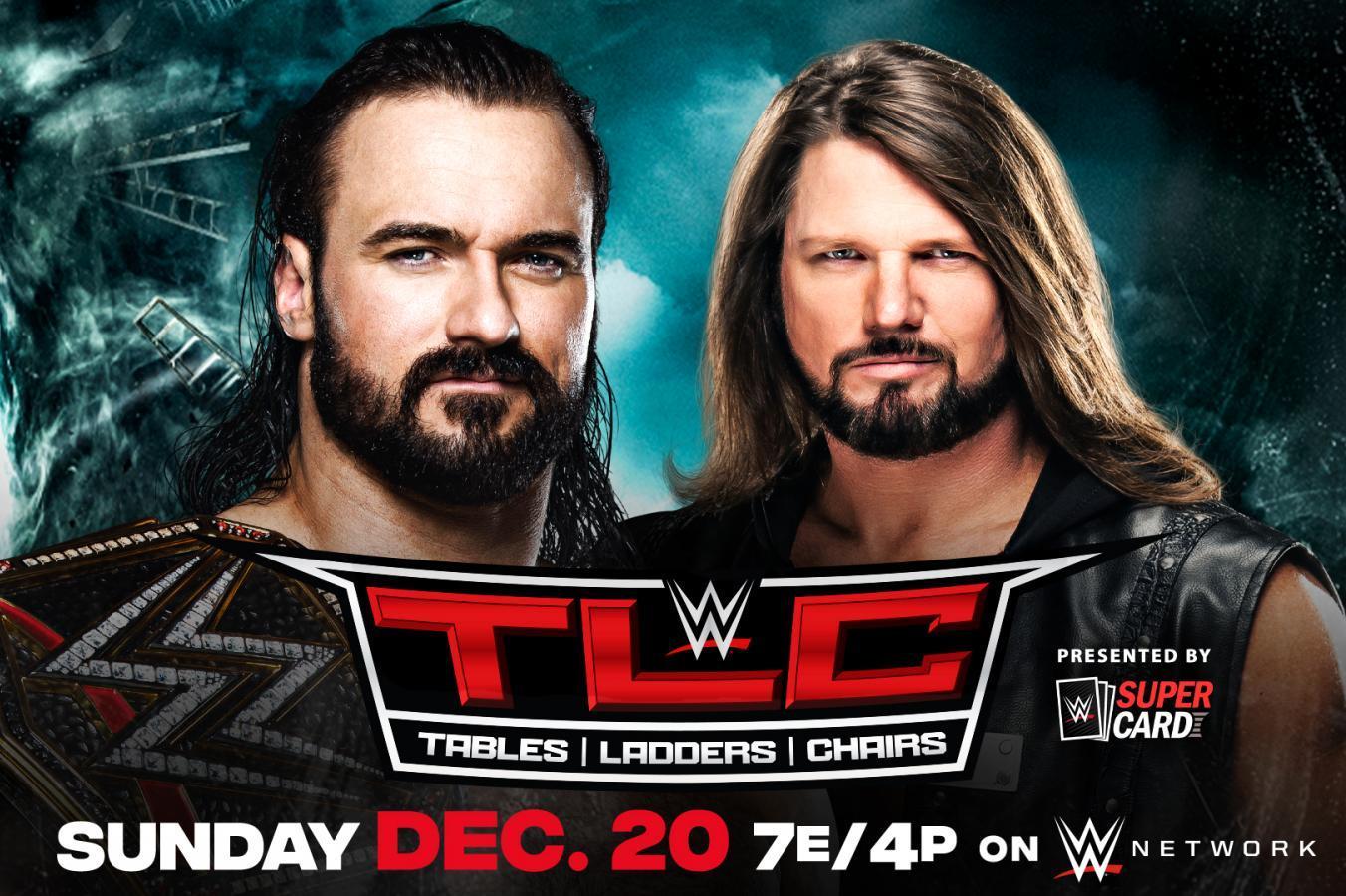 Conventional wisdom says that Sheamus is going to turn on Drew in the not-so-distant future. I don't see Drew losing the title AGAIN after just dropping it to Randy Orton before quickly regaining it back. With that said, I could see Sheamus interfering unsuccessfully to set up a feud with McIntyre once he's done with Styles.
James: Personally, I don't see this McIntyre Championship run from the same angle as many other fans. Of course, I'm happy for Drew to finally win the gold but he deserved the crowd reaction which he didn't get to Covid etc.. I see AJ taking the gold in this one. AJ has proved his worth time and time again, he'll be a great Champion.
I do want to see McIntyre as Champ once again but only when there is a live a crowd. There are rumors that the 2021 Royal Rumble might have some fans in attendance. Perhaps AJ keeps the Championship until the Rumble.
Sam's Take: Drew McIntyre
Neil's Take: Undecided
Jon's Take: Drew McIntyre
James' Take: AJ Styles
Sasha Banks (c) vs. Carmella for the SmackDown Women's Championship
Sam: This is a hard call. Sasha Banks should keep the championship for awhile, but Vince loves Carmella. They are pushing her new gimmick. Plus do not put it past Vince getting Sasha back for her cousin, Snoop Dogg appearing on AEW New Years Smash on January 6th. He is petty sometimes. It's one reason Sasha always loses big matches without Bayley.
Neil: Way, WAY too early to take the belt off of Banks and unless Ronda shows up again, I expect this feud to carry us as close to WrestleMania as it can before they realize that no-one actually cares about Mella, no matter how many image changes they give her.
Jon: After initially flopping with her return, Carmella has placed herself squarely into the title picture with a feud against SmackDown Women's Champion, Sasha Banks. While I do enjoy Carmella's new attitude, I don't see her actually wrangling the title away from Sasha after it took The Legit Boss so long to capture it to begin with. Their last match ended by a lame DQ, continuing the story into the TLC PPV. My gut says that Sasha, like Roman and Drew, will retain in this one.
James: I'm loving this Sasha Banks run. The Boss needs to keep the Championship for a very very long time, at least that's what I would like to see. Don't get me wrong, I like Carmella. From everything with Enzo and Cass to James Ellsworth to R-Truth, Mella has proved the she is everything that she says she is.
I'm not saying that I'm not sold on her new 'untouchable' persona, I very much am. 2020 has been the year of The Legit Boss, Sasha Banks. This will be a close match. I'm predicting that we see Carmella almost becoming the NEW SmackDown Women's Champion but Banks will persevere and retain the gold.
Sam's Take: Sasha Banks
Neil's Take: Sasha Banks
Jon's Take: Sasha Banks
James' Take: Sasha Banks
Final Thoughts
There we have at. These were our predictions of WWE: TLC 2020. The card certainly is stacked and we're ready to go. Do you think Roman Reigns' time as Champion is up, or is it just beginning? Who are you backing when it comes to "The Fiend" and Randy Orton? You've read what we think, now it's time for you to have your say. Drop us a message in the comments section to let us know your predictions for WWE: TLC 2020.