Tonight is the night. Not only is it Slammiversary 2021 but it is the official return of fans to Impact Wrestling. While the 'pandemic era' has been tough as a fan to watch shows regularly, I truly believe that everybody behind the scenes and in front of the camera has done an exceptional job to keep their audience entertained for the last 70 weeks. Today, Sports Obsessive brings your predictions ahead of the upcoming, monumental event that is promised to be full of excitement and surprises.
Eddie Edwards vs W Morrisey
Andrew:
The company is obviously building Morrisey for big things & a win over Eddie will help propel him towards the main event level.
James:
I am definitely behind W. Morrisey becoming Impact Wrestling's 'next big thing' and who better to take out than a man who had been known as the face of Impact Wrestling for quite some time. I can see Morrisey walking out of this one with the win and going on to take over Impact Wrestling.
Amber:
Even though I love Eddie Edwards at this point I feel like Morrisey needs the win to establish himself as part of the roaster and a force to be reckoned with. Morrisey has come back from personal issues looking strong and focused and I want him to do well.
Andrew's Prediction: W. Morrisey
James' Prediction: W. Morrisey
Amber's Prediction: W. Morrisey
Fire & Flava (C) vs Havok & Rosemary for the Knockouts Tag Team Championships
Andrew:
Can't believe I'm calling for zero title changes but hey, that's exactly what I'm doing! This should be another fun match though.
James:
Havok & Rosemary, hands down. This is what I want to see tonight. Do the right thing, Impact Wrestling.
Amber:
With the tag division being quite small it's hard to make a discussion here, but after a long run, I feel like a change is needed. I am personally not a huge fan of Fire n Flava and feel like their reign has been quite lackluster. To fix the division and bring something new, fresh, and experience to the Knockouts Tag belts we need Havok and Rosemary, two women who know how to bring it and Rosemary has been such an interesting character since her debut that she can bring something new that is desperately needed.
Andrew's Prediction: Fire & Flava
James' Prediction: Havok & Rosemary
Amber's Prediction: Havok & Rosemary
Chris Sabin vs Moose
Andrew:
I could see this one going either way. Let's keep the Sabin momentum going here and maybe, just maybe he gets a match with Omega as part of his comeback tour in the near future.
James:
Chris Sabin. He's an Impact Wrestling original and this may be his final run.
Amber:
I know that this is probably Moose's moment but I'm just going to be biased and go with Chris Sabin. Simply due to the fact that I like him and want him to win everything.
It's that simple, sometimes you just have to be honest and go with your heart.
Andrew's Prediction: Chris Sabin 
James' Prediction: Chris Sabin
Amber's Prediction: Chris Sabin
Deonna Purrazzo vs A Mystery Opponent For The Knockouts Championship
Andrew:
James:
I really want to see Ruby Soho show up and shock the world! Formerly known as Ruby Riott in World Wrestling Entertainment, Soho may have the same luck as Malakai Black, who was released on the same date, June 2nd, 2021. Black recently debuted in AEW sooner than we thought due to an error on WWE's part in regards to updating his contract. Let's hope Ruby Soho has the same luxury.
I love Deonna Purrazzo as Champion but if Soho did appear and didn't defeat Purrazzo, what's next? I could be wrong but I want a debuting Soho to claim the Championship.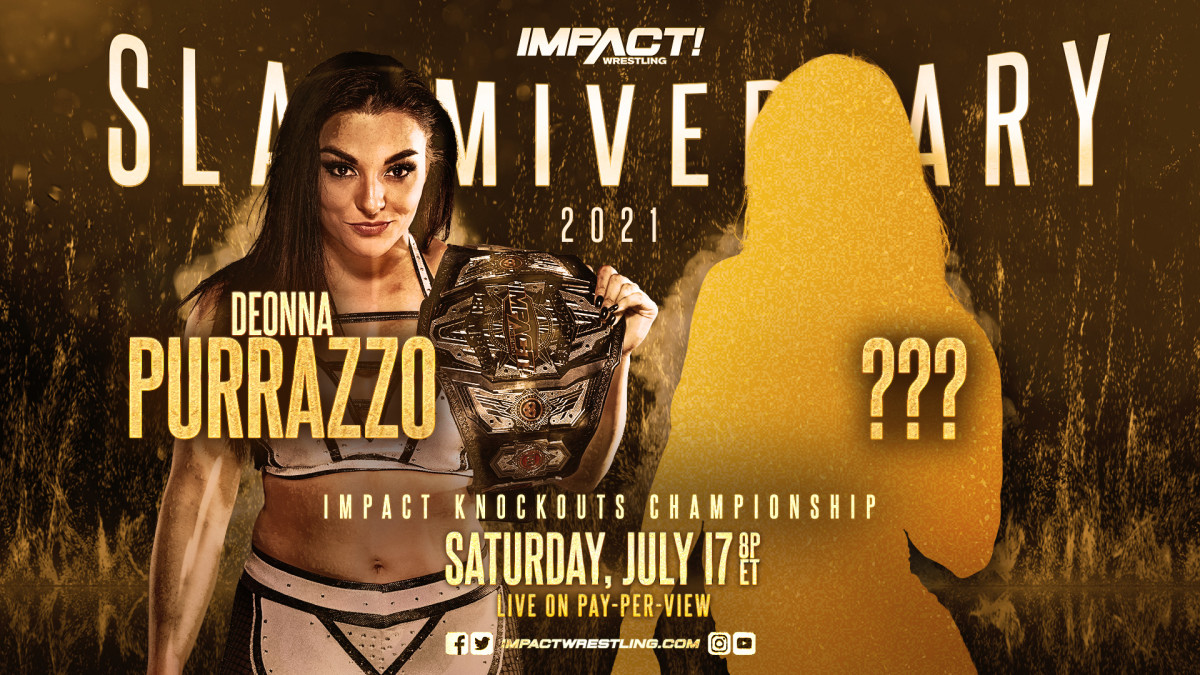 Amber:
As of right now, we don't know who will be facing the absolute juggernaut that is Deonna Purrazzo. Whoever comes in tonight needs to take her to the limit or have a shock victory over one of the most dominant champions we have seen in a while. There have been many rumours about who it could be from Tessa Blanchard to the former Billie Kay & Payton Royce. Whoever it is, needs to come in and show the world that they are not to be messed with.
As much as I love Deonna Purrazzo I need a change of pace.
Andrew's Prediction: Josh Alexander
James' Prediction: Josh Alexander
Amber's Prediction: Trey
Tenille Dashwood & Brian Myers vs Matt Cardona & A Mystery Partner
Andrew:
While everyone is expecting the Hot Mess herself, to me the mystery partner has to be Mickie James. With the way non-WWE promotions are working together and Mickie's history with Impact, I'm looking for that bridge to be built here before the NWA's all-women PPV.
James:
I'm going to respectfully disagree with Mr. Grevas on this one. Not because I'm not a fan of Mickie James, I'm as much of a fan of Mickie James as Mickie James was of Trish Stratus all those years ago. Minus the stalking, excessive candles, and magazine cut-outs. I promise. I just really want to see Chelsea Green, or should I say, Laurel Van Ness, rock up to Impact Wrestling, with her fiance, no less.
I'm holding out for the Hot Mess.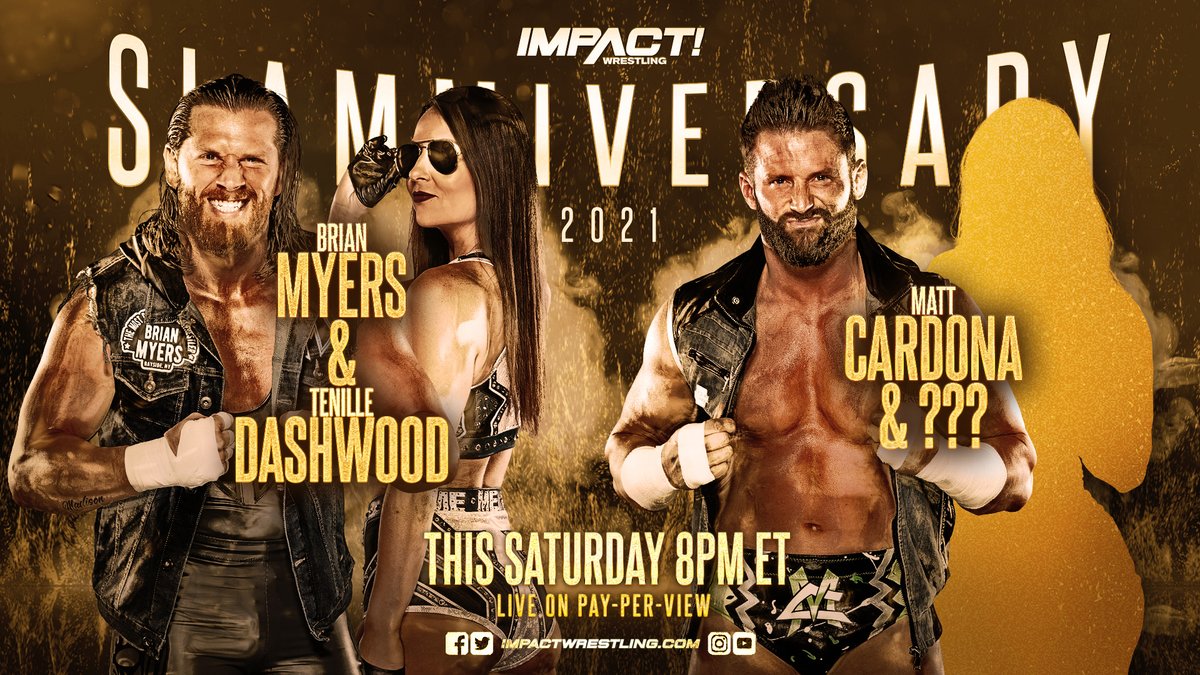 Amber:
Another match and another mystery partner. My thinking was Chelsea Green turning up. However, she recently turned up at ROH and seems to have her eyes on their Women's Championship but that doesn't rule her out of a Slammiversary appearance. The alternative would be one of the former IIconics, but whoever it is I think the team of Tenille and Brian Myers should be the ones to win, these two are great individually and possibly two of the best on the roster right now.
Andrew's Prediction: Matt Cardona & Mickie James
James' Prediction: Matt Cardona & Chelsea Green aka Laurel Van Ness
Amber's Prediction: Tenille Dashwood & Brian Myers
Kenny Omega vs Sami Callihan for the Impact Wrestling World Championship In A No Disqualification Match
Andrew:
Long term, I do think Sami should be the guy to take the title off Omega but the timing doesn't feel right here. If booked right, Sami can come out stronger in defeat and remain a major part of this storyline involving AEW and eventually, be the one to bring the title back to Impact.
James:
I just want to jump the gun. I want Sami Callihan to bring the Championship home NOW! I feel like a spoilt child saying that, but that's what I want. Realistically, I can see Sami getting screwed over big time. Maybe after losing to Chris Sabin earlier in the night, a jealous Moose comes down and lays out Sami, remember it's No-DQ. We also know that The Good Brothers always have Omega's back, so keep that in mind too. As much as I hate to say it, I can see Kenny Omega retaining.
Amber:
I don't think this is the right moment for Omega to lose the belt but if this match goes the way I think it will, with lots of interference and a loss to Callihan, then we will see possibly one of the greatest feuds in Impact Wrestling history. This should be "act one" of a three-part play that descends into absolute anarchy by the third act. While right now this isn't Sami's time, it soon will be and Sami will dethrone Omega and release his hands from the proverbial throat of Impact Wrestling.
Andrew's Prediction: Kenny Omega
James' Prediction: Kenny Omega
Amber's Prediction: Kenny Omega
Final Thoughts:
So there you have it, folks, Sports Obsessive has given you their predictions for Slammiversary 2021. What do you think? Do you agree with us or do you think that we've gotten it completely wrong? Lets us know in our comments below and on our social media @SportsObsessive on Facebook and Twitter.
Thank you once again for joining us here at Sports Obsessive, you are much appreciated and we will see you next time!