The road to WrestleMania is upon us and will officially kick off this Sunday with the Royal Rumble pay-per-view event taking place on the WWE Network. As we do with all major pay-per-views or special events, the Sports Obsessive staff took a stab at our Royal Rumble predictions that will taking place this Sunday.
This time around, our "expert" predictions came from Sports Obsessive writers, Jon, Katrina, Junior and Chris. Read ahead and see what we had to say on the pending matchups!
UNCONFIRMED MATCHES
Bobby Lashley (c) vs Riddle for the WWE United States Championship
Jon: I mean, I guess I see what WWE was looking to do with this feud. They just didn't do it right, in my opinion. Matt Riddle can't be taken seriously as the badass that he is when they lay the corny jokes on so thick every week. But, I digress. I want him to win here, but only if they handle his writing better going forward. They're not going to, so I'll go with Lashley retaining the US title and Riddle will have to wait for another chance down the road.
Katrina: As for Matt, because they have been building him as an underdog and had the Hurt Business gauntlet, I believe he will beat Bobby.
Junior: I see more dissension between the Hurt Business, Riddle with the upset.
Chris: The Hurt Business have been one of the quiet successes of WWE recently, coming across as a legitimate unit. But as much as I'm enjoying Lashley at the moment, I like Riddle more. Even if he could do without all the 'bro' nonsense. Still, I think Lashley will take the win here, with his Hurt Business buddies getting involved to influence the result.
Jon's Prediction: Bobby Lashley
Katrina's Prediction: Matt Riddle
Junior's Prediction: Matt Riddle
Chris; Prediction: Bobby Lashley
Big E (c) vs Sami Zayn for the WWE Intercontinental Championship
Jon: Big E hasn't even really hit his stride yet as Intercontinental Champion. Sami has done a great job playing the heel here, but he's already had his run. If this match does happen, I feel pretty confident in Big E retaining. But then what's next for him? I feel like bigger things are brewing for the former NXT Champion.
Katrina: For Big E and Sami I'm going with Big E. It's his time to be pushed. I don't see WWE turning the belt back to Sami.
Junior: Zayn has become more comical, and will definitely surprise fans at how good this match will be, but I see Big E winning and making waves in the Rumble.
Chris: Sami's paranoid conspiracy theorist gimmick has been gold so far, but it won't get him far against Big E, who WWE seem fully invested in. Sami might continue the feud, though, if he claims there was a conspiracy that cost him the match.
Jon's Prediction: Big E
Katrina's Prediction: Big E
Junior's Prediction: Big E
Chris' Prediction: Big E
Confirmed Matches
Asuka and Charlotte (c) vs Nia Jax and Shayna Baszler for the WWE Women's Tag Team Championships
Jon: Let me just start by saying that I hate when a champion is locked into a tag team. Asuka and Charlotte are both way too good to be stuck in this program. They need to break them up and let them feud with each other over the Raw Women's Championship. In order for that to really happen, they have to drop the titles first. Shayna and Nia have been champs before. They can handle it. I say they get them back on Sunday.
Katrina: Asuka and Charlotte because they seem to be on a roll. As Asuka came in the clutch for Charlotte on Smackdown last week, I don't see WWE breaking them up. I also see Shayna and Nia moving away from each other.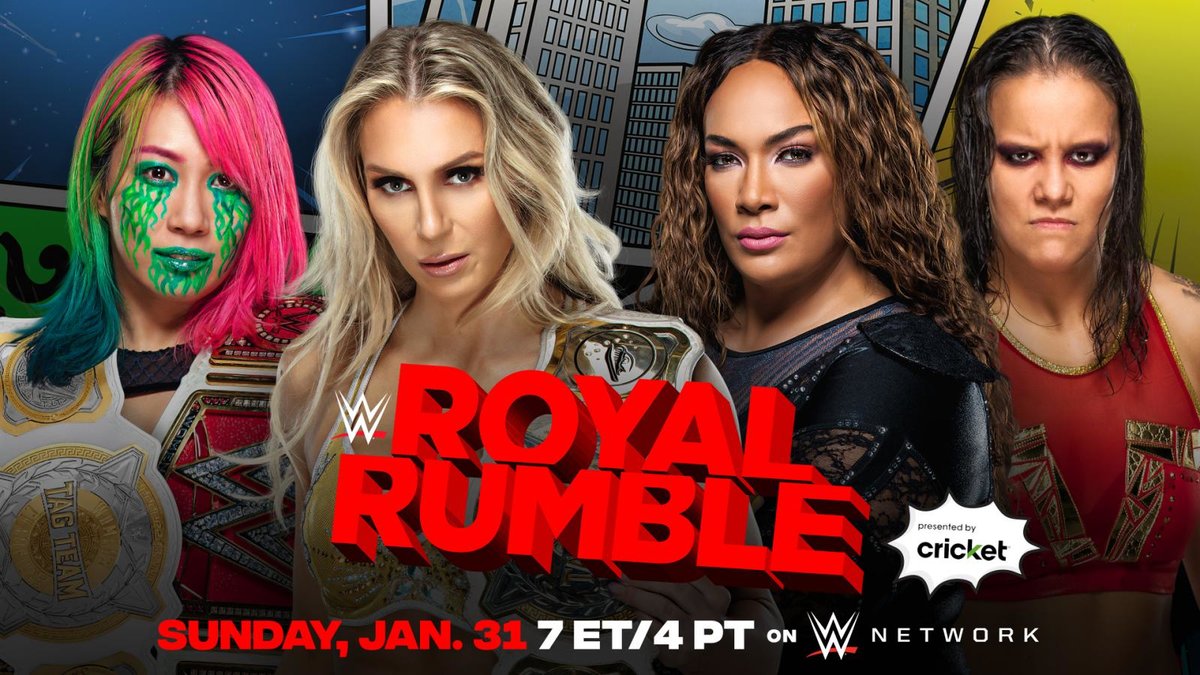 Junior: This one will definitely go to Nia and Shayna. There are more layers with Asuka  and Charlotte in singles matches. Becky Lynch should be back soon, even more competition. Lacey Evans will get involved and cause the loss to the champions. This will somewhat end or sever Asuka and Charlotte.
Chris: This is a strange match in a lot of ways in that the real stories are elsewhere; will Alexa Bliss get involved? Will Bazsler turn on Jax? I think Bazsler and Jax will win but how, I really don't know.
Jon's Prediction: Nia Jax and Shayna Baszler
Katrina's Prediction: Asuka and Charlotte Flair
Junior's Prediction: Nia Jax and Shayna Baszler
Chris' Prediction: Nia Jax and Shaya Baszler
Sasha Banks (c) vs Carmella for the SmackDown Women's Championship
Jon: I like the "new" Carmella. I also like Sasha Banks. I don't think they've done enough with this feud to make the title switch. But, I personally prefer Sasha as a heel and wouldn't mind seeing her drop it, get her edge back and reclaim it as a heel. I don't think that's happening though. Sasha retains.
Katrina: Sasha. I don't see a reason for Sasha to lose just yet. Even with Carmella's new gimmick, I don't see Sasha losing her belt. Especially after the long fight to get it from Bayley.
Junior: If I am not mistaken, this is the third instalment of their feud, and in an upset I see Carmella cheating to win the championship from Sasha banks. But, Sasha will regain this title before WrestleMania  in the next PPV to set up a dynamic match between Banks and the winner of the women's royal rumble.
Chris: There's no way Sasha's losing here. She's on a big run at the moment, not only with WWE but her star is rising in a wider sense too with getting a role in The Mandalorian. There's no way WWE is taking the belt off her anytime soon.
Jon's Prediction: Sasha Banks
Katrina's Prediction: Sasha Banks
Junior: Carmella
Chris' Prediction: Sasha Banks
Drew McIntyre (c) vs Goldberg for the WWE Championship
Jon: For the love of everything holy, Bill Goldberg better not win this match. I actually seem to be in the minority of people who actually think that he won't. For some stupid reason, I feel like Goldberg will actually do the job for Drew here and help catapult him towards the next level of being a champion. Obviously, I could be way off here and Vince could easily have Drew lay down for the old-timer. However, I'm sticking with my prediction of Drew McIntyre retaining and picking up a "signature win".
Katrina: Goldberg, because unfortunately WWE always brings him back to be on top, even though I don't see it necessary. Maybe it's a way to have The Miz cash in without having Drew lose to Miz.
Junior: This perplexes me. Goldberg wins almost every time he returns for an undeserved title shot. Miz will get involved again and be foiled but keep the briefcase one last time. McIntyre still wins this one. This sets up McIntyre vs. Lee vs. Miz in a triple threat for WrestleMania. Again, my prediction may bust instantly, but I feel this could happen.
Chris: The odds are Goldberg is going to take the title. He doesn't make the appearances he makes just to lose. However, I have a bit of faith that WWE is doing this to give McIntyre some sort of rub, however misguided. So I think Drew will win and shake Goldberg's hand at the end, proving that he does respect legends after all.
Jon's Prediction: Drew McIntyre
Katrina's Prediction: Goldberg
Junior's Prediction: Drew McIntyre
Chris' Prediction: Drew McIntyre
Roman Reigns (c) vs Kevin Owens for the Universal Championship
Jon: The current Roman Reigns story arc is the best in wrestling and has been since his return. In particular, his matches with Kevin Owens have all been fantastic and have done a great job in advancing the story. I feel like this whole thing is far from over. Roman has to headline Mania, right? Or else this long-term booking is almost useless. As great as KO is, he is merely just a small piece of this Reigns story. The Tribal Chief will retain and look forward to WrestleMania.
Katrina: I think it'll be a great match, but Roman is hot right now. I don't see him losing the title just yet.
Junior: Most might think I'm crazy, but I'm calling an upset in this one. Reigns has outsmarted Owens several times to retain his title. Reigns should be favoured, but there's Jey Uso who could cause a loss here. This would change my rumble winner and Reigns enters the Rumble to punch his ticket to get back his title at WrestleMania, or go back and challenge McIntyre for a rematch for his title with more substance this time.
Chris: Roman's not losing the title yet, but wouldn't it be interesting if Adam Pearce came out and turned on Owens, meaning Reigns now has the storyline support of the office? That'd be interesting, if not original. Reigns for the win here.
Jon's Prediction: Roman Reigns
Katrina's Prediction: Roman Reigns
Junior's Prediction: Kevin Owens
Chris' Prediction: Roman Reigns
The Women's Royal Rumble Match
Jon: The Royal Rumble matches have been harder to predict this year than any year in recent memory. Last year, the choices felt so obvious that it almost wasn't fair. Granted, the matches were still great. Since I have no idea what direction they're going to go, I'll go with what I want to happen. That is for either Bianca Belair or Rhea Ripley to win the women's rumble match and start their rise to stardom. Either one of these ladies deserve this spotlight. But, if I have to choose just one to get a title shot right now, I'm going with Belair. I believe that she has star power oozing out of her and could see her making a great champion.
Katrina: Bianca, she was amazing last year. She showcased what I've been seeing on NXT. The obstacle course with Bayley and her WWE Chronicle showed that WWE sees her as a star too.
Junior: I see Bianca Belair winning it all. This will set up a great contest with Sasha Banks. Two baby faces, but both are severe competitors. Great talent and great entertainment.
Chris: At least WWE has tried to build some kind of story around the women's title that could lead to Mania, even though I'm not a fan of the story. I think Alexa Bliss will win here and challenge Asuka at Mania.
Jon's Prediction: Bianca Belair
Katrina's Prediction: Bianca Belair
Junior's Prediction: Bianca Belair
Chris' Prediction: Alexa Bliss
The Men's Royal Rumbel Match
Jon: Again, this isn't as obvious as last year when basically everybody knew that Drew McIntyre was going to win. The writing was on the wall. So, again, I'll go with what I want to happen. My dream winners for this match include Big E, Keith Lee and a returning Samoa Joe. Big E is still in the early stages of his Intercontinental Championship reign, so it's safe to say that he's out. Keith Lee still needs a little work on the mic, in my opinion. So that leaves us with the Samoan Submission Machine. He could challenge Roman, with the storyline already there with the heritage connection. Just imagine the promos between Joe and Roman/Paul Heyman. Pure brilliance.
Katrina: Edge. I was originally going with Big E as it would be nice to push him. However,  being that there was a bit of a big deal with Edge's announcement, I'm going with him and maybe we'll get a spear versus spear match between him and Roman.
Junior: Keith Lee. It's a long shot considering many surprises and some legends who will return and Edge as well, also Strowman possibly. But a heel turn from Lee will be unexpected and draw fans who have given up on Raw to watch again to see what happens next.
Chris: This is genuinely a tough one this year. It does feel like WWE hasn't done much to build up genuine contenders for either Drew or Roman at Mania. I'm going to go out on a limb and pick The Fiend, though. I could see WWE wanting to bring him back in this way. If he does win, expect him to challenge Roman for the belt at Mania.
Jon's Prediction: Samoa Joe
Katrina's Prediction: Edge
Junior's Prediction: Keith Lee
Chris' Prediction: The Fiend
What Do You Think?
Well, there you have it! Sports Obsessive's collective thoughts on the WWE Royal Rumble! What did you think? Do you agree with our picks? Is somebody laughably off base?
Whether you agree we us or whether you feel that we're miles off,  let us know in the comments and social media @SportsObsessive.