Welcome to Sports Obsessive. Tonight, we are here to provide you with live coverage of one of the WWE's biggest Pay-Per-View events of the year. The Royal Rumble.
You can read our predictions for the 2021 Royal Rumble here.
We all know that we are on the road to WrestleMania but before we get there, we're going to find out which man and which women will become the #1 Contender for the company's biggest prize. Along with many Championships matches in between.
What To Expect
Tonight we will also see the defense of the WWE Women's Tag Team Championships as Asuka and Charlotte will proudly defend their gold against former Champions, Nia Jax and Shayna Baszler. Will Jax and Baszler regain the gold or are Asuka and Charlotte more of a cohesive unit that many fans would like to believe?
Over in the men's division, representing Raw, the WWE Championship will be on the line in as WCW Legend and WWE Hall of Famer, Goldberg makes his return to the WWE to challenge Drew McIntyre for the Championship.
Representing SmackDown, the Universal Champion, Roman Reigns aka "The Tribal Chief" aka "The Head of The Table" is set to defend his prestigious Championship against the ever-resilient, hard-hitting, Kevin Owens. Will KO shock the world or will "The Tribal Chief" reign supreme.
Last Minute Announcements
Not only do we get the Royal Rumble tonight but we were treated to the return of WWE Backstage last night with the returning host, Renee Paquette joined by Paige and Booker T. WWE Backstage has always been a great source of insight and last night was no different. The biggest reveal from WWE Backstage was that Randy Orton will be entering the Royal Rumble at #1 and Edge will be entering and #2.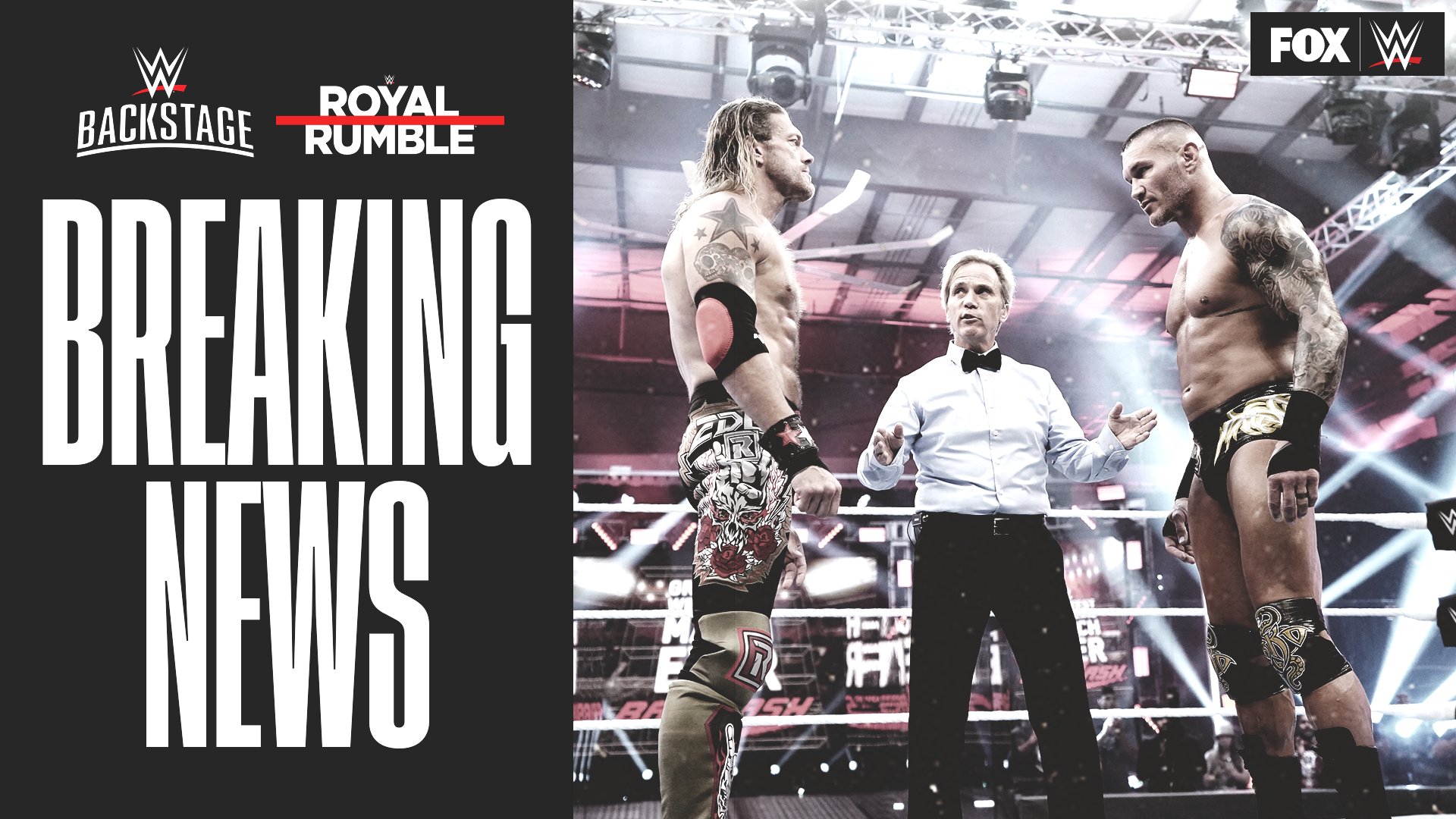 Yes, you read that right. We all know that Edge officially announced his entry a number of weeks ago but now there's a real chance than we can see Edge in the ring for 60 minutes +. Edge was certainly the most talked about wrestler from last years rumble and I feel that he is set to outdo himself tonight.
The Kick-Off Show
Earlier today, there were rumblings that the WWE Women's Tag Team Championship Match between Asuka, Charlotte and Nia Jax, Shayna Baszler. was to be moved to the kick-off show. The first video package that we saw on the kick-off show was that of the upcoming battle between Goldberg and Drew McIntyre for the WWE Championship. The fact that Goldberg has been so dominant during his recent in-ring returns was heavily highlighted here. This colossal wrestling match has been scheduled to open the show tonight.
We were introduced to Carmella who was backstage talking trash to Reginald, reminded him that he works for Mella who seems very confident going into her SmackDown Women's Championship challenge against Sasha Banks later in the night. Back at the kick-off panel, Sonya Deville was the guest and had some choice words for Sasha Banks. Deville predicted that Carmella will walk away as the new Champion.
The next video package of the night was the storyline surrounding the Roman Reigns / Kevin Owens saga. We know that in Reigns' mind, this is all about respect. So much so that a number of weeks ago, Reigns felt that WWE Official Adam Pearce had disrespect him, so arrange to have Pearce sign a contract to a Royal Rumble match. This storyline played out in Pearce' favor thanks to the old phrase 'card subject to change'. Cue, Kevin Owens. This is going to be a fight.
From a serious storyline to a more comedic situation, the WWE 24/7 Champion, R-Truth arrived at the kick-off panel dressed up as a looney tune character "looking for Bugs Bunny". Truth has mistook the cartoon character for Bad Bunny, a rapper who has release a track about Booker-T. Bad Bunny is scheduled to perform at the Royal Rumble later tonight.
Asuka and Charlotte Flair (c) vs Nia Jax and Shayna Baszler for the WWE Women's Tag Team Championships
The first match of the night that took place on the kick-off show was for the WWE Women's Tag Team Championships. Going into this, Asuka and Charlotte still appear to be on the same page but a feud has got to be inevitable. Could tonight be the beginning of that feud?
Having this match on the kick-off show has got to be a cardinal sin but that's neither here nor there. Flair and Baszler began the match for their respective teams. The Champions were using their ring knowledge to their advantage and utilizing many quick tags. Asuka and Jax wrestled for a short period before Baszler forced her way back into the match.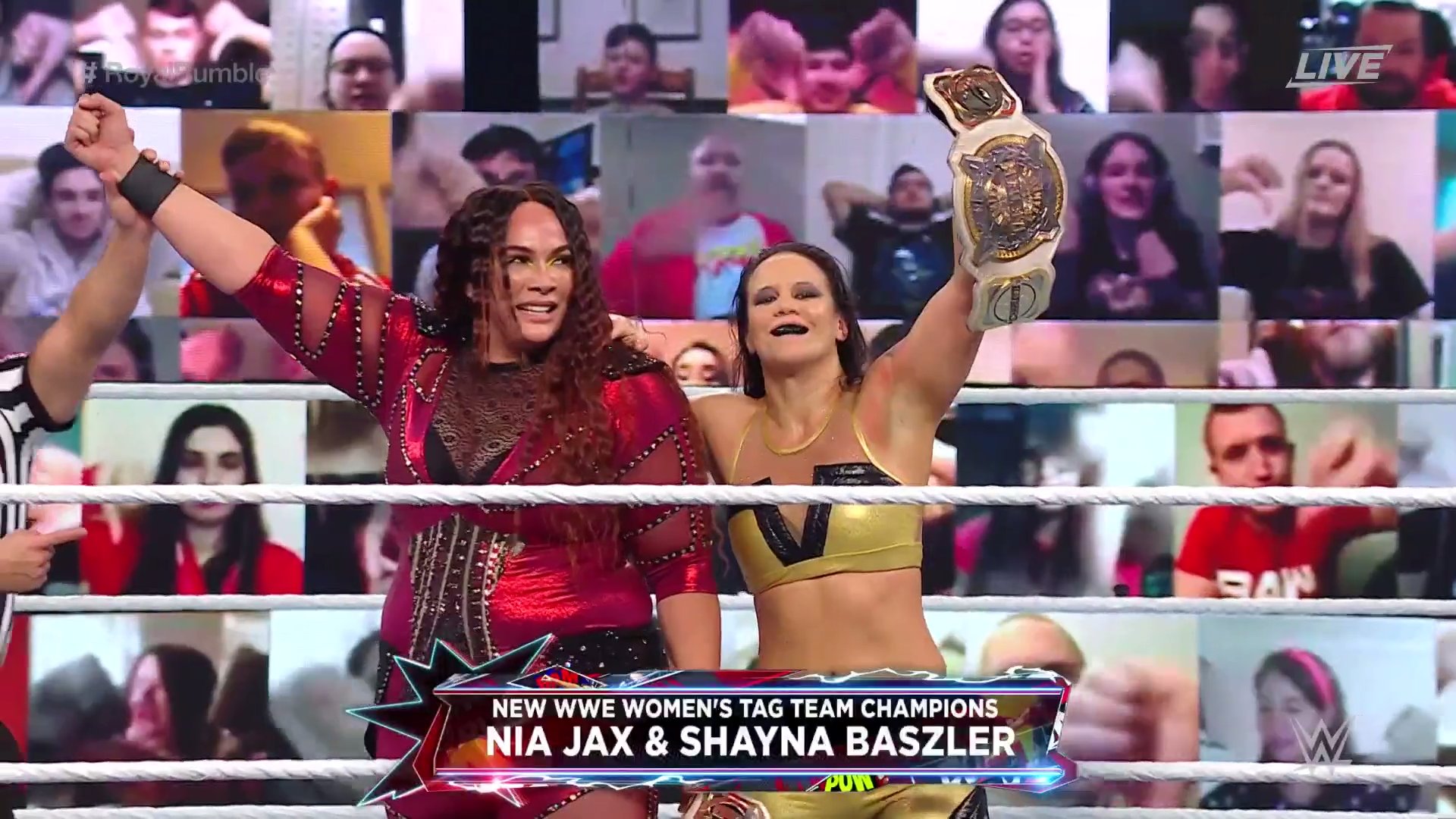 The Champions seemed to struggle in the match early on as Asuka began to favor an injured arm. As the match continued, Charlotte was desperate for a tag, which she did get and collided with the fresh Shayna Baszler almost instantly. Charlotte was on a roll and even hit both of her opponents with a double 'Natural Selection'.
There was a bit of a scuffle on the outside with Asuka which prompted Charlotte to come to her partners aid via a picture-perfect moon-sault. Just as things were looking as if they were going to work out for Charlotte, her dad, Ric Flair and Lacey Evans got themselves involved (because they cant help but stay away). Evans knocked out Flair with the 'Woman's Right' which led to Charlotte and Asuka losing the Championship's! God help Lacey if she meets Charlotte later tonight.
Winners: Nia Jax and Shayna Baszler
The Royal Rumble 2021
Drew McIntyre (c) vs Goldberg for the WWE Championship
Talk about (officially) starting the show with a bang. It doesn't get any better than a WWE Championship match. WCW legend, Goldberg recently returned to the company and has had his eyes set on the WWE Championship. Meanwhile, McIntyre has been here week after week and has carried the company on his back. McIntyre hasn't taken too kindly to Bill Goldberg.
Goldberg made his signature entrance to the ring, being accompanied by security (during a pandemic, nonetheless). I'll never get sick of watching this man make his way to the ring. This match is so important for McIntyre. Goldberg is from a different time, a different era. In the present day, Drew McIntyre is the man. McIntyre is currently standing at the top of the mountain and a victory over a legend such as Goldberg would really cement his legacy.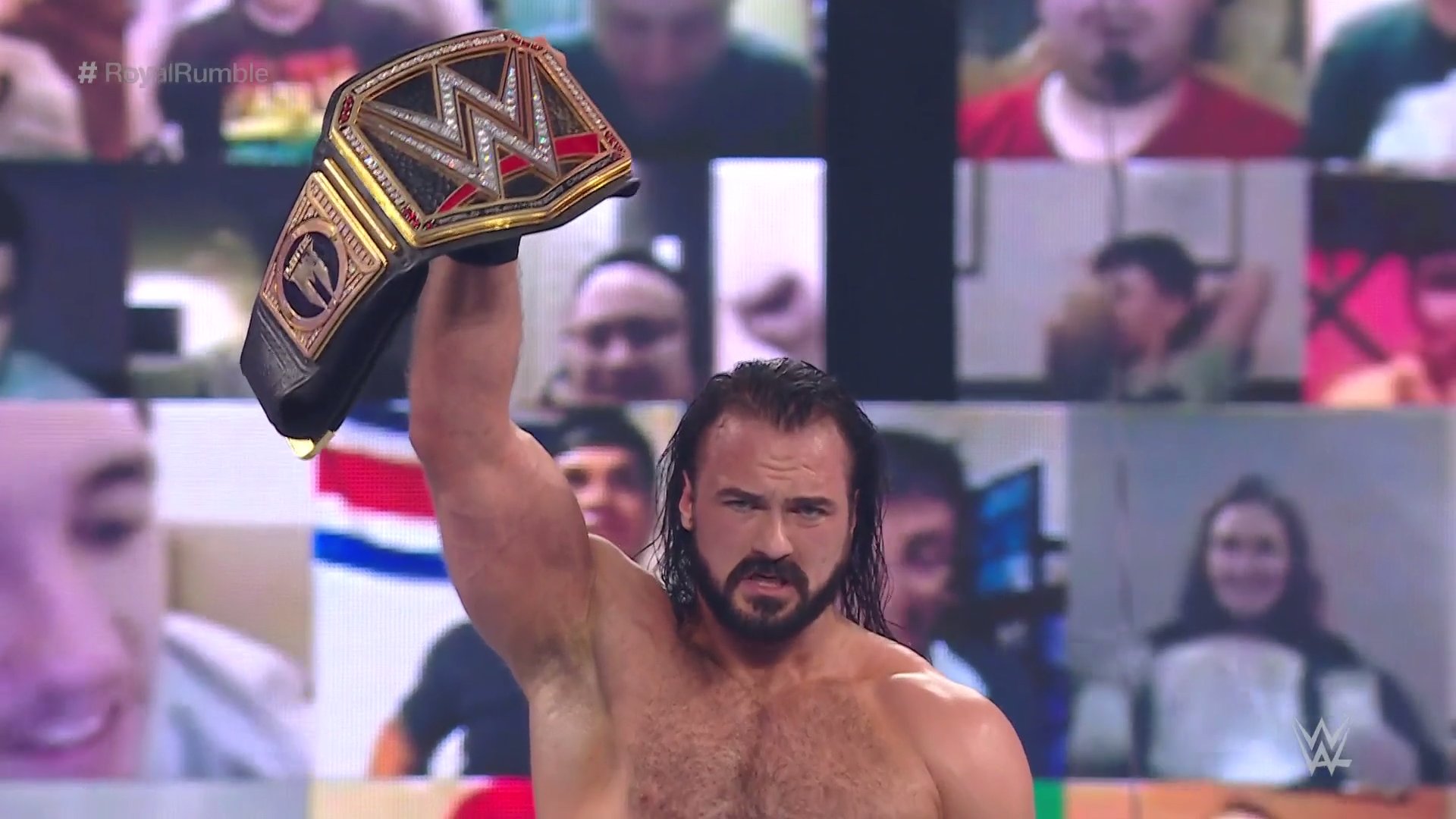 McIntyre came into this match with all the confidence in the world. The Champ hit Goldberg with a 'Glasgow Kiss' followed by a Spear! After this explosive start, Goldberg managed to wind up hitting McIntyre with a Spear of his own through the barricade on the outside. This was all before the bell had even rung. Once the bell did ring, Goldberg hit McIntyre with multiple Spears and a Jackhammer only for McIntyre to kick out and unleash a number of Claymore kicks!
This match was quick, to the point and made it clear that McIntyre deserves to be exactly where he is right now. Drew McIntyre defeated the legendary Goldberg.
Winner: Drew McIntyre
Sasha Banks (c) vs Carmella for the SmackDown Women's Championship
From one Championship match to another, the time had come for Sasha Banks to defend her Championship against Carmella (again). 2 weeks ago on SmackDown, Banks agreed to this match, given that she had a match with Reginald. Banks defeated Reginald clean without breaking a sweat.
The match began and Reginald interfered in a matter of moments, allowing Carmella to take control of the match from the early moments. The 'Untouchable' Carmella put on one hell of a show as she fought for the gold at the Royal Rumble. However, the current Champion, Sasha Banks may have been grounded to the mat but here resilience continued to shine through.
Banks soon managed to hit the 'Meteora' double knee strike to the challenger, in hopes of slowing down Mella. As much as Banks would hate to say it, she was coming across as helpless throughout this match, barely defending herself. Sasha Banks even tried to pay homage to Eddie Guerrero via the 'three amigos' but Carmella continued to keep control. Mella soon locked in her signature 'Code of Silence' submission move. There were so many close calls in this match. Reginald got sent back to the backstage area for interfering too much.
This match ended with Banks retaining via submission with the 'Bank Statement' submission that she managed to position into place for. This match was in no means one sided in favor of the Champion.  Carmella deserved all the credit and recognition in the world for her performance tonight.
Winner: Sasha Banks
The New Day Reunite
Big-E and Fellow New Day member, Xavier Woods were catching up backstage before being interrupted by the paranoid Sami Zayn, who as usual was accompanied by his own film crew. Then, Kofi Kingston arrived on the scene and at this point, we noticed that the New Day were paying tribute to the late, Brodie Lee (Luke Harper) through their gear. That was a nice touch. Despite Kofi no being cleared to wrestle tonight, this was a full-on New Day reunion and a love to see it.
The Women's Royal Rumble Match
Here we go. The Women's Royal Rumble match has arrived. We all know the drill. Lets get to it!
It was quite fitting that the #1 entrant was Bayley. Bayley has dominated the women's division for years and revived the show during the early days of the pandemic. The #2 entrant was revealed to be the returning Naomi! Naomi had not lost a step and showed it by powering over Bayley. 90 seconds had passed and the #3 entrant was a women who has been pegged as a favorite in this match, Bianca Belair. Billie Kay was entrant #4 into the match but decided to take a seat at the announcers booth rather than get into the ring. Entrant #5 made her way to the ring and it was nonother than NXT's own, Shotzi Blackheart. Shotzi was all fired up and began laying waste to every other woman inside of the ring. As the match continued, Shayna Baszler entered the fray as entrant #6. It was Toni Time as entrant #7 was NXT's, Toni Storm. There was a kick of a nostalgia with entrant #8 as Jillian Hall made an appearance in the WWE! Ruby Riott entered the match as the #9 entrant. 'The Black Widow' Victoria returned as the #10 entrant! Victoria brought the fight to Ruby and Bayley straight away. Peyton Royce made her way to the ring as entrant #11, could we see an IIconic reunion? Santana Garrett from NXT arrived on the scene as entrant #12. The only woman that had been eliminated at this stage of the match was Shotzi Blackheart. Riott Squad member, Liv Morgan was entrant #13. Billie Kay eliminated Jillian Hall at this point in the match.
Entrant #14 was 'The Nightmare' Rhea Ripley and she cleaned house! Ripley eliminated Toni Storm in a matter of seconds. Shayna Baszler then eliminated Victoria and Ripley eliminated Garrettt. Entrant #15 was really interesting as it was Charlotte Flair. Flair won last years Royal Rumble and went on to defeat Rhea Ripley for the NXT Championship at WrestleMania. Ruby Riott was the next participant to be eliminated. Dana Brooke entered her 4th Royal Rumble as entrant #16. Liv Morgan was then eliminated by Peyton Royce. Torrie Wilson made a surprise appearance as entrant #17. Entrant #18 was Ric Flair? Nope. Lacey Evans.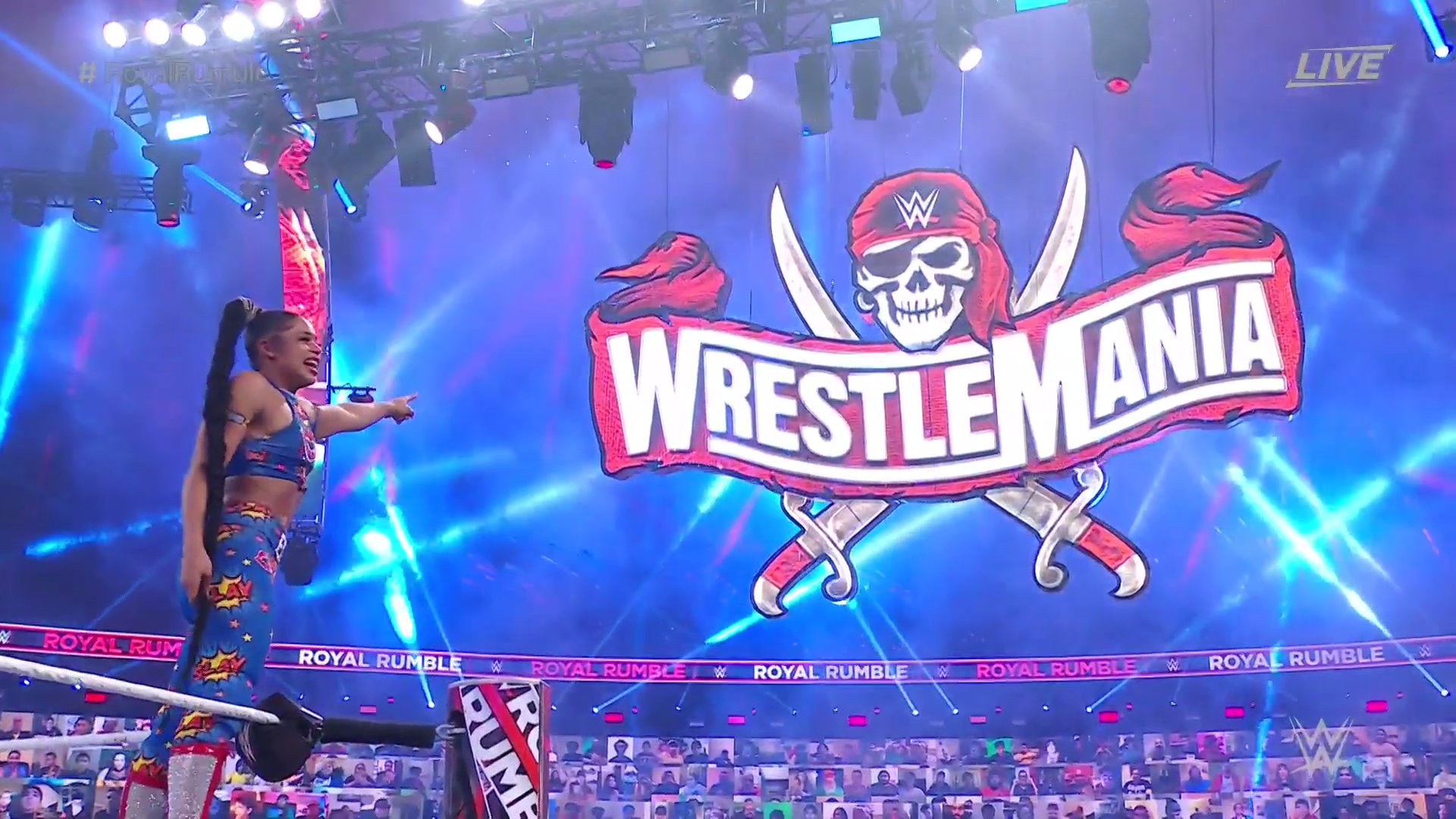 Lacey continued to play mind games with Charlotte Flair. A brawl soon ensued between 'The Queen' and 'The Southern Belle'. Torrie Wilson and Bayley were the next two participants to be eliminated just as Mickie James showed up as entrant #19. Entrant #20 was the underdog, Nikki Cross. Entrant #21 was Alicia Fox, who managed to win the 24/7 Championship mid match! Entrant #22 was revealed to be Mandy Rose, who went on to eliminate Alicia Fox. Entrant #23 was yet another NXT great, Dakota Kai, who targeted Rhea Ripley straight away! Carmella had a second chance as she emerged as entrant #24. 'The Nightmare' Rhea Ripley had eliminated 5 other women at this point in the match.
Tamina Snuka tuned up as entrant #25. Tamina and Ripley went toe to toe as two of the most physically dominant participant's in this match. Lana retuned to in-ring action as the #26 entrant. The #27 entrant was the demented, Alexa Bliss. Everybody in the ring piled onto bliss and it began to look as if Bliss was going to transform into her devilish alter-ego. The fearless Ripley, eliminated Bliss before anything could happen. Will 'The Nightmare' regret her actions? Ember Moon was entrant #28 and Nia Jax was entrant #29. We learned yesterday that Nattie would be entrant #30. Jax/Baszler worked together to eliminated Tamina and then worked on one another. Jax went on to eliminate Baszler. Lana went on to embarrass Jax by eliminating the women who put her through a table every week for what felt like a year. The final five women were Nattie, Lana, Ripley, Belair and Charlotte. One of these women will go on to main event this years WrestleMania. Soon enough we were down to three. Belair, Ripley and Charlotte. The three Superstars brawled, knowing what was on the line. Charlotte was eliminated by both Belair and Ripley. The closing moments of this match was so tense. There were do many close calls but it all ended with the EST of WWE winning the 2021 Women's Royal Rumble. Congratulations, Bianca!
Winner: Bianca Belair
Roman Reigns (c) vs Kevin Owens for the Universal Championship
The time has come for Reigns to defend his Championship against Kevin Owens in a Last Man Standing match. This match started off in the manner that you'd expect. Reigns exploded out of the gate, asserting his dominance over 'The Prizefighter' Kevin Owens. It wasn't long before the two found themselves fighting inside the WWE ThunderDome. Owens starting laying steel steps into Reigns' scull. The two then found themselves atop the raise platform that Reign's threw Owens off a number of weeks back on an edition of SmackDown. As the fight went on, they climbed higher and higher atop these platforms. Kevin Owens was relentlessly clobbering Reigns with any weapon he could get his hands on. I can't say Reigns didn't deserve it. Just went things looked as if they were going to go in Owens favor, Reigns flung Owens off the stage (again) and being that this was a Last Man Standing match, you'd assume it was over.
KEVIN OWENS. That's it. That's the tweet. 🤯#RoyalRumble #UniversalTitle @FightOwensFight @WWERomanReigns @HeymanHustle pic.twitter.com/OtitCoOpr1

— WWE (@WWE) February 1, 2021
Owens managed to get to his feet by the count of 9, perhaps out of sheer instinct. Owens stumbled out to the backstage area and wandered aimlessly for a few moments. Then Roman Reigns literally drove into KO in a golf caddy! How wrestling is legal, I'll never know. The longer the match went on, the more Roman Reigns seemed to be hurt. Kevin Owens was definitely a good position. Owens then climbed to the top of a Fork Life an dove off it with a front-flip through Reigns, through a table. Somehow, Reigns got to his feet at the count of 9 once again. Reigns may not have been defeated but he looked pretty close to it. The closing moments of the match saw a desperation Spear from Reigns through the LED screens on the stage. Kevin Owens got back to his feet. Neither man could give up this fight. Reigns introduced a set of handcuffs to the match but Owens managed to trap the Champ with the handcuffs. Reigns was half a second away from losing the match so his *intelligently* grabbed the ref at took him out of the equation, causing the count to stop. The match ended with Reigns escaping and locking KO into a guillotine, choking him out.
Winner: Roman Reigns
The Men's Royal Rumble Match
Edge and Randy Orton were the fist two competitors in this match. The two didn't seem to care that this was a Royal Rumble match as they were fighting outside of the ring from the second they both stepped through the curtains. Sami Zayn entered at #3 and just joined in on the action with Edge and Orton. Mustafi Ali came out at #4 and Jeff Hardy at #5. Orton and Zayn formed an alliance for about 7 seconds until Orton began to RKO everything in sight. The WWE Superstars continued to pile into the match with one half of the SmackDown Tag Team Champions, Dolph Ziggler entering and #6 and eliminating Jeff Hardy in an instance. The winner of the 2018 Royal Rumble, Shinsuke Nakamura entered the match at #7. I have waited over 10 years for entrant #8, Carlito Caribbean Cool, returned to the WWE! New Day member, Xavier Woods joined the Rumble at #9. Big-E joined the madness at #10 and came to Woods' aid. Woods and E worked together to eliminate Sami Zayn. John Morrison was #11 and Ricochet was #12. Elias Sampson joined the match at #13.
COOL. 😏🍎#RoyalRumble @ShinsukeN @litocolon279 pic.twitter.com/xqZ0b9958W

— WWE (@WWE) February 1, 2021
NXT's Damien Priest made his Royal Rumble debut at #14. Priest and Edge went one on one for a few moments before The Miz rolled down to the ring at #15. Priest went on to eliminate both Miz and Morrison after a distraction from rapper, Bad Bunny. 'The Bro' Matt Riddle casually strolled down the ramp at #16 and traded strikes win Shinsuke Nakamura. Fan favorite, Daniel Bryan made his way into this years Royal Rumble at #17. 'The Big Red Machine' aka Mayor of Knox County, Kane surprised us all with an appearance at #18. Then we has a Team Hell No reunion and of course, Bryan and Kane hugged it out before Kane choke-slammed his former tag partner. King Corbin was #19. Otis made his Royal Rumble debut at #20 and Dominik Mysterio also made his Royal Rumble debut at #21. The WWE United States Champion, Bobby Lashley joined the match at #22. The Hurricane came to save the day at #23 (but got eliminated). Christian shocked the world by coming out at #24 and we had a heart-warming Edge and Christian reunion. AJ Styles was #25 and Rey Mysterio was #26. The match slowed down for a bit here, expectedly so.
This #RoyalRumble Match is already reeking of awesomeness. ❤️ @EdgeRatedR @Christian4Peeps pic.twitter.com/Fq3zCFBdXz

— WWE (@WWE) February 1, 2021
Sheamus entered the Royal Rumble at #27 and brought a massive level of ferocity to the match. Sheamus continued his attack but soon got caught up with Matt Riddle. Cesaro made his way out at #28 and we almost had a Sheamus and Cesaro reunion. Maybe next year. For the first time since Survivor Series, Seth Rollins was here. Rollins has a great number at #29. Remember, Edge was still in this match! #30 came around and it was 'The Monster Among Men' Braun Strowman. Daniel Bryan was eliminated by Rollins. The final four participants in the Men's Royal Rumble match were Rollins, Edge, Christian and Strowman. Edge and Christian double teamed against Strowman but the big mans power was just too much. Strowman was seconds away from eliminating Edge but Christian came to assist. Strowman was eliminated, majorly due to the fact that Christian sacrificed himself. We were then down to Edge and Rollins. Edge eliminated Rollins but something felt off. Then we remembered that 'The Viper' Randy Orton had never been eliminated. After a struggle, Edge eliminated Orton to defy to odds and win the Royal Rumble.
Edge is going to WrestleMania!
Winner: Edge
Final Thoughts
Well, thank you if you joined live as we covered this show. If you're reading this after the show, welcome to Sports Obsessive! What a Royal Rumble this was. From Bianca Belair winning the Women's Royal Rumble to Drew McIntyre defeating Goldberg, this event had it all. The highs, the lows and everything in between. We had returns, debuts and and heart warming reunions. It safe to say that we thoroughly enjoyed this show.
What did you think? Are you happy with the outcomes? If not, what would you change and why? Let us know in the comments and on Facebook/Twitter @SportsObsessive.
We are now on the road to WrestleMania.