The time has rolled right back around for Sports Obsessive's pay-per-view predictions. This time around, we're veering our attention towards World Wrestling Entertainment and their upcoming Extreme Rules event that is scheduled to take place on September 26th from the Nationwide Arena in Columbus, Ohio, which is the hometown of none other than WWE Superstar, Alexa Bliss.
WWE's last pay-per-viewevent was SummerSlam. A lot happened on that show. Championships were won, Championships were lost. Edge revisited his 'Brood' days and both Becky Lynch and Brock Lesnar returned to the company. Not to mention, Paul Heyman was left in an uncomfortable situation with the return of 'The Beast'.
Most importantly, storylines continued and progressed which inevitably has led us to Extreme Rules.
As the tradition goes here at Sports Obsessive, we tend to rally up the troops when a pay-per-view is nearing and today is no exception. Joining me today will be Sports Obsessive writers, Katrina, Amber, Jon, Brad Dukes & Sports Obsessive head honco, Andrew Grevas.
Without further ado, let us dive straight into this edition of Sports Obsessive's pay-per-view predictions for Extreme Rules!
Damian Priest (c) vs. Sheamus vs. Jeff Hardy For The WWE US Championship
Katrina: Sheamus is one of my favorites and I like what I've seen from Priest recently on WWE. I want WWE to keep making him look good so I'm taking Damian.
Amber: Jeff Hardy has kinda just been thrown into this match but expects some high flying. As this is a Triple Threat Match for the United States Championship, let's hope they use this as an excuse to bring some carnage and weapons to the event. I think Priest will retain and this will end the feud between him and Sheamus.
Jon: WWE has been trying to kiss the fans' collective ass lately to combat the strong run that AEW Is currently on. Hopefully, that means a well-deserved US title run for Jeff Hardy.
Andrew: This should be the match of the night in terms of in-ring action. Way too soon to have Priest drop the strap and it's likely that Hardy got added to be the one to take the fall, so Sheamus can move on to challenge Big E for the title soon.
Brad: For the past few months of fast-forwarding through Monday Night Raw, Damian Priest is one of the few talents to get me to hit the 'play' button. He has mega star written all over him. If the WWE writers room has any sense, Priest will steamroll through both Jeff Hardy and Sheamus. Anything less would be uncivilized.
James: Everybody knows that Jeff Hardy is a legend in the pro wrestling business. Jeff doesn't need to prove himself any longer. Jeff doesn't need the US Championship in order to add value to his name. Jeff Hardy is a made man. Jeff can lose this match in order to elevate Priest even further. No harm, no foul.
Katrina: Damian Priest
Amber: Damian Priest
Jon: Jeff Hardy
Andrew: Damian Priest
Brad: Damian Priest
James: Damian Priest
Liv Morgan vs Carmella
Katrina: As it seems that WWE is trying to get Liv Morgan some kind of legitimate push, I feel the only reasonable option is for Liv to win this match.
Amber: This is a very simple one, just let Liv Morgan win everything and push her to the moon.
Jon: Liv Morgan just lost to Zelina Vega on the go-home edition of Smackdown. That doesn't speak well to her chances at Extreme Rules. Carmella picks up the W.
Andrew: Two of the unsung heroes of the division, I'd love to see both of them more prominently featured. The story here should be that Liv comes oh so close to beating the evil Carmella, only for Mella to do something heinous to eke out the win. Losses like this, if done right, can continue to build Liv as the ultimate underdog who the audience is dying to see finally get her chance.
Brad: It is time for WWE to elevate Liv Morgan past the mid-card. I don't think she'll be pinning Becky Lynch or Bianca Belair anytime soon, but it's getting close to "now or never" time for this promising talent. She's got everything it takes to succeed, now Liv just has to dig deep and find whatever is missing to complete the puzzle. Liv Morgan direly needs a convincing win over Carmella.
James: I would love to see Liv Morgan finally positioned in the way that many fans have been hoping for. Unfortunately, WWE doesn't seem to always give the fans what they want. We should all go into this match with an open mind, however. WWE has been flirting with the idea of 'pushing' Liv for a very long time. Perhaps now is the time to pull the trigger.
Katrina: Liv Morgan
Amber: Liv Morgan
Jon: Carmella
Andrew: Carmella
Brad: Liv Morgan
James: Liv Morgan
The Usos (c) vs. The Street Profits for the WWE SmackDown Tag Team Championships
Katrina: The Bloodline storyline is one the best in wrestling right now. I do believe The Usos will come out of this victorious. I love The Street Profits as well, but I'm going with The Usos.

Amber: The Usos have had a stranglehold on the division for some time and I think they will continue to hold the championships despite the best efforts of The Street Profits.
Jon: As much as I would love to say the Street Profits, I feel like the E is going to keep milking the Bloodline for everything that they can. Usos retain.
Andrew: The Street Profits are a great act and a staple of the division these days but there are zero reasons to take the titles off the USO's. Their reign needs to mirror Roman's – one of dominance until it's time for the house of cards to tumble way down the line.
Brad: Both of these tag teams are doing some of their best work lately. A fun, high-flying match should ensue with the Usos keeping the belts, for now. The Street Profits' best days lie ahead.
James: Do you remember that steel cage match between Nick and Matt Jackson and The Lucha Brothers, over on AEW recently? This is going to top that match, mark my words. As much of a fan as I am of Ford and Dawkins, Jimmy and Jey are on the run of their career and need to ride this out as Champions for as long as possible.
Katrina: The Uso's
Amber: The Uso's
Jon: The Uso's
Andrew: The Uso's
Brad: The Uso's
James: The Uso's
Charlotte Flair (c) vs. Alexa Bliss for the WWE Raw Women's Championship
Katrina: Charlotte just won the belt and the buzz died down in my opinion with Alexa Bliss. While I want to go with Charlotte, maybe a real feud with her and Alexa will be a good thing. So I'll take Alexa Bliss.

Amber: This one is a hard one, cause Charlotte doesn't need the championship and I think her going on a journey of discovery could really make her character more well-rounded, but do I want to see this version of Alexa Bliss hold the championship? I have no idea, so I'm going to say that Bliss will win the Championship at Extreme Rules, and hopefully, this will lead to a good program with Shayna.
Jon: My heart says Alexa but my head is leaning towards an extended run for the Queen. I could see Bliss capturing the championship at Survivor Series if this story continues. Charlotte holds on to it for it now.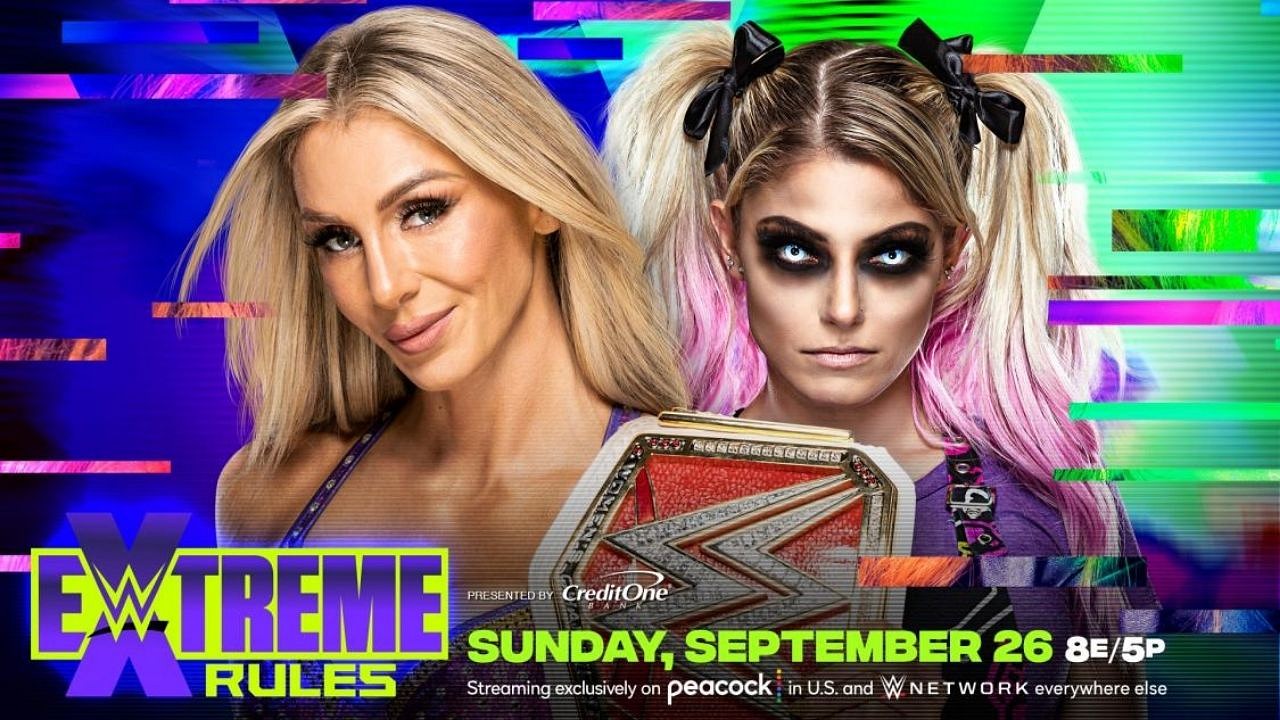 Andrew: Does Bliss need the belt? No, not really. But Charlotte really doesn't either. I could see them going with some outlandish non-finish but if I were booking, I'd put the title on Bliss and let her have a run. It's different at least and some fresh faces could step forward to challenge her. If it doesn't work out, you can always put the title back on Flair.
Brad: It's hard to imagine Charlotte dropping the belt at this point in time. The Alexa's Playground segment this week on Raw was peak cringe. I'd rather the supernatural doll stuff be packed up and put away for good. Alexa carrying on Bray Wyatt's gimmick is bordering on ludicrous. Hopefully Charlotte and Alexa put on a great match minus the hocus pocus, with Charlotte retaining the title and moving on.
James: There are no complications here. Everybody loves Alexa Bliss. Bliss is an incredible talent and is too good for the WWE. It's only a matter of time before Bliss leaves the WWE to pursue an acting career – she's just too good. This PPV is in Bliss' hometown, the crowds are back. Do thing right thing, WWE.
Katrina: Alexa Bliss
Amber: Alexa Bliss
Jon: Charlotte
Andrew: Alexa Bliss
Brad: Charlotte 
James: Alexa Bliss
Roman Reigns vs Finn 'The Demon' Balor for the WWE Universal Championship
Katrina: I'm a fan of both Roman and Finn. However, Roman has been on a monster run. He is at the top right now, so as much as I don't like them using Demon Finn to take on Roman, I'm going with Roman on this.
Amber: This is a hard one, cause more than anything I want Finn Balor to win the Universal Championship, but I don't know if it will happen. With this being an extreme rules match anything can happen and Balor could easily be taken out, but is it time for Roman Reigns to lose the title? I'm going with the Demon King on this one.
Jon: A loss really doesn't make sense for either one of these guys here. The Demon has never lost on the main roster. On the other side, Roman Reigns is still red hot as a heel champion and already has a match scheduled with Brock Lesnar at Crown Jewel in October. But somebody has to lose and unfortunately it's probably going to be Balor.
Andrew: Poor Finn. All the talent in the world and where does he go after being Roman's victim of the month? I just hope he gets a good outing here. Balor should always be in the main event mix. Zero percent chance Roman loses here.
Brad: Brock Lesnar aside, I'm not sure there's anyone on the active WWE roster that's going to defeat Roman Reigns anytime soon. Ending the Tribal Chief's year-plus tear through WWE at Extreme Rules seems almost impossible. And it also seems impossible that Finn Balor's Demon alter-ego will suffer its first loss. Therefore, I picture Lesnar interrupting this match and sending it into a no-contest. Reigns keeps his title. The Demon keeps his streak.
James: Do I want to see Finn Balor as the WWE Universal Champion? Of course, I do, but not yet. If Balor were to reclaim the very Championship that he was forced to relinquish many years ago, chances are, that Reigns would just get it back, because he's Roman Reigns. I do know how 'The Demon' is going to lose unless 'The Fiend' has been rehired and re-debuts with a stand-off closing the segment. I have to go with Roman Reigns.
Katrina: Roman Reigns
Amber: Finn Balor
Jon: Roman Reigns
Andrew: Roman Reigns
Brad: No Contest 
James: Roman Reigns
Becky Lynch (c) vs. Bianca Belair for the WWE SmackDown Women's Championship
Katrina: Even though I hated how Bianca lost the belt, there seems no need to have Becky lose this. Becky is my pick.
Amber: As much as I want Bianca to win the title back, if this match doesn't get given a stipulation between now and Sunday, I believe Becky Lynch will retain the Championship. As Lynch has recently turned heel to fully establish herself in this new role, she should cause the match to end via disqualification. This allows for Lynch to keep the title while Bianca can move on to the next PPV.
Jon: I love Becky, but I'm not a fan of how they put the belt on her. I thought that Bianca deserved a better run. But Becky is a draw and there's no way that she loses the title already. Becks retains.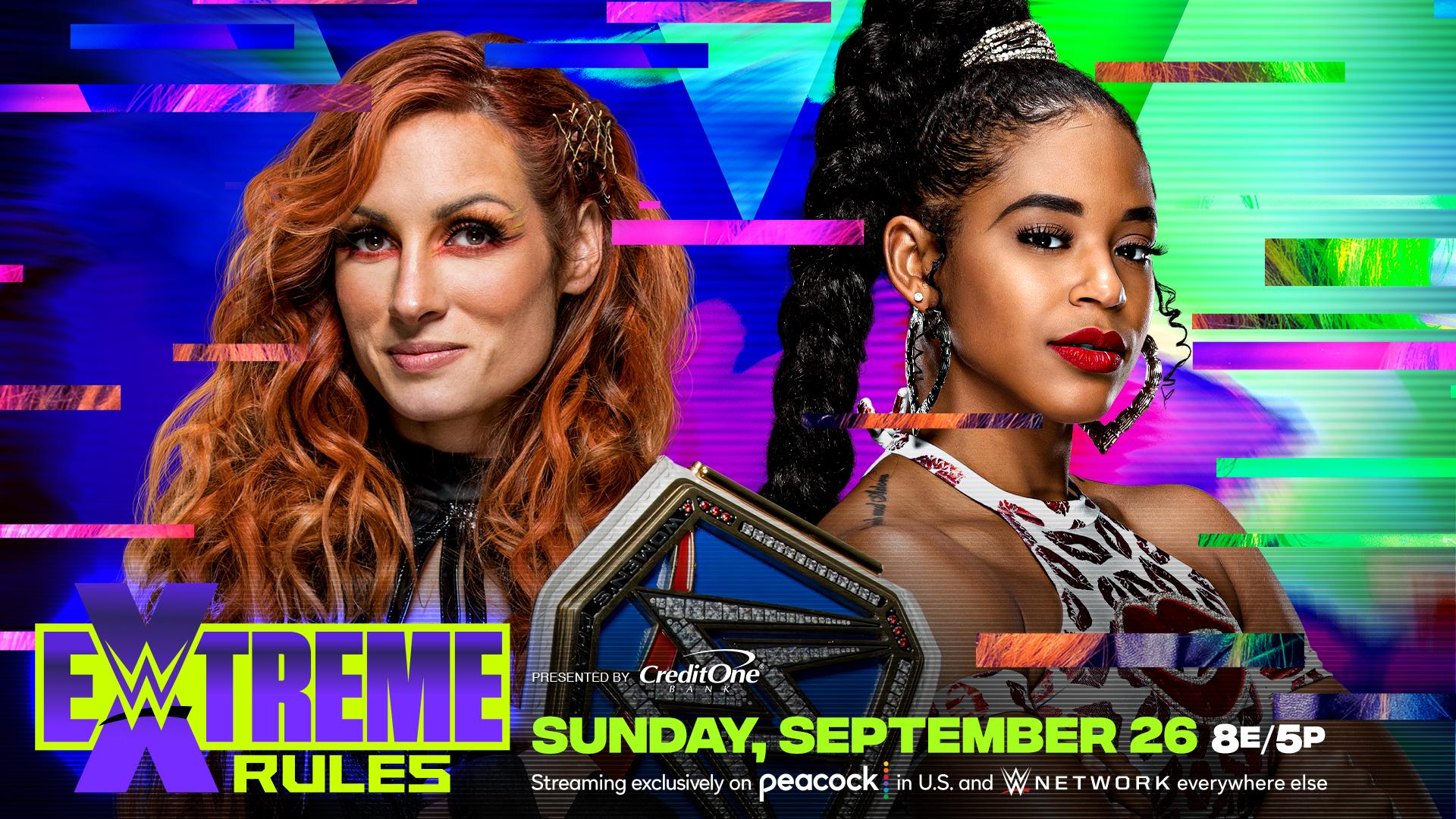 Andrew: Becky's back and this division is going to belong to her for a while. Belair needs a good showing here so she doesn't start to drop too far down the card. This can be a money match again one day as long as they protect Belair here.
Brad: The only two women to stand tall at the end of a WrestleMania squaring off at Extreme Rules just seems off. This is a WrestleMania main event in itself. Becky's return as a heel has been uneven and underwhelming. Big Time Becks needs to fully embrace her inner-villain and stage a dastardly attack on Bianca to solidify the roles here. Bianca's work in 2021 speaks for itself: she's forged herself into a main event talent and carried the entire women's division on her back. Becky should and will go over strong and with shenanigans, and Bianca should score a very meaningful win over Becky further down the road.
James: SmackDown is Becky Lynch territory. While the way in which she returned to the company and became Champion once again may have been in bad taste, Becky Lynch is simply doing her job and doing it well. This is going to be the match of the night. I was lucky enough to see this very match earlier this week at a WWE live event and if that was anything to go by, we're in for a treat.
Katrina: Becky Lynch
Amber: Becky Lynch
Jon: Becky Lynch
Andrew: Becky Lynch
Brad: Becky Lynch
James: Becky Lynch
Final Thoughts:
There you have it. These are our takes on WWE's upcoming Extreme Rules Pay-Per-View event. Be sure to check in with us on Facebook and Twitter @SportsObsessive to let us know what you agree and disagree with regarding this predictions card. We will see you next time.